Magic Johnson, Heterosexual Men and HIV
By Candace Y.A. Montague

November 9, 2011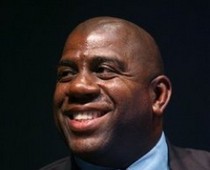 Don't let up now Magic. Your heterosexual brothers need you. Credit: AP Photo.
November 7, 2011 marked the 20 year anniversary of Magic Johnson making his bold and courageous announcement to the world that he has HIV. Magic stated that he contracted the disease from sex. At the time, Magic urgently wanted to stress that HIV doesn't discriminate. "We sometimes think only gay people can get it, that it's not going to happen to me. And here I am saying that it can happen to anybody, even me." Somewhere along the way, that message fell on deaf ears and unfortunately some heterosexual men still think that it cannot happen to them. They think that getting HIV can only happen to gay people and Magic Johnson (Magic must have been a fluke, right?). It's time to bring that message back to the heterosexual men. Yes, it can happen to you.
For the record, heterosexual sex is between a man and a woman. Heterosexual transmission is the second leading mode of transmission for HIV across the board. In DC, women account for nearly 30 percent of the HIV/AIDS cases, according to the 2010 Epidemiology Report. Black women in DC make up 75 percent of the HIV/AIDS cases among women. How do you think they are contracting this disease? Studies have shown that heterosexual black women tend to have sex with black men (not a guarantee. Just in general). Obviously, unprotected sex is happening among women with male partners and HIV is being spread.
Advertisement
Many heterosexual men still buy into the rhetoric that HIV is a gay man's disease. So many them have said that if a man got the virus, he must have had sex with another man. Does anyone ever think that women can give the virus to men without any homosexual activity involved? Why do the most ignorant myths have such a stubborn streak? Not only do many heterosexual men refuse to get tested but they also refuse care in the form of getting medication (although that could be for a number of reasons). Many of them feel that they won't find someone to love them and carry on a meaningful, intimate relationship. That is a reasonable fear but dating with HIV is certainly not impossible. The stigma is killing them faster than the disease itself.
Sports Illustrated senior writer Jack McCallum said he thinks Johnson was probably the "best" person to get the illness, because of his ability to reach the public. McCallum said, "Magic changed the story line right away. We went from a guy who was -- we were going to watch him die -- well, two months later, he's playing basketball. Three months later, he's in the All-Star game, nine months later, he's captaining the Dream Team in Barcelona. So right away, he changed it from the idea that you were going to wither away to the fact you could prosper." I'm so glad he did. Now we need him to use that public platform to have a man to man conversation with his hetero brothers. Magic, please tell straight men that they can get it too. There's nothing gay about that. Help defeat the stigma.
Recommended Reading
Get e-mail notifications every time Candace's blog is updated.
---
| | |
| --- | --- |
| No comments have been made. | |
Add Your Comment:
(Please note: Your name and comment will be public, and may even show up in
Internet search results. Be careful when providing personal information! Before
adding your comment, please
read TheBody.com's Comment Policy
.)