A Moral Dilemma: Where Do You Stand?
By Rae Lewis-Thornton

November 10, 2011
This piece originally appeared in Rae's blog,
Diva Living With AIDS
.
I sat glued to the television last night as Penn State students rioted over Joe Paterno's firing.
As an adult survivor of childhood sexual abuse, I sat in disbelief. The primary question was, why would they support Paterno over such a scandal as this?
But I had to remove myself from the equation and really see what was going on. I got to tell you, this for me is one moral dilemma just all the way around. Typical of me, I did some reading because the television doesn't say it all. I still have yet to read the court affidavits on the actual charges on Sandusky, but make no mistake I will read them just as I did in the Eddie Long Case.
If you've been on Planet Mars the last few days, or you are still trying to make sense of it all, let me fill you in. Jerry Sandusky was a Defensive Coach at Penn State and has been arrested for years of sexual molestation of boys.
It was revealed that the legendary Coach Joe Paterno was informed about Sandusky's abuse of a child in the locker rooms. A graduate student saw Sandusky having anal sex with a boy of about 10 years old in the shower and the next day he went to Paterno home to inform him of what he saw.
Paterno reported the abuse internally to the Athletic Director, who reported it to the Senior Vice President of Business and Finance for the university and it seems that it never went any further. The graduate student who originally reported it is now on the coaching staff for Penn State football team. So at least four people with a long-term relationship with the university knew that Sandusky was a pedophile.
To date, Curly, the Athletic Director and Schultz the VP who knew resigned. Paterno and the President of the university have been fired. The graduate student is still a member of the athletic staff.
Honestly, there was a part of me that felt sad for Paterno. He has an awesome record at Penn State, not just about football but with promoting excellence in education among the students. At 84 years old having spent 61 years of his life at Penn State this has got to be a blow for him. Emotionally how does one recover from this abrupt ending? He has spent most of his life at Penn State. It is all that he knows and it has been taken away in a blink of an eye. But he clearly played a role in his demise.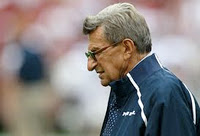 My ethics teacher in seminary would put Penn State and Paterno on the table and ask, should they have allowed him to finish the year and retire? Just as we ask, should he have been fried right away for not reporting this to the police. You have to ask, what does the Board of Trustees know that has not been said? That was the primary question I have? There was clearly a cover up, was it spoken or unspoken? The question must be asked, given Paterno's power at Penn State. It is impossible for me to believe that he didn't know how it all played out, which was basically no action. And why wouldn't he take action if they didn't; That is inexcusable!!!
But the larger question and my bottom line, What About The Children? As I began to understand the case it saddened me to know that the children were failed. There were so many chances to STOP Sandusky not just at Penn State, but also with the authorities. Read this timeline below, it's deep. A janitor saw Sandusky performing Oral Sex on a child and he told his immediate supervisor at Penn State and other employees and NO one reported it.
One mother reported it to the university police. In the end, the State Police, the University Police and the Pennsylvania Department of Public Welfare knew as early as 1998 and Centre County District Attorney Ray Gricer failed to charge Sandusky. They all knew and did nothing!
If any of these people still have jobs in the same areas, they also need to be fired. Understand this, so many people knew and did NOTHING. And when a mother tried to get help for her child the system failed her. Given the power of Penn State, I wonder if Sandusky had no prominent position at the university would this had been handled differently?
And then, the children knew that adults knew but did NOTHING to help them. It's being victimized all over again. When adults tell children to tell and you do nothing, what should children then believe and trust?
When adults see it happening for themselves and do nothing how should a child feel? No one cared enough to help them. I remember when I told my mother that her husband was grabbing on me, she said, "Bitch I'm not gonna let you fuck up my shit." How does one recover from double victimization? Where do children go when those who should protect them don't?
Yes, this one will go down in the history books. And while I understand the students love of Joe, I also understand the years that it takes to recover from this trauma of being raped as a child and also no one coming to help you. Each of us gotta weight this out with our own understanding and ethic. But heart is heaviest most today for the Children
And for the record if I see an adult raping a child I'm going to pick up the nearest thing I can that will hurt they ass and hit and hit, and then call the police!
---
Comment by: BMW Princess
(canada) Sat., Dec. 31, 2011 at 5:18 pm UTC
sick sick sick man.
I think the reason it went on for long is because nobody expects a "pillar of the community" to rape children. We expect people like that to wear a hockey mask and carry a butcher knife. But sometimes evil wears a nice suit.
Comment by: Anon
(Los Angeles) Thu., Nov. 17, 2011 at 5:38 am UTC
At age 14 on vacation with relatives I was abducted and molested for 3 days by pedophiles. My relations assumed I was with friends from school I'd been visiting so didn't launch a search. When I was freed (by another member of that household) I could not speak of this painful, confusing, nightmarish experience because I was old enough to know I'd be taken to a doctor where I'd be (forcibly, again) subjected to an examination which would imitate some of the very acts which had been inflicted upon me. Young people in this society have no right to dignity or self-assertion. I became confused, withdrawn, depressed, secretive and that has lasted for years. I am only now, at 41, in the process of fully divulging the details of that experience to a friend, and it is so very hard, causing sleep disorders and daytime blank-outs. I'm still not certain whether or not I was somehow partly to blame, though my abductors went far beyond anything I'd have expected or would even have known about.Tho the physical pain of their acts lasted for weeks, my soul has hurt for years. Only now am I feeling the rage, wanting to smash my hand through a mirror or something. I feel so confused, violated, messed up, and would probably kill those men if I came across them today, though they'd be old, decrepit. I divulge this to demonstrate the effect pedophiles have on their victims, perhaps without knowing or caring. Those men taught me new ways to use my body, but they stole away years of my childhood as well as my peace of mind. If the charges against Mr. Paterno are proven true, I hope he suffers as much in his head as the boys he used surely will. But he will probably hire a good attorney, charges will be softened or dropped, he'll write a book and be better off than ever before. This is how the world works and boys will never be safe as long as predators like him thrive amongst us.
Add Your Comment:
(Please note: Your name and comment will be public, and may even show up in
Internet search results. Be careful when providing personal information! Before
adding your comment, please
read TheBody.com's Comment Policy
.)