NBLCA and Rep. Lee Push for Women of Color to Come First
By Candace Y.A. Montague

November 2, 2011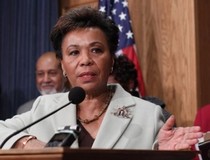 Representative Barbara Lee teams up with NBLCA to put Black women at the forefront of the fight against AIDS. Credit: crewof42.com.
The National Black Leadership Commission on AIDS sponsored the debut of a groundbreaking documentary about HIV/AIDS and African-American Women at a Congressional briefing last Tuesday. Many Women, One Voice was screened before an audience of Congress members, staff, non-profit organizations, and advocates. The screening was followed by a panel discussion on the importance of keeping Black women at the forefront of the battle against HIV as they are the ones who carry disproportionately high infection rates. The screening/discussion was co-sponsored by Rep. Barbara Lee (D-CA), co-chair of the newly formed Congressional HIV Caucus and co-produced by Gilead Sciences, Inc.
The documentary featured Black women from different parts of the country giving their perspectives about HIV. The women shared their personal stories about living with the virus as well as the challenges and victories they have experienced along their journey. The congressional briefing that followed the viewing served as an opportunity to educate lawmakers about the need to increase women-centered HIV policies and prevention programs. C. Virginia Fields, current CEO of NBLCA, says women are left out far too much and it is time for a change. "The prevention, treatment and care needs of women, Black women in particular, continue to be largely ignored in the nation's response to addressing the epidemic. This video is a new weapon in our arsenal to bring increased attention to the impact on women."
According to the latest estimates from the Center for Disease Control, Black women are more affected by HIV than women of other races, accounting for 57 percent of all new HIV infections among women in 2009. Most HIV positive black women (85 percent) were infected through heterosexual sex.
"If we want to get real about ending this epidemic, we need to get real and recognize the critical role women play." said Representative Lee in a statement prior to the screening. The Many Women, One Voice video, will be screened additionally at The US Conference on AIDS in Chicago this month as well as at other events and locations in the months to come.
Get e-mail notifications every time Candace's blog is updated.
---
| | |
| --- | --- |
| No comments have been made. | |
Add Your Comment:
(Please note: Your name and comment will be public, and may even show up in
Internet search results. Be careful when providing personal information! Before
adding your comment, please
read TheBody.com's Comment Policy
.)