In their bid to protect pharmaceutical company profits, the European Commission is pushing policies that could cut the lifeline for millions of people in developing countries who rely on affordable generic medicines to stay alive. "Europe! Hands Off Our Medicine!" is Doctors Without Borders' campaign to push Europe to back down.
Doctors Without Borders (Médecins Sans Frontières, or MSF) and other health care organizations rely on affordable, quality-assured generic medicines to provide treatment to some of the poorest people across the globe. Most of these generic medicines are produced in India. In fact, 80% of the HIV medicines MSF uses to treat more than 160,000 people with HIV are made in India.
India: Pharmacy of the Developing World
Until recently, patents on actual medicines did not exist in India, only on the process to make them, which allowed the country to become an important source of affordable medicines. A patent is a right granted to a company or institution that allows it to prevent anyone else from selling a product (for example a medicine), usually for twenty years. This means that for twenty years, the company holding the patent has a monopoly on the medicine and is free to charge any price it wants, even if this means pricing it out of reach of those most in need. Patents have often stood in the way of being able to provide people with the treatment they need.
When drug patents did not exist in India, nothing was stopping many manufacturers from making generic versions of drugs that were patented in other countries. As generic companies competed for the market, prices came down dramatically, and drugs produced in India became some of the most affordable in the world. India became a key source of essential medicines, including medicines to treat HIV. Because of this fierce competition, the price of a standard HIV drug regimen dropped by over 99% over the past decade, from more than $10,000 per person per year in 2000 to under $70 today.
Indian generic medicines have played a critical role in getting more than five million people in developing countries on HIV treatment today. A recent study published in the Journal of the International AIDS Society reported that Indian generic manufacturers were the source of 87% of AIDS medicines purchased for developing countries by donors like PEPFAR and the Global Fund in 2008. But because of international trade rules and policies being promoted by the European Commission, the "pharmacy of the developing world" is at risk of being shut down.
Advertisement
Tightening the Screw
India is a member of the World Trade Organization (WTO), the institution that sets and oversees international trade rules. As a WTO member, India had to agree to create a patent law that would cover medicines beginning in 2005. This move had a big impact on the ability of Indian generic manufacturers to produce affordable medicines in the future.
Starting in 2005, when a patent was granted on a medicine in India, local manufacturers could be prevented from producing cheaper generic versions. This affected not only India's domestic supply of affordable medicines, but also those of other countries that relied on importing medicines from India.
But when the Indian government designed its patent law, it made sure to include certain safeguards in the interest of public health. The law says that only drugs that can show an improved therapeutic effect over existing medicines deserve a patent. This means that companies cannot simply make minor changes to existing drugs (like combining two different drugs into one pill) and obtain a patent on the "new" drug. The law also allows anyone to challenge or oppose a patent by showing that the drug does not deserve a patent according to the law. In addition, no drug invented before 1995 can be patented in India. This means that generic production of older medicines is secured, but the situation is quite different for newer medicines.
The Treatment Timebomb
Despite these important protections built into the Indian patent law, the future of generic production in India looks bleak, especially when it comes to newer medicines. This is particularly important for people living with HIV. People require continuous access to newer medicines if side effects or drug resistance develops. Further, the last several years have brought new types of HIV medicines, providing people with HIV in wealthy countries many more treatment options. But their counterparts in developing countries will likely have a long wait before benefiting from these new drugs.
Most if not all of these newer medicines will likely be patented in India, blocking the production of affordable generic versions. In fact, some new medicines, such as Isentress and Intelence have already been patented in India, blocking the generic competition that led to deep price drops for the first HIV drugs. The most affordable second-line HIV regimen costs seven times more than the most affordable first-line regimen. And a possible third-line regimen could cost nearly 50 times as much. This means that treatment will once again be priced out of reach for the millions of people who will need newer medicines to stay alive. With growing numbers of people in urgent need of treatment, this is a time bomb waiting to explode.
Europe Attacks Access
Just as the outlook for affordable medicines in developing countries was becoming dismal due to India's patent law, the European Union stepped in to deal several more blows. Europe's attack is taking a variety of forms, targeting essentially every aspect of medicine supply. It could affect production, registration, sale of and trade in generic medicines and will disrupt patients' ability to receive affordable treatment for HIV and other diseases.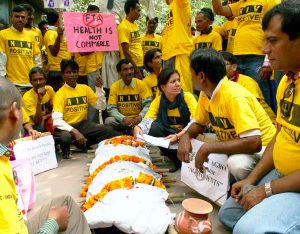 To give one example: Europe is negotiating for India to introduce "data exclusivity," which allows pharmaceutical companies to keep private, for a certain amount of time, the clinical trial data for medicines that they had originally developed. This would be the policy whether the drug is patented or not. It would mean that generic manufacturers could not register their medicines simply by proving that they have the same therapeutic effect as the brand-name product; they would be forced to provide their own clinical trial data for their generic versions of the drugs, because the original data would not be public. Clinical trials are not only very expensive, but redoing trials for already proven medicines is not ethical, as it means withholding effective medicines from some people in the trial. Data exclusivity would effectively delay or even block generic medicines, reserving the market for the large pharmaceutical companies that keep prices high.
Another way European governments have been attacking access is by detaining shipments of legitimate generics that are traveling through Europe from India on their way to patients in developing countries. European custom officials have staged more than a dozen such raids at airports, and some shipments have even been sent back to India. Europe claims this is done to protect the public in an effort to crack down on counterfeit medicines. But this has nothing to do with fakes. Delaying these shipments has resulted in people having had their treatment interrupted. For people with HIV who need to take their medicines on schedule, delays can be very dangerous.
Europe has been launching these attacks against the backdrop of millions of people who do not have access to the essential medicines they need to stay alive. These actions are incredibly destructive at a time when tight budgets are already drying up the money needed to put people on treatment -- the largest treatment providers such as the Global Fund and PEPFAR are facing severe funding shortfalls. Pushing policies that keep drug prices high when funds for treatment are short will deepen the health inequalities between patients in rich and poor countries, and lead to more unnecessary deaths.
Fighting Back
The European Commission must be stopped before it is too late and people in poor countries have to pay the price. Protests have already been organized across the developing world, including India, Indonesia, Brazil, Nepal, and Thailand by networks of people with HIV demanding that Europe stop its campaign against their lifeline to affordable medicines.
We ask that everyone, everywhere, help us in this fight by sending a message to Europe to keep its hands off our medicine. Please visit action.msf.org to sign and send an email to the European Trade Commissioner Karel De Gucht, calling on him to put a halt to Europe's destructive policies. For more information on this and other issues surrounding essential medicines, visit MSF's Campaign for Access to Essential Medicines online at msfaccess.org.
Médecins Sans Frontières is an international medical humanitarian organization that provides aid in nearly 60 countries to people whose survival is threatened by violence, neglect, or catastrophe. The MSF Access Campaign works to improve access to existing medical tools and to stimulate the development of urgently needed improved tools.