Waiting in Line to Die
The rate of new HIV infections dropped to 2.7 million a year (a 17% decrease) during the past decade of escalating funding. Worldwide, the number of people on treatment increased from fewer than 200,000 in 2000 (mostly in Latin America) to 5.2 million, with Africa increasing from 20,000 people to 4 million -- a whopping 20,000% increase. Similarly, coverage to prevent mother-to-child-transmission increased from essentially zero (except in Thailand and Brazil) to over 53%. And the number of people agreeing to HIV testing has escalated, so that many millions now know their HIV status and can positively plan for their future. But with the continuing threat of flat funding, the question remains: What will be the human cost?
At the Global Fund, the impact is already clear. For the past two funding rounds, it has instituted funding cuts, one called a 10% "efficiency gain," and the second a potentially reversible 25% "resource-constraint" cut for programs running over two years. But now the coffers of the Global Fund are nearly empty. It presented three options for the next round of funding: a "flatlined" budget of $13 billion, a "modest-impact" budget of $17 billion, or a "scale-up" budget of $20 billion. Regrettably, the Third Replenishment, which just took place, produced only $11.69 billion in pledges -- less than flat-lined budget option. Although the U.S. pledged $4 billion over three years (a 38% increase over its last three years of pledges), it still fell 62% short of what was needed. So, just when countries have been asked to make bigger and bolder requests, to seek funding for health system strengthening, and to create new programs for vulnerable populations, the Global Fund faces a profound funding crisis.
Similarly, the capping of PEPFAR funding led to directives in Uganda and elsewhere that "a flat-lined budget for treatment ... should not be exceeded" and that the few treatment slots available from losses to follow-up or death should be given to "the sickest patients." In the wake of this directive, thousands of people who tested HIV positive, often in late stages of immune deficiency, were told to wait in line -- in essence to die. Those who were untested would now wonder, "Why should I get an HIV test? There's nothing for me but a death sentence." For those who do test, profound ethical quandaries arose. Those who arrived in wheelbarrows, on the brink of death, would die unless they were rushed to the front of the line, postponing treatment for others whose prognosis is greatly enhanced if they start treatment while their immune systems are still functioning. Pregnant women wondered, "Should I begin treatment to reduce the risk of transmission to my baby or should I give my place in line to a baby with HIV who will otherwise die within two years?" Should husbands and wives and brothers and sisters flip coins? Or will the czars of rationing reserve scarce treatment slots for health workers, many of whom have HIV and all of whom are needed to provide desperately needed health care?
International outrage at the stark reality of these death queues, and coordinated advocacy campaigns in Africa and the U.S. led by Health GAP and its allies, resulted in an eventual reversal of the U.S. policy, at least in Uganda. A recent statement from the U.S. Ambassador to Uganda stated, "To address Uganda's short-term needs, the American people will add new HIV funding above and beyond our current annual budget of $280 million. These new funds, invested over a two-year period, will increase enrollment of new patients by at least 36,000 this year, with an additional 36,000 patients next year."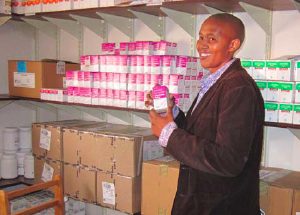 Source: The Global Fund.
Fighting for Funding
Creating false conflicts, engaging in wishful thinking about efficiency, and praying for people to get well will not stop the crash of the people's immune systems. Untreated, people with HIV will die, often in the prime of life, leaving vulnerable children, grieving partners and parents, and depopulated communities. The position of AIDS activists is clear: If there is enough money for war and enough to bail out bankers, there's enough to save the millions of lives that will be lost if flat funding continues.
The U.S. accounts for a quarter of the global economy and a third of donor-country economies. UNAIDS estimates that the global AIDS funding need for 2010 is $26.7 billion, with more needed if we are to start treatment earlier with the better treatment regimens recommended under the new WHO treatment guidelines. Funding needs will continue to rise over the next five years to reach universal access.
If the U.S. decides to provide its fair share (about $9-$14 billion a year from 2010 to 2015), it will offer leadership for other countries to follow. Even if 2011 appropriations only reach $7.25 billion (and grow by $1 billion a year after that) and the U.S. directs $6 billion of that funding to the Global Fund over the next three years, we would be substantially closer to achieving the goal of universal access by 2015. If money is short, as the U.S. claims, the U.S. can join the international effort to make the financial sector pay a financial transaction tax that would fund global health investments (see "Could a New Tax Save the Lives of Millions of People With HIV Around the World?" in this issue).
But informed outrage alone will not put the U.S. back on track to providing its fair share of funding. Activists need to continue shrewd campaigns aimed at Congress and the White House. The consequences of inaction will be all too real for the millions who are diagnosed with dangerously low CD4 counts, for mothers hoping to prevent transmission during childbirth, and for the community at large, which would see dramatically lower transmission rates if universal access to treatment were achieved.
Brook Baker is a professor at the Northeastern University School of Law and a Policy Analyst for Health GAP.