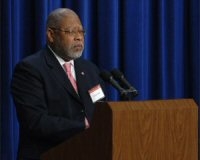 Christopher Bates.
Recently, I had the opportunity to address more than 80 African American physicians gathered at an HIV/AIDS Symposium for Primary Care during the National Medical Association's (NMA) annual convention here in Washington, DC. My remarks addressed the National HIV/AIDS Strategy (NHAS) and what black physicians can do to help the nation achieve the Strategy's important goals. I specifically urged them to step up routine screening for HIV, take steps to normalize such screening among all patients, reduce the stigma still associated with an HIV diagnosis, and ensure that patients diagnosed with HIV are linked to and remain in quality HIV care and treatment.
Much of the conversation that followed focused on the importance of and ways to increase the frequency of HIV screening by physicians. Of the more than 1.1 million people in the U.S. estimated to be living with HIV, approximately 21% are unaware of their HIV status -- that's 240,000 people, according to the CDC. Patients diagnosed through routine HIV screening are able to benefit from medical treatment, which has been proven to reduce a person's risk for HIV-related illness and death, and avoid unintentionally transmitting HIV to others. Because HIV crosses the boundaries of sexual orientation, gender, age, and ethnicity, risk-based testing fails to identify many people with HIV. Therefore, CDC recommends HIV screening for adults, adolescents and pregnant women in health care settings.
Advertisement
Following my presentation, three African American physicians shared insights and specific examples of what their colleagues can do to both help reduce the disproportionate impact of HIV among African Americans and realize the goals of the NHAS.
Black Physicians Not Routinely Screening Their Patients for HIV
Wilbert Jordan, M.D., M.P.H., Chair of the NMA's HIV/AIDS Section and the panel's moderator, discussed results of a survey he conducted on HIV testing among Black health care providers in the United States. Noting that since 2006, CDC has recommended that all adults, adolescents, and pregnant women be offered an HIV test as a routine part of medical care, including emergency department visits, Dr. Jordan observed that rates of routine HIV testing by black doctors did not indicate that this important recommendation has been widely implemented. His survey did indicate, however, that significant percentages of the doctors surveyed believe that HIV is a crisis in the African American community and those same physicians tend to overestimate the prevalence of HIV in their communities. Nonetheless, Dr. Jordan lamented, these physicians are still not routinely screening their patients for HIV. His survey probed some of the reasons why this was the case. Among his findings were issues around time and reimbursement; but stigma and discomfort among the health care providers were the most significant impediments to routine testing. Even if, as some survey respondents reported, African American patients are significantly more likely than other patients to respond negatively to a doctor's recommendation of a routine HIV test, Dr. Jordan cautioned that this does not mean the question should not be raised since ensuring that all Americans know their HIV status is vital to ending the U.S. HIV epidemic.
Sexual Health History Tool to Help Doctors Integrate HIV Screening in Patient Visits
Next, CDC's Madeline Sutton, M.D., MPH, shared findings from consultations with NMA physicians about routine HIV screening and taking sexual health histories of patients. The consultations were an effort to address data that indicated significant missed opportunities for screening among individuals who had visited health care providers in the year prior to receiving an HIV diagnosis. This included men who have sex with men and individuals previously diagnosed with sexually transmitted infections, two populations for whom HIV screening is called for even under risk-based rather than universal approaches. The physicians told Dr. Sutton that they would be happy to incorporate HIV screening into their practices, but would prefer that it be part of a broader sexual health conversation with their patients. So, working with NMA and CDC colleagues, Dr. Sutton developed a tool to aid physicians in incorporating brief sexual health histories into their standard care. She introduced the tool and provided copies to the participants. Access the NMA sexual health history tool and related continuing medical education module, HIV and Routine Healthcare Provider Sexual History Taking Among Physicians: Missed Opportunities in Primary Care.
Call to Reframe Views: AIDS Is Preventable
To close the session, Lisa Fitzpatrick, M.D., MPH, of Howard University, gave us all some ideas to think about regarding the relatively low number of patients screened annually for HIV as reported in the NMA study data. She challenged participants to reframe their views about HIV/AIDS noting that with early detection of HIV, linkage to care, and treatment, progression to AIDS is preventable. She stressed that since HIV is a chronic treatable disease, physicians should make screening for it a routine part of patient care just as they screen for diabetes and other conditions. She urged them to contemplate the consequences of failing to do so.
Achieving the Strategy's goals of reducing new HIV infections, increasing access to HIV care and improving health outcomes, and reducing HIV-related health disparities requires self-examination and improvement efforts on the parts of many sectors. Based on these thought-provoking presentations and the excellent questions and comments that followed from the session participants, I am encouraged that our nation's African American physicians are taking active and meaningful steps that will help increase HIV testing rates, normalize conversations about our sexual health, and increase referrals to appropriate HIV care for a population that is disproportionately burdened by HIV/AIDS.
Christopher Bates, M.P.A. is the executive director of the Presidential Advisory Council on HIV/AIDS, and senior advisor to the Deputy Assistant Secretary for Health, Infectious Diseases at the U.S. Department of Health and Human Services.