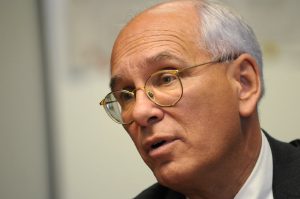 Eight New Yorkers push Tonko (pictured above) to protect critical AIDS programs.
With the fate of funding for critical national AIDS programs in limbo, eight advocates from upstate New York visited Congressman Paul Tonko (D-NY) last week to discuss safeguarding AIDS programs.
The group, called the Greater New York Policy Advisory Partnership, had a clear agenda for the meeting. Advocates argued for the preservation of CDC HIV prevention funding; argued against funding decreases to Medicaid; and encouraged Tonko to protect entitlement programs significant to the AIDS community, including HOPWA, ADAP and Ryan White.
Tonko, traditionally an advocate for programs that assist marginalized populations, was straightforward and honest. He recommended that advocates organize community forums, solicit information from service providers about the outcomes of funding cuts, and write letters to local media outlets. Most importantly, he said, those affected by policy changes and budget cuts need to share their stories with elected officials.
At the meeting, one of the members of the group shared his story: He contracted HIV in the 1980s, but continued to work in the community. In the early 2000s, he fell ill, lost his job and savings, and landed in the hospital with just a few weeks to live. He battled through, though, and HOPWA -- the national housing program for people living with AIDS -- served as a lifeline, allowing him to pay for his apartment when he left the hospital and couldn't work.
He now serves as a powerful testament to the benefits of government assistance.
The Greater New York Policy Advisory Partnership is a coalition of service providers and people living with HIV that aims to inform city, state and federal leaders about emerging issues related to HIV/AIDS. The Tonko meeting was attended by representatives from Housing Works, Centro Civico of Amsterdam, Adirondack Empowerment In Action, the Red Ribbon Partnership, Catholic Charities and the AIDS Council of Northeastern New York.
Moving forward, members of the advisory partnership will meet with other state congressional representatives, pressing them to protect the national safety net.
Carmelita Cruz is New York State director for advocacy and organizing, Housing Works.