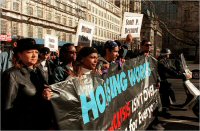 The park would honor early AIDS activists and those who died of the disease.
For a year, AIDS activists representing the Queer History Alliance have been working tirelessly toward the creation of a park that would honor the more than 100,000 New Yorkers who have died from AIDS.
It is far from certain, however, that the park will actually get built. This Thursday, the West Village Community Board will vote on a resolution that will affect the proposal for the park. It's critical that advocates show up in droves to show their support.
Join us! Wear green to show solidarity and sign up to make public comments.
Time: Thurs., Oct. 20, 6 p.m.
Place: P.S. 130 Auditorium, 143 Baxter St. between Grand and Hester
The park, which would be built on the former campus of St. Vincent's Hospital, would become a permanent teaching space to educate people about AIDS. It would also pay tribute to the caregivers and activists who have worked to fight the disease.
Follow the Update blog on twitter @housingworks.

This article was provided by
Housing Works
. It is a part of the publication
Housing Works AIDS Issues Update
. Visit
Housing Works' website
to find out more about their activities, publications and services.
(Please note: Your name and comment will be public, and may even show up in
Internet search results. Be careful when providing personal information! Before
adding your comment, please
read TheBody.com's Comment Policy
.)