Stigma and discrimination against men who have sex with men (MSM) have been well documented around the world. The challenges they face can vary from everyday personal hardships to high-level factors such as hostility from civil society organizations, religious bodies, government, and law enforcement. In many cases, homophobia is perpetuated by policies that criminalize MSM or neglect their basic human rights. Harassment, rejection, and violence lead many MSM to actively hide their feelings and relationships, denying themselves the social support that could improve their health and quality of life.
Discrimination and High-Risk Behavior
Studies have shown that MSM who experience discrimination and harassment are more likely to engage in risky sexual behavior. Violence and threats from family members and other sources have been linked with heightened risk behaviors, such as unprotected anal sex. Hostile behaviors directed against Latino gay men in the U.S. -- including harassment from their families and the need to pretend to be heterosexual -- have also been linked with high-risk sexual behavior.
In many cultures, the pressure to marry and have children can also place enormous stress on gay men. Studies in China have revealed that expectations of male gender roles contributed to higher levels of stigma, which may be linked to higher rates of unprotected anal intercourse. When gay men succumb to pressure and enter into heterosexual marriage, they often maintain sexual relationships with male partners. This can result in unseen sexual networks, increasing HIV risk and making it difficult to reach them with prevention information.
Advertisement
Mental Health
A growing body of evidence links discrimination and poor mental health in gay men. Stress research has shown that expectations of rejection and actual events of discrimination and violence contribute to mental health problems. In the U.S., gay men who live in states with laws that discriminate against same-sex couples have been found to exhibit hopelessness, chronic worry, and hypervigilance, common psychological responses to perceived discrimination. Social discrimination directed at gay, bisexual, and transgender high school students has been shown to lead to a greater risk of self harm, suicidal thoughts, risky sex, and substance use.
Sex "Criminals"
Nearly 80 countries criminalize same-sex acts, with penalties ranging from fines to imprisonment, and in seven nations, death. Facing such laws, MSM cannot disclose their sexual behavior to a health care provider without risking criminal sanctions. This can hinder provision of vital prevention information, testing, and care. Furthermore, outreach workers providing HIV prevention information and services to MSM may be accused of supporting illegal activities, such as "promoting homosexuality," and be subjected to fines, imprisonment, harassment, or violence.
Over 20 countries in Asia criminalize homosexuality, in a region where higher HIV prevalence rates have been recorded among MSM compared with the general population. In Africa, MSM are 3.8 times more likely to be HIV-positive than the general population. Yet a majority of African countries punish same-sex behavior with criminal sanctions. Several countries have recently shown renewed interest in same-sex criminalization by expanding criminal penalties or putting forward new laws. For example, in 2009, legislation was introduced in Uganda that would increase existing same-sex criminal penalties to include life imprisonment and, in some cases, the death penalty.
Criminalization of homosexuality can worsen HIV epidemics. HIV prevalence data from the Caribbean offers a striking example. As the following chart illustrates, countries that criminalize homosexuality demonstrate higher rates of HIV among MSM than those that do not. This is a pattern that can be found across regions around the world.
Stigma and Health Care
Hostile conditions push MSM underground, making them extremely difficult to reach. A recent survey of MSM in low- and middle-income countries found that only about half used a condom the last time they had anal sex with another man, and fewer than a third had tested for HIV in the last year. Because HIV resources are often offered at sites that provide other health services, homophobia in these settings can make it particularly difficult for MSM to get care. Even health care workers who declare acceptance of homosexuality have been known to display homophobic attitudes when providing services, breaching ethics standards and compromising the care of sexual minorities.
In recent decades, many governments and global institutions have emphasized primary health care, but many primary care providers still lack specialized knowledge about caring for MSM. They may, intentionally or unintentionally, express disapproval, driving them away. These behaviors can range from nonverbal gestures to disparaging remarks or ridicule. This makes MSM less likely to openly discuss their sexuality and more likely to provide inaccurate sexual histories.
An HIV diagnosis in itself can lead to significant stigma and discrimination, even from the systems that deliver HIV care. In Vietnam, nearly 100% of people with HIV in a recent study had experienced some form of discrimination because of their HIV status. In South Africa, HIV-positive men of all sexual orientations reported considerable emotional distress and discrimination. In Tanzania, people living with HIV reported "name calling, mocking and pointing fingers at those infected, and abusive language."
The root causes of stigma against people with HIV are many and varied. Lack of knowledge about HIV is an important factor, leading to misperceptions and fear of contracting the virus. Negative images of people with HIV in the media and linking HIV with illegal or "immoral" behavior (including sex between men) increase stigma. The growing trend toward criminalizing HIV transmission heightens the stigma. This stigma is realized through various forms of discrimination, including loss of family and community support, loss of housing, and loss of employment. The resulting isolation can be devastating. In India, for example, one study found an unwillingness to buy food from or share a meal with people with HIV. The dual stigma against MSM with HIV can hamper involvement in prevention efforts, decrease the chance of early intervention, and reduce quality of life.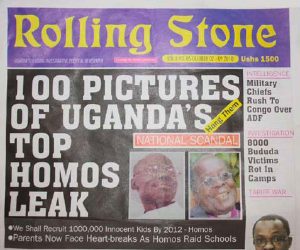 David Kato, above left, was a leading HIV and gay rights activist who was killed in Uganda in 2011.
Homophobia
It is estimated that HIV prevention services reach fewer than one in ten MSM globally. One recent study reported that fewer than half of MSM in low- and middle-income countries have access to information about HIV. It is not surprising then that MSM end up bearing the bulk of the epidemic's burden in many countries.
It is important to note that this difference in HIV prevalence is not unique to developing nations. The resurgence of the epidemic among MSM in high-income countries is well documented. According to UNAIDS, sex between men represents the dominant mode of transmission in Australia, North America, and the European Union. The CDC reports that the rate of new HIV diagnoses among MSM in the U.S. is more than 44 times that of other men. The National AIDS Trust estimates that MSM account for a third of new infections every year in the United Kingdom.
In low- and middle-income countries, MSM often do not have legal protections against hate crimes or other discrimination. This further limits their access to health information and services. The result can be seen in regions where MSM are at higher risk for HIV transmission and are also excluded from mainstream society. In Latin America for instance, male-to-male sex is the primary mode of HIV transmission. This region also has the largest number of homophobic crimes in the world, based on the reported number of murders due to sexual orientation.