HIV-Positive Writer Roger Kimpton Reflects on the Impact That New York City's Friends in Deed Has Had in the HIV/AIDS Community for the Past Two Decades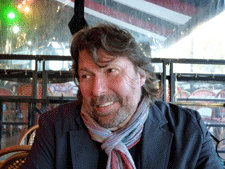 Roger Kimpton
A not-so-young man enters the seventh floor space in a commercial loft in New York's SoHo neighborhood. The entrance is simply labeled "Friends in Deed" (FID). The lights are soft, the colors muted earth tones, and the long hallway is lined with black and white photos of beautiful, if sometimes frail-looking, people dressed in white. Inexplicably, leaning on his cane, the man sighs softly, suddenly feeling a bit safer -- as if, perhaps, he is in the right place.
He is not the first to feel comforted upon crossing that threshold. FID serves the spiritual, as well as physical, needs of all those suffering from life-threatening illnesses; it also serves caregivers and those living with the pain of grief.
I was that man in the hallway. At 52, I had recently been released from rehab after almost four months of hospitalization. My 24-year career as a grip on films and television, which included Do the Right Thing, Law & Order, Law & Order: Special Victims Unit and The Days and Nights of Molly Dodd, was over. I had just learned to walk again -- to think again. While I was terribly frightened by my dramatic AIDS diagnosis, my greatest impediment to moving forward was the stigma of this disease and debilitating guilt because of what I had put my wife, Cheryl, through.
It was Cheryl who urged me to go to FID. Hospitalized with a shopping list of AIDS-related ailments, I was diagnosed while in a coma. She was despondent; she had no idea how this had happened. A social worker at Roosevelt Hospital told her that a "woman from this organization had just done a presentation to the staff and, perhaps, she could find understanding there."
The woman who gave the presentation was Cynthia Burke, Outreach Director and Facilitator at FID. A beautiful, deeply spiritual grandmother to all, Cynthia soon became a guide for Cheryl. Finally, my wife had a place where she could just let go and know she was safe.
After I emerged from the dark haze of the coma, I was obsessed with regaining my physical self. By the time I went to FID, I was in desperate need to find my emotional and spiritual center. It was there that, for the first time, I had the courage to stand up in a group and say, "I'm here because I have AIDS."
That word, "AIDS," got caught in my throat and I broke down.
After spending two years at FID, I evolved from a "sick man" to a man living with a manageable illness. I enrolled in cooking and journalism classes, and settled into the role of loyal house husband.
Smiles came ever easier.
***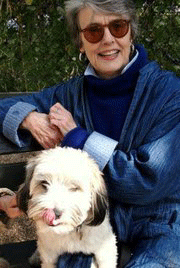 Cynthia (Cy) O'Neal
FID can trace its roots to a chance encounter between Cynthia (Cy) O'Neal, a former actress/model. On a spiritual journey herself, Cy had met a "gaunt, but beautiful, young man named Archie" when she attended a weekend-long workshop on spiritual healing. Her life was forever changed.
Archie had been diagnosed with AIDS and Cy spent almost every day with him until he passed away a year later.
Visiting Archie in St. Vincent's Hospital during his frequent stays, Cy would pass room after room where young men languished alone, a tangle of tubes and wires weaving from their emaciated frames. She became determined to reach out to as many of these people as she could. So began her 20-year odyssey of "running in the wrong direction." While so many retreated from these men and women, she ran to embrace them.
Cy originally worked at another organization serving the AIDS community, but left over philosophical differences. When she confided in her friend, the famed playwright and director Mike Nichols, that she could no longer stay where she was, his response was, "OK, we'll start a new program," and that they did in 1991.
Since FID's inception, tens of thousands from different backgrounds from throughout Manhattan, as well as Hoboken, Jersey City and even Long Island, have walked that hallway. From straight to gay, from black to white, so many people's lives have been changed. I've seen the most flamboyant of men speak of their illness and then in response be embraced by a portly, retired construction worker mourning the loss of his wife. I've also seen journalists from prestigious media outlets seek help and recovering meth addicts fresh from Odyssey House find sanctuary here.
Cy refers to herself as a "noncredentialed professional" in her 2010 memoir Talk Softly. Watching her lead a group today, though, shows the seasoned "professional" she has become. She believes that all resources, both Eastern and Western, should be tapped in fighting disease. FID offers "Bodywork," which encompasses yoga classes, meditation groups, massage, workshops on subjects such as journal writing, a staff counselor who is a pharmacist, as well as an expert in supplements and more holistic approaches to treatment. Guest speakers range from infectious diseases docs to estate planners. All services at FID are free of charge.
In the Big Groups, "we don't tell anyone what to do," says Cy. "If someone does not believe in taking meds, we don't press them to. It is their choice, their bodies. We don't focus on fixing." She continues, "We try to empower what's in all of us."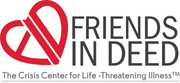 Friends In Deed
In time, FID evolved "organically," says Robert Levithan, an FID board member and a therapist, to embrace all life-threatening illnesses as clients brought in friends living with a diagnosis of cancer or some other illness other than HIV. We are all terrified when we enter, but it is amazing how someone else's journey can resonate for us whether it involves another illness or the loss of a parent, friend, lover or spouse. We all need to accept our place at the moment.
Robert adds, "Our society is so illness, death and grief phobic [that] it places such roadblocks for us." Face it, a diagnosis is terrifying, the loss of a loved one is painful and you can't put a timetable on your period of grief and fear. FID only provides the tools to deal with it.
Robert highlights that FID, above all, provides a community. "We all have friends and family," he says. "But here there is a community where you can completely reveal yourself safely."
***
Bea, 57, is a lovely, vital woman with a mane of thick curls who was diagnosed with HIV in 2005. "I had a job that offered great health insurance, so I went for a complete physical," she says. "I was shocked when I got the call." The doctor told her she had, probably, 10 more years.
"I was so angry, I wanted to kill all my ex-lovers and myself," she admits. Of course, there again was shame, especially when she went for another test and the technician "started spewing all this religious shit," after which she went back to work despondent. She has a masters in psychology, and yet this Italian-American girl from Brooklyn, was still so vulnerable. It was around that time that she found FID. She is a prime example of someone who has found community here -- so many of her now closest friends are FID clients.
Among them is Osvaldo, a man who faced the added stigma that comes with being a gay Latino. Despite the homophobia in his community and being diagnosed not simply with AIDS, but with a "super virus," he did not surrender. "Being gay isn't easy in my world, add AIDS to it and you can't move." But move he did. He discovered a true talent for painting when he took classes at Gay Men's Health Crisis and was eventually referred to FID by a friend. Today, though part of his life's fabric, his illness is almost an afterthought. He is a curator of the Art and AIDS art exhibits, as well as a contributor, and is one of FID's top fundraisers for the AIDS Walk.
Bea sums it up, "it's about connections and knowledge. What a blessing." The first connection FID assists you to make, of course, is with yourself.
***
Like Bea, FID has truly changed my life. It provided me with the tools to renew my life emotionally, spiritually and physically. It's funny, because six years later, I can say that I have joined the group of folks who say with confidence, "AIDS is the best thing to happen to me." And as insane as that sounds, it's my disease that brought me here ... and here is wondrous.
Jonathan Larson, the author of the iconic play Rent, composed the song "No Day but Today" from what he heard attending Big Groups at FID while doing research. I often find myself singing that same exact song to myself every day -- poorly, but with much enthusiasm.
Roger Kimpton is a freelance journalist based in New York City. He has been published extensively in the Web magazine Grandparents.com, as well as The New York Post, Palisade Magazine and Jersey City Magazine. Roger lives in Manhattan with his wife, Cheryl.
Copyright © 2011 The HealthCentral Network, Inc. All rights reserved.