In March 2010, the Patient Protection and Affordable Care Act was signed into law. It is the most important piece of health care reform legislation since Medicare and Medicaid were created in 1965. Health care reform presents a great opportunity to increase access to affordable care, treatment, and prevention services. But the devil is in the details, and its potential depends on reform being implemented in ways that truly meet the needs of people with HIV. In addition, there are shortcomings in the law that the HIV community must address.
The health care reform law means major changes are on the horizon for our entire health care system, and for HIV care in particular. We must begin an open and honest discussion about what these changes mean for those living with HIV. In this changing environment -- one in which thousands of people with HIV will have access to public and private insurance for the first time -- the role of Ryan White programs will change dramatically. Ryan White programs have been the primary providers of HIV care, treatment, and services for over 20 years. Yet in recent years funding has fallen far short of demand, and people are increasingly unable to get the care they need. Health care reform will greatly help to address the problems caused by inadequate funding and increased need.
The future of HIV care must include integration of Ryan White services into newly created health care systems. This is no small task and will involve difficult decisions and changes to the current order. We must work to make sure these newly created opportunities work and that the inevitable challenges are addressed so that all people with HIV get the care they deserve.
What Does Health Care Reform Mean for People With HIV?
Advertisement
Medicaid Expansion
Nearly 30% of people with HIV are uninsured, and up to 59% are not in regular care. Medicaid's requirement that a low-income person with HIV be disabled by AIDS to be eligible for the program has been a huge barrier. The single most important piece of health care reform for people with HIV is the elimination of this cruel "catch-22."
Starting in 2014, low-income people with HIV will no longer be forced to wait until they are disabled by AIDS to be eligible for Medicaid. Instead, most people who make up to 133% of the federal poverty level (FPL; about $14,000 for an individual and $29,000 for a family of four) will be eligible based on income alone. In addition, people newly eligible for the program will be entitled to a benefits package that includes, at a minimum, the same "essential health benefits" required for all health plans sold in the private insurance exchanges created by the health care reform law.
Medicare Part D Reforms
Uninterrupted access to medication is essential for the treatment of HIV. Currently, Medicare Part D has a funding gap known as the "doughnut hole" (people are responsible for paying $4,550 for their meds after Medicare has paid $2,830) leaving many unable to afford lifesaving medications. The following reforms will help people with HIV:
ADAP contributions can now be used to help people get out of the doughnut hole faster and will count toward their out-of-pocket spending. (Already in effect.)
People on Medicare receive a 50% discount on all brand-name prescription drugs, reducing out-of-pocket payments for most people with HIV from $4,550 a year to approximately $2,100. (Already in effect.)
The doughnut hole will be phased out and ultimately eliminated by 2020.
Access to Private Insurance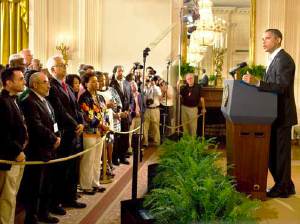 Photo: Jonathon Berliner.
People with HIV (as well as millions of others in the U.S.) will be able to purchase private insurance more easily. Starting in 2014, every state will be required to put in place an exchange that will serve as a marketplace for people to purchase individual and small group health insurance plans. Subsidies will be available to people who earn up to 400% of the FPL (about $43,000 for an individual) to make private insurance more affordable. Plans sold through the exchanges must include "essential health benefits," the details of which will be determined by the federal government.
Elimination of Discriminatory Insurance Practices
Because of harmful insurance practices, it is currently not possible for a person with HIV to buy individual private insurance. In addition, the private coverage available is often limited and does not cover the HIV services needed. Health care reform eliminates many of these harmful practices.
Health plans are prohibited from excluding children due to a preexisting condition. (Already in effect.) Starting in 2014, plans will also be prohibited from excluding adults who have preexisting conditions. In addition, beginning in 2014 no one can be denied coverage based on HIV status or charged higher premiums because of HIV or other disabilities.
Health plans are prohibited from placing lifetime limits on coverage. (Already in effect.) Beginning in January 2014, they will not be allowed to place annual limits on coverage.
Insurers are prohibited from canceling coverage when a person gets sick, except in cases of fraud. (Already in effect.)
Prevention and Public Health Investments
Millions of new dollars invested in prevention initiatives, community health centers, and expansions of the health care workforce will mean that people with HIV will have access to comprehensive care from a variety of new sources. Community health centers, for instance, will receive $11 billion over the next five years to expand. This will allow some Ryan White clinics to become Federally Qualified Health Centers and provides an opportunity to ensure that existing community health centers provide necessary HIV care, treatment, and prevention services. New investments also mean that many newly insured people with HIV will gain access to HIV prevention services and that there will be more health care providers available.
The Way Forward
Health care reform represents a huge shift in both the health care system and the philosophy behind it. The emphasis on prevention and wellness, community interventions, and integrated models of care has major implications for HIV services and providers, particularly with regard to the Ryan White program. For many people with HIV, care has been provided by distinct programs in separate health care settings. Through these programs, we have developed expertise in coordinated and "whole patient" care, creating a blueprint for the "health home" models that feature prominently in the health care reform law.
But the health care reform train is out of the station. Even the greatest supporters of HIV care and Ryan White programs in the administration and Congress are telling us that the current separate approach to HIV care is no longer tenable. They insist that it will be in the best interests of the thousands of people with HIV who will have access to public and private insurance for the first time for us to put our efforts into making sure that health care reform works for people with HIV.
We know that even after health care reform is implemented, there will continue to be a need for the specialized HIV care, treatment, and support services provided through the Ryan White Program. So we must begin thinking about what the future of HIV services in general, and Ryan White in particular, should look like. This is especially important given the fact that Ryan White funding has not been enough to meet demand. Moreover, if the HIV community continues to rely solely on Ryan White to ensure that the needs of people with HIV are met, we will have missed an important opportunity to gain access to the billions of dollars in new funding streams included in health care reform. Further, we will have missed an opportunity to integrate the coordinated service delivery model that is the hallmark of the Ryan White Program into the new, larger-scale reforms.