#TeamRae -- Chicago AIDS Walk 2011 #FunTimes
By Rae Lewis-Thornton

October 4, 2011
This piece originally appeared in Rae's blog, Diva Living With AIDS.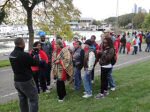 #teamRae.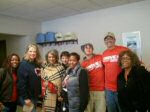 Some of #teamRae at Manny's after the walk.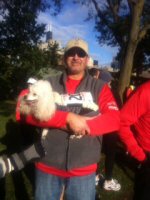 Kurt and Sophie.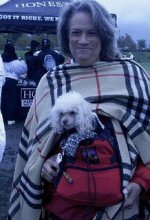 Me and Nambi 2011.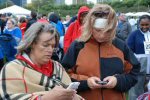 Me and Toni Tweeting Walk 2010.
I didn't think that I could do it this year. My health, as you know has taken center stage and interfered with a good portion of my life. As I debated the yes and no of the Chicago AIDS Walk, some of my devout members tweeted me often asking about the team, so with less than two weeks from the walk, I went ahead and signed up #teamRae.
I got off the IV medication on Friday and I shook off whatever I was feeling physically and participated with my team. The walk is always fun and it's for a great cause, service organizations that treat people living with HIV/AIDS.
The Core Center where I get all my health care is one of the recipients. There are times when I need to get medication from there. Like the cream I use to treat my herpes infection cost $700 for a small jar. So I'm grateful for the AIDS Foundation of Chicago leading the way each year to create additional funding for Chicago's AIDS Care.
When I first arrived to the walk I thought that we would have only five people on the team, but some of last year's team members started to filed in one by one and two by two. And each time, we all jumped with joy and hugged with excitment. We even had some new members this year and they just folded in like they had always been a part of #teamRae. We had 11 members in total and we had a blast walking Chicago's lake front.
And the star of the show was my little Miss Sophie. She was a hoot! When she wasn't riding in a man's arm, she was strutting her stuff like a Diva Poodle should.
Missing from the team this year was my old lady Nambi. At 15 1/2 it was time for Doggie Heaven... I miss my baby RIP Nambi
Ok so next year I have a goal of at least 50 team members and to ensure that it happens, I took that responsibility out of my hand. What's the point of having a team and no help? So I am proud to announce that Antonia, but everyone calls her Toni, is Team Captain. You can find her here twitter @ itsToni and on Facebook @ www.facebook.com/ItsToniS
Or if you email rae@raelewisthornton.com I will forward all the information. There is a $25.00 sign up fee from the Chicago AIDS Foundation and we will be having #teamRae t-shirts next year. I will try to keep the cost at $20-22. So save your money.
Lastly, you can still donate to my team. They have not yet closed out donations Click this link. I'm so glad Toni kept asking me about the walk for this year. It was what I needed to help lift my spirit. I'm just so honored that people believe in my work around HIV/AIDS and show their support in so many different ways. The Chicago AIDS Walk is one way to be visible in this fight against HIV/AIDS.
Get e-mail notifications every time Rae's blog is updated.
---
Add Your Comment:
(Please note: Your name and comment will be public, and may even show up in
Internet search results. Be careful when providing personal information! Before
adding your comment, please
read TheBody.com's Comment Policy
.)