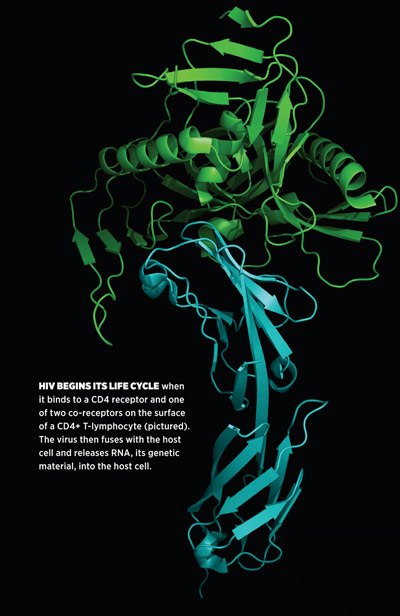 Image by Mike Tyka.
If ever there was a silver lining to the AIDS pandemic, it might be the scientific contribution HIV has brought to understanding the immune system. Only a few decades ago, not much was understood about our chameleon-like, self-protective immune system because of its enigmatic complexity. Yet today, more is known about the immune system than ever before, although harnessing the knowledge to create immune-based treatments will continue to be challenging.
Surviving the roller coaster ride of HIV with its ups and downs, I have personally witnessed a remarkable attribute of the immune system: its resiliency -- or ability to maintain a balance, especially with a long-term condition such as HIV. HIV disrupts this balance, yet overcoming a broken immune system is entirely possible with improvements in treatment, and a further understanding of how to "correct" the disruption made by HIV.
What Is the Immune System?
Simply put, the immune system is composed of organs, tissues, cells, and chemicals that work in a specific, coordinated response to fight foreign invaders such as bacteria, viruses, parasites, and proteins. You might consider our immune system to be like computer software or an "app" on your phone that, through a complex series of biological processes and cellular signaling, works collectively to keep us healthy.
Despite the immune system's remarkable ability to fight infections and heal, it has taken thousands of years to evolve to where it is today. Yet it is not perfect. Allergies, for example, are overreactive immune responses to things that are not necessarily harmful. The immune system also has a weaker response to certain infections that can lead to diseases such as cancer.
The Pieces of the Puzzle
Understanding the immune system is like putting together one of those jigsaw puzzles with thousands of pieces. For the sake of this review, I will attempt to deconstruct that puzzle piece by piece, then put it back together by explaining how the immune system works. Finally, I will explain what we currently know about how HIV impacts the immune system and our hopes for the future.
Blood Cells
All cells in the body come from the bone marrow and eventually divide and expand to provide the cellular make-up of bones, tissues, organs, and blood. Blood cells take on their individual roles, separating into white and red blood cells in a process called "hematopoesis." Lymphoid cells form that are the major immune white blood cells known as T-cells, B-cells and natural killer cells. CD4 and CD8 cells are types of T-cells.
Advertisement
APCs, or antigen presenting cells, such as macrophages and dendritic cells, are also immune cells. They sweep and gobble up invaders, digesting them into antigens that are presented to the T-cells in the lymph nodes.
CD4 T-cells (also known as CD4s) are known as the generals of the immune system, as they coordinate signals and responses. When the CD4 T-cell becomes activated, it signals to the CD8 T-cell to kill the infected cell. These two types of cells work as partners to eliminate pathogens. CD4s are also the main target of HIV and over time, without treatment, the total pool of CD4 cells in the body will die.
Different kinds of CD8 T-cells have different functions. Cytotoxic lymphocytes, or CTLs, kill infected cells -- the cells release cytokines that have their own immune functions, but they also inject a chemical called perforin that is like a killing potion. Without a CD4 T-cell signaling to a CD8 T-cell, this potion would never be released and a critical moment of immune protection would be lost. Suppression of overreactive immune responses is the job of CD8 suppressor cells.
These are the most important white blood cells that carry out the bulk of the infection fighting that occurs in our bodies. But there are many other types of cells that help fend off invaders that, for the sake of this review, are smaller, less significant pieces of the puzzle.
Getting the Full Picture
There are several other pieces of our immune system puzzle that are necessary for understanding how it all fits together.
Thymus
Another major player in the immune system is the thymus. This organ lies directly under our breastbone and covers almost the entire top portion of the chest when we are born, then shrinks and even disappears with age. The thymus can be thought of as a "school" for CD4 and CD8 T-cells. In the thymus, cells go through a process called "thymopoesis," that instructs the T-cells on how to carry out their function. Studies have shown that there can still be thymopesis even in older folks or people with HIV who have a shrunken thymus. This is critical to maintaining the large pool of T-cells that are ready to encounter a new pathogen. In the thymus, CD8 T-cells are developed in a similar way as the CD4s. Memory CD8 T-cells will also be made after an encounter with a pathogen.
Lymphatic System
The lymphatic system is comprised of an interconnected system of vessels and nodes where much of the immune action takes place. The lymph nodes are small peanut-sized glands located at particular places throughout the body where antigens meet up with CD4 cells, sort of like train stations or coffee houses. The CD4 cells then mobilize the rest of the immune system cells to fight the infection. Other secondary lymph tissues involved are the spleen, mucosal tissue in the gut, and tonsils.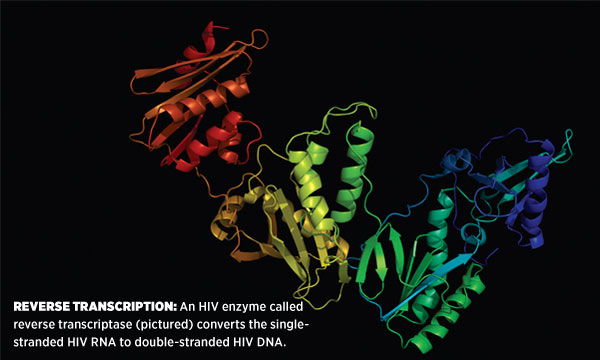 Image by Mike Tyka.
Antibodies
Antibodies are made by B-cells when you are exposed to a pathogen. They are small Y-shaped proteins that stick to and red-flag pathogens for immune system recognition that leads to their destruction.
Cytokines and Chemokines
Similar to data being sent over the wire, these are immune system signaling chemicals that either tell the immune system to start, slow down, or stop, as well as where to target. They also employ the body's mucous, saliva, tears, and pus to help rid the body of the foreign invader. These chemicals are responsible for many of the symptoms of an infection, including inflammation.