Us Helping Us and La Clinica Awarded CDC Funds
By Candace Y.A. Montague

September 27, 2011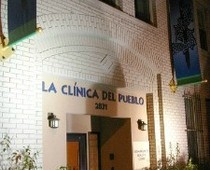 La Clinica wins grant from CDC. Credits: Daquella Manera-flickr.com.
Us Helping Us, People Into Living and La Clinica del Pueblo, both based in Northwest, were awarded funds to expand their HIV/AIDS prevention services for young gay and transgender men of color yesterday. The announcement came on National Gay Men's HIV/AIDS Awareness Day, a day set aside for recognition of the impact of the disease on gay men. As of lately, HIV among gay men has been rising at an alarming rate. According to the CDC estimates, released in August, between 2006 and 2009, the annual number of new HIV infections increased 48 percent among young black MSM. Among Latinos, men who have sex with men are by far the most severely impacted, accounting for nearly two-thirds of all new infections. Now Us Helping Us and La Clinica del Pueblo will have additional funds to fight HIV among these endangered populations.
The grant will go towards funding testing programs and linking HIV-infected individuals to care. The awards will also fund prevention services such as condom distribution. Dr. Ron Simmons, President of Us Helping Us says, "We are excited to have received a CDC grant to target young, gay black men.They are a population significantly impacted by new HIV infections and with this grant, we are hoping to reverse that trend." There were a total of 34 community-based organizations that received grants; representing 19 states and Puerto Rico.
Congratulations to Us Helping us and La Clinica del Pueblo! We all look forward to seeing more work and more creative solutions towards ending the epidemic.
Get e-mail notifications every time Candace's blog is updated.
---
| | |
| --- | --- |
| No comments have been made. | |
Add Your Comment:
(Please note: Your name and comment will be public, and may even show up in
Internet search results. Be careful when providing personal information! Before
adding your comment, please
read TheBody.com's Comment Policy
.)