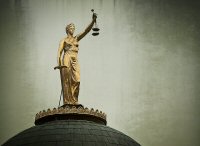 Finally, a chance at justice: The first bill to attack HIV criminalization is introduced.
Congresswoman Barbara Lee (D-CA) has introduced an unprecedented piece of legislation that could put an end to laws that impose cruel and unfair penalties on HIV-positive people in the U.S.
The bill, called the REPEAL HIV Discrimination Act, calls for a review of all federal and state laws, policies and regulations regarding the criminal prosecution of individuals for HIV-related offenses. It then creates incentives for governments to reform existing policies that use the law to target HIV-positive people.
Introduced Thursday, the legislation "relies on science and public health, rather than punishment, as the lead response to HIV exposure and transmission incidents," said Catherine Hanssens, executive director of the New York-based Center for HIV Law and Policy.
"It embodies the courage and leadership needed to replace expensive, pointless and punitive reactions to the complex challenge of HIV with approaches that can truly reduce transmission and stigma."
Advertisement
Thirty-four states and two U.S. territories have criminal statutes that punish people for exposing or transmitting HIV to another individual. Punishments range from a fine to up to 30 years in prison, according to the Center for HIV Law and Policy. In some states, exposure or transmission is a felony, and convicted individuals are sometimes forced to register as sex offenders, a label that drastically affects job, housing and education prospects for the rest of their lives.
"This bill gives a lot of people hope," said Tracy Johnson, 23, an HIV-positive man from Ohio, where engaging in sexual activity before disclosing HIV status is a felony. "These laws have made me feel like I'm a criminal because I have this illness. Even if I disclose, I know I can still be arrested if my partner gets mad at me and tells the police I didn't do so."
For years, many AIDS activists have argued that laws that punish HIV exposure or transmission cannot be applied justly. Instead of protecting the public health, activists argue, these statutes often backfire, discouraging people from seeking testing.
A fact sheet created by the Center for HIV Law and Policy, AIDS United, Lambda Legal and the ACLU AIDS Project summarizes the problems with HIV criminalization and the measures the new bill takes to address them.
The bill has 12 cosponsors. Is your representative one of them?
Cosponsors: Reps. Donna Christensen (D-VI); Hansen Clarke (D-MI-13); Steve Cohen (D-TN-9); Raul Grijalva (D-AZ-7); Maurice Hinchey D-NY-22); Jesse Jackson D-IL-2); Eleanor Holmes Norton (D-DC); Mike Quigley (D-IL-5); Charles Rangel (D-NY-15); Gregorio Kilili Camacho Sablan (D-MP); Jose Serrano (D-NY-16); Lynn Woolsey (D-CA-6).
Follow the Update blog on Twitter @housingworks.