UN Official Pledges to Support LGBT, HIV-Positive Voices in Haiti
September 22, 2011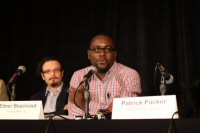 "This is a pretty big step forward," said Edner Boucicault, Housing Works' Haiti country director.
New Orleans -- A top UN official working in Haiti admitted today that HIV-positive and LGBT Haitians are being left out of the nation's post-quake reconstruction process.
Speaking to hundreds of AIDS policy experts at the North American Housing and HIV/AIDS Research Summit, Nigel Fisher, humanitarian coordinator for the UN Stabilization Mission in Haiti, pledged to help elevate the voices of members of these groups so their demands are met in the rebuilding process.
"People living with or affected by HIV and AIDS, or gay and transgender minorities, they are still left out in the cold," said Fisher.
"So I can say to the summit organizers: You've already done two things in bringing me here. One, you've raised my awareness by inviting me. But, two, you've allowed me to meet with ... Haitian advocates here. And we've already come up with some ideas about how we can work together once we return to Haiti."
Advertisement
His announcement marks a victory for the delegation of Haitian AIDS activists attending the summit, all of whom have spent the 20 months since the quake trying to convince policymakers to recognize the needs of HIV-positive people in the country.
Many Haitians have struggled since the quake, but HIV-positive and LGBT individuals have had a particularly difficult time getting back on their feet, since stigma remains a barrier to acquiring health care, jobs and homes.
The Haitian AIDS activists, all members of the AIDS group PHAP+, praised Fisher's willingness to tackle HIV and LGBT issues.
"The fact that [Fisher] has decided to come to the summit is a tremendous opportunity for us," said Edner Boucicault, Housing Works' Haiti country director. "This is a pretty big step forward."
In the decade before the quake, Haiti had made strides in preventing and treating HIV; and the nation's HIV prevalence rate dropped significantly, from 6 percent in 2001 to about 2 percent in 2007. The disruption caused by the quake; however, has many worried about a rising HIV prevalence rate.
Food insecurity is fueling transactional sex; gender-based violence is common in the hundreds of camps that still dot the country; and condom use is low.
The next step? Fisher and Boucicault discussed planning a UN-supported two-day workshop where Caribbean AIDS and LGBT groups can share best practices. Boucicault hopes to hold the workshop in early 2012.
Housing Works began working with Haitian activists in 2008 and opened an advocacy office in Port-au-Prince in 2010. We promote the work of grassroots AIDS organizations led by Haitians living with and at risk for HIV/AIDS.
Follow the Update blog on Twitter @housingworks.
More From This Resource Center
---

This article was provided by
Housing Works
. It is a part of the publication
Housing Works AIDS Issues Update
. Visit
Housing Works' website
to find out more about their activities, publications and services.
---
| | |
| --- | --- |
| No comments have been made. | |
Add Your Comment:
(Please note: Your name and comment will be public, and may even show up in
Internet search results. Be careful when providing personal information! Before
adding your comment, please
read TheBody.com's Comment Policy
.)