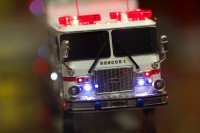 NY becomes the fourth and largest state to protect people who report overdoses.
To the cheers of human rights advocates across New York State, a law that could save the lives of thousands of drug users went into effect yesterday.
The legislation encourages people to call 911 if they experience or witness a drug overdose by providing individuals with limited protection from prosecution for possession of small quantities of drugs.
The passage of the "911 Good Samaritan Law" makes New York the fourth and largest state to adopt a law that protects those who report overdoses. In the U.S., drug deaths now exceed traffic fatalities, and overdose kills more than 37,000 people each year, according to the CDC. The passage of the bill in such a large state could encourage other states to enact similar legislation.
Advertisement
When Gov. Andrew Cuomo signed the bill in July, he recognized that some individuals in the state's law enforcement were resistant to the law, but wrote "the benefit to be gained by this bill -- saving lives -- must be paramount."
In New York State, overdoses are the leading cause of accidental death, according to the activist group VOCAL-New York. Overdoses can be prevented -- but many who witness or experience an overdose do not call emergency services for fear of being prosecuted for drug possession.
Washington State, Connecticut and New Mexico are the only other states that protect people who report overdoses, though similar legislation is under consideration in California, Illinois and Nebraska.
"When my girlfriend overdosed, I called 911 because I didn't want her die," said Elizabeth Owens, a leader from VOCAL-New York. "But I hesitated because I thought it would mean sacrificing my freedom if the police found drugs on us. Many people don't follow through and make that call because they're afraid of what the police will do when they arrive. This new law can be a lifesaving tool, but only if the police understand it and get the public to trust them."
Follow the Update blog on Twitter @housingworks.