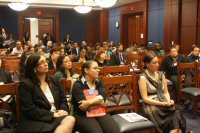 Sesión informativa del Congreso lanza oficialmente el Día Nacional Latino Para la Concientización del SIDA 2011.
Washington, D.C. -- Representantes de las oficinas Congresionales, agencias federales y líderes comunitarios hicieron un llamado a aumentar los esfuerzos para abordar la creciente epidemia del VIH/SIDA y los retos para obtener atención medica, así como la importancia de contar con los recursos adecuados para implementar la Estrategia Nacional contra el VIH/SIDA, en la sesión informativa que se llevo a cabo en el Capitolio de la Nación.
Este llamado es en respuesta a los mas recientes datos de los Centros para el Control y Prevención de Enfermedades, (CDC por sus siglas en Ingles), los cuales reportan un incremento en infecciones a causa del VIH, en comunidades de color, Puerto Rico, las Islas Vírgenes y el Distrito de Columbia. De acuerdo al CDC, los Latinos representan un 20% de las nuevas infecciones. Líderes Hispanos expresaron su preocupación, debido a la crisis económica en muchas municipalidades con alto número de personas viviendo con VIH/SIDA y los constantes recortes a programas de prevención y tratamiento.
"Reconociendo que representamos un número desproporcionado de casos de VIH/SIDA en comunidades Latinas y en Puerto Rico, debemos incrementar nuestra movilización comunitaria para asegurar servicios tan críticos e importantes. Recordemos que el VIH se puede prevenir. Las Organizaciones comunitarias están renovando su compromiso para proveer servicios bilingües y multi-culturales que promuevan la educación sobre temas de salud, la prueba de detección del VIH, servicios de prevención y atención médica para los Latinos/Hispanos" declaro Guillermo Chacón, Presidente de la Comisión Latina sobre el SIDA.
Advertisement
La sesión informativa del Congreso de la Nacion en el Capitolio, oficializó el Dia Nacional Latino de Concientización del SIDA (NLAAD, por sus siglas en Ingles), una campaña educativa anual que se lleva a cabo cada 15 de Octubre y en la que participan más de 350 ciudades, además de 45 estados y territorios. NLAAD fue establecido en el 2003 como catalizador de movilización comunitaria para prevenir la propagación del VIH en comunidades Latinas/hispanas, promover la prueba de detección del VIH, conectar comunidades con atención medica, actividades para concientizar sobre el VIH/SIDA y otras enfermedades que impactan a Hispanos a niveles nacional, estatal y local.
"Los Latinos que viven con VIH/SIDA, sus familias, seres queridos y amistades se unen a organizaciones comunitarias, departamentos de salud, oficiales electos, líderes religiosos y cívicos en la organización del Día Nacional Latino de Concientización del SIDA," señalo Melissa Faith Ramírez, Directora de NLAAD.
Diversas organizaciones se unieron a la Comisión Latina sobre el SIDA para educar a nuestros representantes en el Congreso sobre el impacto del VIH/SIDA en comunidades Hispanas. Estas organizaciones incluyeron: the Metropolitan Latino AIDS Coalition (MLAC), the National Alliance of State and Territorial AIDS Directors (NASTAD), the National Minority AIDS Council (NMAC), the Hispanic Federation, Gay Men's Health Crisis (GMHC) and the National Latino AIDS Action Network (NLAAN).
El Dia Nacional Latino de Concientización del SIDA fue creado en el 2003 en respuesta al impacto devastador que ha tenido el VIH/SIDA en las Comunidades Latinas/Hispanas a través de los Estados Unidos y sus Territorios. El 15 de Octubre marca la octava conmemoración anual del NLAAD, la cual se lleva a cabo cada año en reconocimiento al último día del Mes de la Herencia Hispana. NLAAD representa un llamado a la acción para que los Hispanos/Latinos protejan sus vidas y las vidas de sus seres queridos, haciéndose la prueba de detección y aprendiendo sobre el VIH. Para mas información visite: www.nlaad.org o www.latinoaids.org.
This article was provided by Latino Commission on AIDS.