New York has the nation's highest number of Latinos and Latinas with HIV/AIDS. Latinos represent about 16 percent of state's population, but about 30 percent of people living with HIV/AIDS, reports the Latino Commission on AIDS. Seroconversions among Latinas are soaring in New York City. Black women and Latinas account for more than 90 percent of all new HIV infections among women. Black and Latina women are reportedly "almost 30 percent" of all new HIV infections in New York City.
"Calling it a crisis would be an understatement. And unfortunately there is never enough HIV prevention funding and [few] resources targeted toward Latinas," says Yolanda Diaz, a veteran New York City-based HIV/AIDS advocate. Diaz is the WILLOW/SIHLE program facilitator at Iris House, the landmark Harlem-based HIV/AIDS service organization founded 1993. It was the very first agency "anywhere" to address the needs of women living with HIV/AIDS.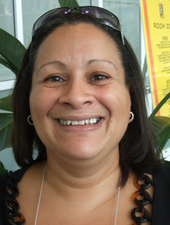 Yolanda Diaz
Talk to me about your work at Iris House.
I've only been at Iris House for about 8 months. I facilitate the WILLOW and SIHLE interventions or. These are prevention strategies that target and empower women and girls. "WILLOW" means "Women Involved in the Life of Other Women." SIHLE stands for "Sisters Informing, Healing, Living and Empowering." These are small group sessions, we focus on risk reduction, sexual health and family dynamics. They've been very successful.
You're fairly new to Iris House but have been involved in HIV/AIDS for some years, correct?
That's right. Many people remember me from SMART University, which provides treatment, prevention and health education for women living with and affected and by HIV/AIDS. I was a program coordinator at SMART and was there for eight years total and volunteered for two years. Before SMART, I was a case manager at United Parents of the Bronx. ... I'm a "Nuyorican," a Puerto Rican born in New York City. I love my community!
Describe some of the challenges faced by Latinas who are living with HIV.
Most of the challenges are related to immigration. That's an extremely important issue and can affect health care, access to services and treatment. Many Latinos and Latinas face considerable discrimination around immigration issues especially [around health care]. Also: The barrier of language. That's another roadblock for many people.
Most Latinas face the same issues as everyone else, such as concerns around jobs, money or housing. But there are some things that are more specific to our culture -- such as the "machismo" culture. Many Latinas deal with this from husbands, boyfriends and family. When you're talking about HIV, or women who are HIV positive, that "machismo" can encourage fear, stigma and discrimination.
Advertisement
Some women, both positive and negative, don't always feel comfortable sharing information about their appointments, groups sessions, or testing with their husbands, significant others or their families. Many men in our culture [expect] that women will tell them where they are going. Many Latinas have to get the "okay" that they are going to this or that place. So there is a lot of fear. We try to help them as best as we can.
The CDC just released new surveillance data that showed new infections are soaring among Black and Latino younger gay and bisexual men. But there was little discussion of new infections.
And very little was reported on women! When the data was released, I was watching a video from a presentation at the National HIV Prevention Conference in Atlanta. Women were not mentioned in the presentation. Obviously, they are very concerned about men who have sex with men, but [it appears] like the focus of the epidemic is on MSM. There is often very little mention of women and our stories.
It's an ongoing situation and a problem of scarce resources. The Centers for Disease Controls is not funding the epidemic among women to the extent that they should. We also have very many Latina transgender women who are impacted with HIV and often remain outside the system. It's a very big problem because some groups simply do not want to work with trans women, and will push them away. That's wrong. Latina trans women are at very high risk for HIV infection and need our help.
There's also been an increase in new infections among Latino teens and young women in New York. Are you seeing many younger women come into your offices for testing or education?
Actually, I haven't seen many younger Latinas. But I have seen many older Latinas and senior citizens who are asking questions or getting tested! Many of these women say their friends, neighbors and peers are also asking for information. Many of these women say they feel more comfortable discussing HIV and sex with a woman my age, from 55 to 65 years old. Because otherwise they would often they say they are not asking for themselves.
Is it difficult to discuss condoms and safe sex with older women?
No, not at all (laughs). You just have to make it fun and exciting.
Rod McCullom has written and produced for ABC News and NBC, and has reported for Ebony, The Advocate, Colorlines, the Black AIDS Institute and others. Rod blogs on politics, pop culture and Black gay news at rod20.com.