Q&A With Photographer Caitlin M. Kelly
Even though there are more than 110,000 Argentineans living with HIV/AIDS, (including 36,000 women), while living in Argentina, freelance photographer Caitlin M. Kelly started noticing how little the disease was talked about. Yet, the more women living with HIV that Caitlin met, she noticed how silent the women were about it and how fearful they were if people found out. In hopes to break down this wall and combat stigma, Caitlin created "'I am ...' Women Living with HIV," a photo gallery highlighting the faces of strong women living with HIV. In this interview, she talks about the perception of HIV in Argentina and where she wants to take her project in the future.
View "'I am ...' Women Living with HIV," in English.
View "'I am ...' Women Living with HIV," in Spanish.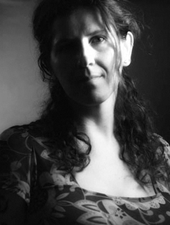 Caitlin M. Kelly
How did "'I am ...' Women Living With HIV" get started?
It was a long process. The project started two years ago and it took me about two years to get to the shooting stage. It came about slowly when I was talking with women in different HIV organizations and different people in Argentina. I have friends that are HIV positive as well. So, it became obvious to me that a lot of people didn't mention their HIV-status to their friends or neighbors, or even to their children, because of the fear of being discriminated against.
As a woman, I'm always interested in these projects that involve women, so I kind of started to narrow it down. I eventually settled on the general topic of women with HIV. But I didn't want for it to be the negative aspects. I wanted to talk about life and living. I also wanted to talk about strong women.
How did you find the women?
A lot of networking. I was introduced through a mutual friend, Marcela Alsina, the director of the Red Bonaerense de Personas Viviendo Con VIH/SIDA. She is one of the women I photographed too, and she introduced me other women, like Catalina and Rosa. In terms of young people, I came across Fundacion Huesped. And in speaking with their youth director Tatiana, I was introduced to Sophia, Tamara and Nadia. Pretty.
Were there any challenges or difficulties in getting the women to publicly disclose?
Absolutely. The women, who said yes, were a small fraction of the women that I had asked. The point of this project is to bring attention to issue, so I'm not hiding your face. I'm concentrating on your face. So any woman who is not comfortable being in that position, I'm not going to photograph her. There were a number of female activists who were just not comfortable being in front of the camera. There were a lot of women who told me, "Oh yeah, I'm HIV positive, but I don't want anybody else to know."
Advertisement
From your experiences working with the women, how is HIV and stigma perceived in Argentina?
There's a huge stigma and shame involved here. One example of that is Mariana's story, one of the women I photographed. She talks to school groups and teenagers about HIV and she told me she begins her talks by saying, "I am not a drug addict. I am not a sex worker." She feels it's very necessary to do that because people assume that women who are positive are a drug addict, a sex worker or promiscuous.
I think in Latin American cultures, talking about sexuality -- and HIV brings up images of sexuality. And those types of discussions are difficult to have; people are just not comfortable with that here. And so, it's just easier to mislabel these women.
What will it take to shift the conversation about HIV/AIDS?
First of all, I think you need to empower women. What I've noticed here in Argentina is that they're strongly tied to their family. They are daughters, they are sisters, they are wives, they are mothers. They are very rarely independent women. I don't mean independent as in having their own finances or jobs, I mean having their own identity and develop a strong sense of being able to say, "No, I won't have sex with you" or "We need to use condoms." And I do see it changing among younger women and women my age in their late '30s.
How do you think we could drive this change?
With major education. I would love to see awareness campaigns, especially here in Argentina. I see few of them. There's very little publicity or rhetoric about HIV prevention.
Well perhaps your project is the future?
I'm not quite sure how I will get my project out there. I see this as something on a global scale and every now and again that freaks me out. So I've gone back to something my mother would tell me as a child, "How do you eat an elephant? One bite at a time." I have thought about incorporating video as well.
Posters would be great too, anywhere from community centers to museums to publications to online. Because I think there are a lot of avenues to communicate with a variety of people. Not everybody walks into a museum. Not everybody reads the internet. So a body of work that aims to make a difference, aims to be social, I think it needs to attack every avenue.
How can people help?
I need participants. I need ways to get the project out there and funds to continue developing this project. At this point, I've been funding it all from my freelance photography, but if I want to take this larger, I definitely need to find ways of funding it and getting it out.
If you are a woman living with HIV and would like to be photographed, email Caitlin at cate@cateincba.com. Be sure to include your full name, age, location and ways to get in touch.
To help with funding, sponsorship or partnerships to bring the project to other parts of the world, contact Caitlin here.
Follow the project on Facebook.
Warren Tong is the research editor for TheBody.com and TheBodyPro.com.
Follow Warren on Twitter: @WarrenAtTheBody.