Lucia (In English / En Español)
In 1989, this pregnant Cuba native took a mandatory blood test in hopes of gaining U.S. citizenship. She was utterly shocked when the results came back positive for HIV.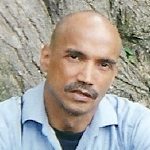 Ed Viera, Jr. (In English)
Diagnosed in 1987, this U.S. Marine Corps vet is "doing damn good" -- his words! Ed reflects on HIV's challenges and lessons.
AIDS, Latinos and the Deep South (In English / En Español)
Christian Castro oversees the Latino Commission on AIDS' "Latinos in the Deep South" program. He talks about how this intensive program raises HIV awareness in the region and addresses stigma, language barriers and immigration.