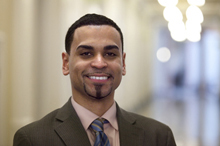 Christian Castro
When the Latino Commission on AIDS released their report, Shaping the New Response: HIV/AIDS & Latinos in the Deep South in 2009, what they found was incredibly troublesome. Some of their findings were that HIV rates throughout this region were increasing among Latinos by an alarming rate; Latinos are late testers and most likely become aware of their status through neo-natal testing or some other illness; many Latinos in the South who are immigrants do not have access to health care and are not reached by traditional prevention awareness programs; prevention programs and HIV/AIDS ASOs geared for Latinos lack Spanish speaking employees; and Latino MSM initiatives were rare.
In other words: the health needs of the community were falling to the waste side and that problematic, especially given that the Latino population in the South continues to increase over time.
So to help fill in these gaps and to provide support to existing HIV/AIDS ASOs, the Latino Commission on AIDS created its Latinos in the Deep South Program. TheBody.com's Kellee Terrell sat down with Christian Castro, the program's Project Coordinator to talk about the epidemic south of the Mason-Dixon Line and what his program is doing to raise awareness.
Tell me about the work that you do for the Latino Commission on AIDS' Latinos in the Deep South program?
Advertisement
The Latinos in the Deep South program is a regionally focused program that focuses on emerging populations in seven Southern states: the Carolinas, North and South; Alabama; Georgia; Mississippi; Tennessee; and Louisiana. It started essentially as a needs assessment effort. So we look at what were the conditions, the prevalent conditions, within the emerging Latino populations in regards to HIV and AIDS, in terms of any kind of effort, coordination and stigma.
We started that by doing roundtables and out of those roundtables in the seven states, we disseminated the Deep South Report . That report highlighted some prevalent issues there, which served as our starting point. Based on that, we are aiming to really look at building local leadership, developing networks, coalitions, enhancing the knowledge and the cultural competency, and really also looking to kind of spur action and address these needs as they've been shared amongst our partners in the Deep South.
Are you partnering with other existing programs in these areas?
Certainly. Each one is unique in its own way. For example, North Carolina has had one of the largest surges of Latinos in the last two decades. How does the larger community adapt, embrace or engage?
So we understand in North Carolina, there's a wealth of information, in terms of these kinds of research centers, the Research Triangle [that includes North Carolina State University, Duke University and University of North Carolina at Chapel Hill]. So we try to kind of take advantage of that, and really support those places. But also, in community-based organizations, help departments collect data or at least support the need to address HIV prevention efforts, whether they are behavior intervention, HIV educational classes, etc. But the major goal is to really build spaces and forums where Latinos can really get the information out about the risks they put themselves at for HIV, but also kind of a healthy promotion. So we kind of support those kinds of network buildings. We also provide Capacity Building Assistance services. It's one of our major efforts, funded through the CDC.
How all this plays out, in particular with the National AIDS Strategy, which really supports these efforts, will help the Latino community, or those that work with the Latino community, begin to use information and then build their own local and regional efforts to support these goals.
What are some of the biggest obstacles for you to do your work?
I've been there now for two years, as director -- is that you have to kind of acknowledge that all of this takes time. It takes time because you're talking about organizations, institutions or networks where they might have not worked in the past and you're trying to support that. And that takes time for organizations to work in partnership, or to get the information.
And then with that information, what do they do internally with it? So it's not so much we go there and say, "Well this is how you should do it." No. We go there in equal partnership and with respect, in kind of a customized approach. And let them take that information and empower themselves. And then we can help support them through these different strategies that we have proposed in our model.
So a lot of it is kind of waiting for organizations to kind of engage us actively. In some areas, that's different. They're not always on the same kind of trajectory, which is fine because it's all about community awareness around health disparities. So that's always going to be a stride -- engaging different communities at different kind of appropriate interchange.
Resource allocation is becoming a little tighter. So we have these different approaches in terms of asking people for assistance, or local leadership development. And so we have different funders who we ask to come in to ensure that all our needs are being met.
Using your own observations and work, what are some of the major factors that are fueling the AIDS epidemic in the Latino community? And I ask this fully acknowledging just how vast and diverse the Latino community is.
Well the first one would be stigma. I think that kind of thing is unique sometimes within our community. Not being able to talk about health, in general, in a way that enables people to take care of themselves in a holistic manner. Not being comfortable to talk about HIV/AIDS and how it's transmitted really speaks to issues around gender identity, sexuality and taking care of oneself -- all things that people don't want to talk about it.
Unfortunately, in our work, we can't do one-to-one interaction so much; it has to be on a group level. So we try to support people to really talk about stigma as an actual barrier. And one of the ways we've done that is actually to do what we call stigma mapping, where we go to communities and map out what the messaging is around health. That's kind of an ongoing project. We're collecting data and looking at what the physical indicators are, in terms of how stigma is played out.
The second factor is cultural issues and how it relates to stigma. It's the way many Latinos perceive themselves, in terms of health. Many do not go to a doctor, or have access to a doctor, unless we're talking in terms of going to the E.R. room when someone needs incredible care. And obviously, now, that's even become harder because E.R. services are being slashed because of lack of funding. Not to mention, Latinos are late testers when it comes to finding out their HIV status.
And culture plays a significant role as to how can we provide cultural competency services for health care providers to understand the complexity, as you mentioned, about Latinos. Not all Latinos come from similar regions. You have those that are born in the United States, first-generation Latinos, and also those that have recently come, or have been here for a couple years.
So even from that there are subsets of Latinos. So, identity issues are important
With your work, what are some of the best way to address those issues?
We try to maximize our efforts by developing webinars. So, long-distance technology presentations to really provide information, talk about existing resources and build strategies. Because then there's the awareness of health care providers -- to be aware of who Latinos are. Essentially, we do like a Latino 101 presentation.
Also, we support National Latino AIDS Awareness Day, which is a key mobilization effort. That happens on October 15th. And it's really to provide HIV awareness and testing efforts across Latino communities. We help communities get involved in developing appropriate events, forums, community meetings, in hopes to talk about HIV, to overcome the stigma and to support health promotion.
We also do conference presentations at the local, regional and national conferences, such as the U.S. Conference on AIDS, and many local, smaller events or venues. Organizers can then reach us out again through our Capacity Building Assistance Program, and they can access those notes in detail through that venue, as well.
It's also kind of just partnering.
And finally, we encourage leadership development. We just finished our first cohort, and our Leadership Institute is named after Dennis de Leon, who was our former president. It's called the Dennis de Leon Leadership Institute. The focus right now in the first cohort, is on North and South Carolina and Louisiana. And we recruited emerging leaders. Through that they developed a series of webinars to really talk about what it takes to support leadership in the South.
If you can recommend some actions that everyone can take to end the epidemic, what would they be?
One: definitely know your status. Whether you're HIV positive or HIV negative, it's good to know. And it's good to hopefully share that with others. So if you're HIV negative, well, try to stay that way. And if you're HIV positive, you know, you are still a productive member of society and you can do great things. So, knowing your status is very important, because then we need to know that overall, so we know that our resources are being used, and you know, matter.
And secondly, which is still health-related, is to be aware of your overall health and wellness. It's important to ensure that we all know that we are living healthy productive lives and that we make sure that we see our doctors on a regular basis, whatever the health condition is.
At the end of the day, taking care of yourself is important because it helps you and our communities, as well.
To read their 2010 full report, "Striving to Keep Latinos & AIDS to the Forefront", click here .
Kellee Terrell is the former news editor for TheBody.com and TheBodyPRO.com.
Copyright © 2011 The HealthCentral Network, Inc. All rights reserved.