Reaction to the AIDS Funds Strip Club Scandal
By Candace Y.A. Montague

September 5, 2011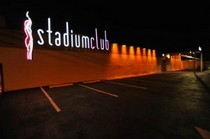 Does this look like a job training facility for people with HIV? Credit: dcist.com.
As if the "Hurriquake" experience wasn't enough to rock the metro area, now there is another force that has shaken us up. The latest scandal involves a familiar non-profit organization that is supposed to be aimed at working to improve the lives of people in D.C. with HIV/AIDS. Miracle Hands, located in Northeast, has been accused of using nearly $330,000 of grant funds to open up a strip club. Miracle Hands applied for the funds to open a job training facility on Queens Chapel Road for people who have HIV or AIDS. Now this former warehouse has been transformed into The Stadium Club which continues to operate today. D.C. Attorney General Irvin Nathan wants the city to be paid restitution in excess of $988,000.
This story, unfortunately, has an all too familiar ring for D.C. and frankly it's just downright shameful. First, Miracle Hands was one of the non-profits being investigated when the Washington Post broke the story about AIDS funds being "squandered" less than two years ago. Second, Miracle Hands' current Executive Director Debra Rowe was in charge of D.C.'s AIDS administration when Miracle Hands began seeking funds in 2005. (She was fired in 2008. Not sure if that was due to Miracle Hands.) Third, D.C.'s HIV/AIDS grants program has just been proven to have "serious flaws" in its funding oversight through an audit last month. This story is getting old and the infection rates are not going down.
This Examiner wondered how others reacted to the news of more deception and money mismanagement. I asked Walter Smith, Executive Director of D.C. Appleseed, a local watchdog group who gave the HAHSTA's grant management a "B" grade earlier this year. Smith stated,
"D.C. Appleseed has called for strengthened oversight and increased accountability in the District's programs and services for people with HIV and AIDS. In our most recent Report Card in March of this year, we reduced HAHSTA's grade in Grants Management due to continuing shortcomings, but noted that the agency has put new safeguards in place. However, it remains unclear whether those safeguards have yielded the necessary results, or would have protected against the misuse of funds alleged here."
It's pretty clear that D.C. taxpayers and citizens with HIV are once again paying the real price for such schemes. What about the other organizations that also applied for the same grants but lost to Miracle Hands? Could they have made a real difference in the lives of people with AIDS in the District with those funds? Probably so. Guess the new checks that have been put into place are failing. Enough is enough already. It's past time to get it right.
Get e-mail notifications every time Candace's blog is updated.
---
| | |
| --- | --- |
| No comments have been made. | |
Add Your Comment:
(Please note: Your name and comment will be public, and may even show up in
Internet search results. Be careful when providing personal information! Before
adding your comment, please
read TheBody.com's Comment Policy
.)