Human Rights Watch: Haiti Earthquake Recovery Failing Women and Girls
August 31, 2011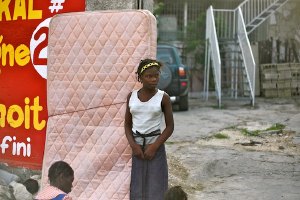 Despite an unprecedented influx in aid, Haiti's women still lack basic care.
Haiti's women and girls face enormous gaps in access to health care services critical to stopping the spread of sexually transmitted diseases, preventing maternal and infant deaths, and lessening the impact of sexual violence.
This is the conclusion of a report released this week by Human Rights Watch. Despite an unprecedented influx in recovery aid from donors -- and the availability of new health services -- many women and girls have not benefitted. Major barriers to care include lack of information, poor transportation infrastructure, and unaffordable charges on services.
Human Rights Watch interviewed 128 women in 15 displacement camps. The report explains that hunger has led many women to exchange sex for food; and it explains that dismal camp conditions have exacerbated the impact of sexual violence because of trouble accessing post-rape services.
Among the testimony shared in the report is that of Gheslaine, a single mother of three who lost everything in the quake. She recently gave birth, but has no means to feed her three children. She is one of approximately 300,000 females living in Haiti's displaced persons camps.
"People will try to survive by the way they can. Women have relationships with men so they can feed their children. That happens a lot. My daughter is 12 and does not have friends in the camps, because it happens that even girls are pressured to have sex for things. I don't work. I don't have parents to help. Many times women get pregnant, and they don't have anyone to take care of them.

So, for US$0.60 or $1.25, you have sex just for that. Unfortunately, women sometimes get pregnant, but if we had access to planning, we'd protect ourselves. ... It's not good to make prostitution, but what can you do? You have to eat."
In the report, Human Rights Watch urges the Haitian government to do a better job of protecting woman and girls from violence, and to ensure that individuals have information about post-rape care.
"The earthquake has exacerbated the vulnerabilities of this already vulnerable group," said Esther Boucicault Stanislas, president of FEBS, which provides psychosocial support and other services to approximately 800 people living with HIV/AIDS. More than 60 percent of them are women. "After the earthquake we thought that women and girls, the category in this society which is most affected by HIV/AIDS, would have been helped by the reconstruction process in their own country. But it appears that for now, this is just a dream."
Housing Works began working with Haitian activists in 2008 and opened an office in Port-au-Prince in 2010. We promote the work of grassroots AIDS organizations led by Haitians living with and at risk for HIV/AIDS.
More From This Resource Center
---

This article was provided by
Housing Works
. It is a part of the publication
Housing Works AIDS Issues Update
. Visit
Housing Works' website
to find out more about their activities, publications and services.
---
Add Your Comment:
(Please note: Your name and comment will be public, and may even show up in
Internet search results. Be careful when providing personal information! Before
adding your comment, please
read TheBody.com's Comment Policy
.)