"I share my story, so that communities can see that this can happen to anyone. It impacts everyone. It has no borders," says HIV advocate and long-term HIV survivor Evelyn Hernandez. In 1993, instead of enjoying the honeymoon stage of being a newlywed, Evelyn was dealing with not only her husband's HIV-positive diagnosis, but her own as well. Evelyn speaks to us about loss, overcoming stigma, finding love again and the importance of giving back to other HIV-positive Latinos like herself.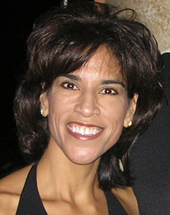 Evelyn Hernandez
This is Bonnie Goldman reporting for TheBody.com. Welcome Evelyn, to This Positive Life.
Thank you very much. Hopefully, my experience can help many other women who are living with HIV in various communities.
Let's start from the beginning. How did you find out that you are HIV positive?
I found out back in 1993. I was recently married. My husband found out about 2 weeks after our wedding day.
What made him get tested?
Prior to our wedding day, he had not been feeling well for some time. Losing weight, feeling fatigued, he just did not have the energy he was accustomed to having. And I pretty much encouraged him to go and have a physical done, because the last time he had one he was a teenager. He worked in construction and worked out several times a week. Then he just started losing a lot of his muscle mass, and began to feel fatigued.
Advertisement
How old was he at the time?
He was 33 years old.
And how old were you?
I was 29.
This was in New York?
Yes, in upstate New York. I grew up in New York City, born and raised. I lived there the majority of my life. Then I moved to upstate New York and lived there for about 10 years. That's where my husband and I had met.
How long were you married when he started getting sick?
Two weeks after our wedding day.
Wow, so you were spun into a new world.
Absolutely. When you're planning a marriage with someone you love, you think you're beginning the rest of your life -- the second part of your life, I should say. I was looking forward to starting a family, being a wife and spending the rest of my life with someone who I cared for very, very deeply. Just as quickly as he was diagnosed, this curve ball was thrown at us.
At that time, what did you know about HIV?
All that I really knew was what was on the news and in the paper -- it was primarily a gay and an IV [intravenous] drug user disease. We just didn't seem to fit the perceived profile.
Did your husband know how he got infected?
He experimented with steroids at the gym. He worked out three or four times a week. He needed to be physically fit for his job in construction.
So he shared needles with other guys?
That's what we suspect. He used to get his steroids and syringes at the gym. So, where did that come from? We don't know.
As soon as you found out that he had HIV, were you worried about your own health?
Absolutely. Immediately, the doctor that had diagnosed my husband wanted me to come in and get tested. The ironic thing is that I was feeling fine. I was working a full-time job and had no symptoms at all. About two weeks after I was tested, I received a call from my husband. He had just returned from a doctor's appointment and wanted me to come home right away. I thought he received some really bad news at his doctor's appointment. But when I arrived home -- this was back in November of '93 -- that's when he told me that I had tested positive as well.
What was the first thing that you did?
I was in shock. I just couldn't believe it. I did not know what to do. I didn't know who to turn to. I just kept pacing our living room floor. We had barely been married for a month; this is not what you would expect to happen.
In 1993, the only medicines available were Retrovir [zidovudine, AZT] and Videx [didanosine, ddI], so it was a still a fatal time.
It was. It was thought to be pretty fatal and those were the images that we were seeing on the news. People were dying of AIDS -- lying in bed and withering away. We thought, "This can happen to us, or we can both fight it together."
I have a lot of faith and I'm a fighter by nature. So, because I had been feeling well, I thought, "Okay, let's just do what we need to do and embrace the fact that we are living with this illness, and that we are not going to die immediately."
Was your husband as brave as you?
Unfortunately, no. By nature, he was such an outgoing person and enjoyed life, but his whole demeanor just changed, literally overnight. He became very reclusive. He just, pretty much, would sit in his chair. I tried my very best to help get him out of that space, but it didn't work.
Who did you tell in your family about your diagnosis?
Well, interestingly enough, the first person I called was my father. My parents were both living in New York City, in the projects of the Lower East Side of Manhattan. I called my father at work. The reason I did that was because my mom had had open heart surgery, and I knew she was home alone. I did not want to give her the news knowing that she was alone. So I thought the stronger person at this point would be my dad.
And surprisingly, he became extremely emotional. He cried. I'm the youngest of four and as you can imagine, no parent would want this to happen to any one of their children, let alone their youngest, their baby. He had a really, really difficult time just dealing with it.
Did they blame your husband?
No, and that's one of the things that Greg and I said from the very beginning, that HIV already had control over our lives. We were not going to allow it to take any more control by getting us to bicker back and forth: "I got this from you," or "You gave me this." We did not want to go there, because we knew it was not a healthy place to go. We couldn't change the fact that we were both HIV positive. We just had to be strong and work together as a family, as newlyweds, and try to get through this as best as we could.
So, did your husband immediately go to the doctor and try to get treatment?
We both went in together and we saw a very good doctor in upstate New York who was pretty much on the cutting edge in treating people with HIV. And, my husband comes from a family of nurses, so they were a great resource for us. They had recommended a doctor who was recommended to them. We went and we sought treatment; we took AZT and Zerit [stavudine, d4T]. They were the only two medications available to us.