"Don't give up. Educate yourself and find something that appeals to your psyche and to your inner peace to help you deal with the information you will be getting, because some of it is scary," says HIV advocate and long-term HIV survivor Lucia. In 1989, this Cuba native received a mandatory blood test in the hope of gaining her U.S. citizenship, but was utterly shocked when she was told her test results came back positive for HIV. Lucia, who was also pregnant at the time of her diagnosis, opens up about being pressured to have an abortion, the long journey it took for her to feel at peace again and why speaking publicly breaks down the walls of stigma in her community.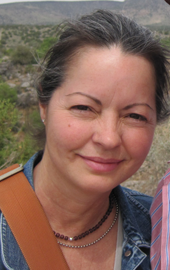 Lucia
This is Bonnie Goldman reporting for TheBody.com. Welcome Lucia to This Positive Life.
Thank you for having me.
Tell me, how did you first find out that you are HIV positive?
It was 1989 and I went to the immigration office in hopes of beginning the process of becoming a U.S. citizen. The first step is to become a resident of the United States, and at that time, I was given a blood test for all STDs [sexually transmitted diseases], including HIV and that came back positive.
So what happened?
I was given a year to get my affairs in order. I definitely had no interest in pursuing my citizenship at this point; I needed to have so many other things in place. I was also pregnant, and at the time I was advised heavily to have an abortion.
So the journey began as far as finding out how the heck I had possibly become infected since my spouse of, at that time, 13 years was negative. I didn't have any more of an answer than they did. I had never been hospitalized or been a drug user or displayed any risky behaviors. Had only been in two serious relationships in my life. The only thing I did contribute at the time was that I had been sexually active one time with my previous boyfriend. That was dismissed, because that was over 10 years ago and there was no way I could be alive given how short of a lifespan people with the virus were living at that time.
Advertisement
The doctors believed that I had been recently infected. My blood, after many, many, many tests, ended up at the CDC [U.S. Centers for Disease Control and Prevention], which was the final confirmation that I was in fact positive, because it was just not being accepted too easily. I can't even tell you how many labs -- how much blood work -- I had to undergo just because they were in total denial.
But after awhile, I realized that I was infected at the age of 16 by a hemophiliac boy I was with in high school. He passed away a couple of years ago. Neither one of us knew he was positive, and we were having unprotected sex. I was a virgin and didn't know much about sex. It was a one-time thing, because I wasn't thrilled about it, just the first time.
Why did they not think you were positive?
Because I didn't fit "the category." I was not promiscuous and had been in serious monogamous relationships in the past. I was 27, 29 at the time when I was diagnosed. Without a hospitalization, blood transfusion or any drug use, they just didn't know how the heck I could have possibly contracted HIV. But they told me to abort the child and that was that.
What did you do with the recommendation about abortion?
That was the hardest choice I ever made in my life, to give up something I desperately wanted, but that was what I had to do. I was put through a lot of guilt -- mainly by my spouse and the medical community as well. The chances of the child being born positive were high from what they were telling me.
My ex-husband was an accountant and he took the chances as being stronger than the facts and he would ask how could I be so selfish to want to bring a child into the world with this.
How many months pregnant were you?
Maybe a month.
You had a lot to deal with in a month! That just seems like so much.
Yes it was. But I was fortunate. I don't know if I'd have called it fortunate at the time. I'd call it fortunate now, because the stress I was under was going to kill me faster than the actual virus that had managed to live within me for who knows how long.
I had to get a grip and I did: I had enough people, good people, my so-called angels that came into my life. Religion was the first journey, eventually leading to psychology. I found some wonderful psychologists that worked with me. We didn't really talk about HIV -- this therapy was more about saving my marriage. It was what I needed at the time to get strong and the journey turned out to be more about self-love and learning to just count each day as a blessing. Consider it a gift to be alive and breathing.
When you were first diagnosed, did you tell your parents at all?
I told my spouse immediately and then I told my mom and she was just the most supportive and just an incredible person -- still is my best friend. I couldn't tell my father, because he had passed away.
During this time, HIV was really stigmatized. Did you tell any of your friends?
You're right, HIV was very stigmatized and the information out there wasn't the best. Home computers were not something everyone had at the time. The information that was available catered mainly to the medical profession and not the everyday person. Given that, I fully began to do public speaking behind my husband's back, which he was not happy about. I would speak when I was off from work.
What were you doing at the time?
I worked for an air-conditioning company as an accountant.
Why didn't your husband want you to speak publicly about HIV?
He was a sole practitioner and was afraid that people were going to find out and destroy his reputation and his business. I think he still is worried about it to this day. [Laughs.] We remain friends, but I believe he's had a long journey with this.
Speaking of jobs: Have you disclosed at any of the jobs that you have had over the years? And if so, did any co-workers bother you or anything?
No, as a matter of fact, if anything, I've been in their lives. I had one girl that was undergoing MS [multiple sclerosis] treatment. She felt that I was the one person that she could come talk to about what was happening to her. Another had hepatitis C for example. Cancer, whatever disease, you name it, I was the person to go to for strength.
So what has given you the strength to come out about your status?
Although I'm Hispanic, I don't come across as Hispanic. When I moved out here, I had no clue what was happening within my community. It prompted me to take action and do something. The next thing you know, somebody's offering me a job in this business and one thing is leading to another. I did not speak very fluent Spanish and the next thing you know, I'm brushing up on my Spanish.
Earlier you mentioned that you were trying to gain your citizenship. Where are you from originally?
Cuba.