"I got to see the 'dirty side' of AIDS in the '80s and '90s," remarks Rafael Abadia; "Younger people really haven't. I don't think they see the urgency." Rafael came close to death several times in those early years of the epidemic, and has taken numerous HIV treatment regimens. He's also been involved in advocacy ever since -- battling stigma rooted in homophobia as well as AIDSphobia, and fighting for access to care for others living with HIV. Nowadays, he's still tirelessly working to raise awareness of HIV in Latino communities in his home state of Florida. But he's been thinking it might soon be time for a rest -- so he's devising plans to get youth more involved in HIV advocacy. "I wish we had other younger advocates taking over," he laughs; "I am getting older!"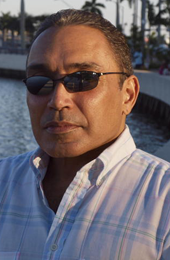 Rafael Abadia
How did you find out you were HIV positive?
I was having flu-like symptoms, and I went to my general doctor at the time; he suggested I have an HIV test. A few days later he called me on the phone and gave me my diagnosis. He just came out with it. I don't remember what else he said. [chuckles] I was shocked.
I had a partner at the time. He was out of town on business, so I felt completely alone. I hate to use the term "a little suicidal," but those thoughts came into my mind. I was active in the community in New York City then -- I volunteered at Gay Men's Health Crisis (GMHC), so I had kinda seen the face of AIDS.
How did your partner take it when you disclosed to him?
He was going to be away for the weekend, and he just flew back the next day. It was fine for the next couple of months, but then we parted. He couldn't handle it.
Advertisement
How did you get support through those first few months of being positive?
Since I had volunteered for GMHC, I knew a couple people there. After my diagnosis, that following Monday, I was diagnosed with PCP [Pneumocystis pneumonia] and hospitalized. They kept me in the hospital for a month. From there, my partner called GMHC and they did the intake at the hospital, and I became a client of GMHC. They helped me get connected to medical care and so forth. I was very fortunate, because they guided me to some support services which I desperately needed.
How long did it take you to get used to fact that you had HIV?
It wasn't easy. At first my main focus was recovering from the PCP, which took a long time. GMHC connected me with great mental health care providers, and I started seeing a therapist. That really helped me deal with internal issues, because not only was I dealing with the AIDS diagnosis, my relationship was also breaking up. I needed to find a new place to live. So many things were happening.
Another concern was my parents. At the time they were living in Puerto Rico. I knew I couldn't tell them about my diagnosis over the phone. I knew I had to fly to Puerto Rico. I had to prepare myself mentally for that. That's what I did for the first eight or nine months: prepared myself.
I flew to Puerto Rico. I had lost a lot of weight, so I made sure to wear a lot of baggy clothes to try to cover my illness. I was really concerned about how my parents were going to take it. They're extremely religious, Christian fundamentalists. My being gay was an issue. I didn't know what to expect.
Then the day came, and I sat in my parent's living room; my mom was in the kitchen. I said "Dad, I need to speak to both of you. It's very serious." He called my mom, and my mom just kind of ignored him, she didn't want to come. They knew something was gonna be up. [laughs] When my mom came, the three of us sat in the living room, and I told them that I had AIDS.
My dad is what I call a true macho Puerto Rican man, whom I've never seen cry. He ran into his bedroom, crying -- really crying. I ran after him. I grabbed him and he put his head on my shoulder and we both cried.
To my amazement, they accepted me immediately. I thought they were going to put away the spoons, the cups, and not let me use them -- because I've heard horror stories from other people. But no, from day one, they accepted me, and they were there for me.