"There was something in me that said, 'You need to tell these women your story,'" Bernadette Berzoza remembers. "I think a lot of women were thinking like me: 'That's my life, I have to live it. It's not risky behavior.'" Today Bernadette volunteers helping people newly diagnosed with HIV navigate the health care system. She co-founded an HIV and health education organization, still in existence, for women of color in the Denver area. She's got two grown and thriving kids, three beautiful granddaughters and a loving, supportive partner who is HIV negative. It's a far cry from the years following her 1989 HIV diagnosis, when she told barely anyone her secret. Here, Bernadette shares her journey from silence, shame and abuse to public speaking, advocacy and self-care.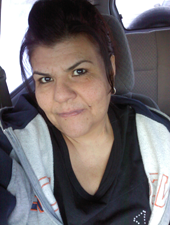 Bernadette Berzoza
Can you tell me the story of how you found out you were HIV positive?
It was in September 1989. At the time I was living in the project housing development in West Denver. I had a 3-year-old daughter and my son was 4. My husband came home and he had someone with him. He said, "I really need to talk to you. You need to sit down. We need to talk." My husband introduced the person that was with him as an outreach worker for a program here in Denver, called Project Safe; he did outreach and HIV testing for IV drug users.
My husband said, "I did the test a year ago, and, I never went back for the results." I was like, "So, is that why the woman from the Department of Health kept calling and trying to contact you?" I'd given him the messages but I hadn't known if he'd followed through. Finally I gave them the number to where he stayed when he visited his father. That's where they contacted him, apparently, and told him he that he was HIV positive. It took them a year to track him down.
Advertisement
He told me he'd tested positive for HIV, and I needed to be tested. In my world, HIV was foreign. I had heard about it, but I always assumed, like everybody else, it was a gay disease, and I didn't have to worry about it. My first thought was, "I'm not gay. And I don't do drugs. And I'm not sleeping with a lot of people. So, what do you mean?"
The outreach worker said, "You need to get tested, because you're still sexually active with him and he could have transmitted it to you." I didn't want to hear it. I was like, "No, no, this isn't happening. No!" I got very defensive.
I had found out probably about two to three years prior that he was using drugs. He was shooting heroin. When I met him I was 19 years old. I got with him when I was right out of high school. We dated for about 11 months. Before we could get married, I was pregnant. So he was my partner, and I wasn't with anyone else.
It was a good relationship at the beginning; then it started to take over my identity. Now I can say it was domestic violence, spousal abuse; but back then, to me it was love. He loved me so much that he didn't want me hanging around with family. He wanted me home. I thought that was part of a relationship. All he had to do was say, "I love you," and everything was fine. When I found out he was shooting drugs, I accepted it.
He'd come home after he'd be drinking. I'd get smacked, he'd pull my hair; but then the next day everything was OK. Then it started getting worse. By the time I had my second child I got beat up a lot. There was fear in me of questioning anything he was doing, because if I questioned it, I got hit. So I learned to act like everything was OK.
He never held a job. I was the one that worked and took care of the kids. He would come and go as he pleased. He would be gone for weeks. I lived this life for a long time. I never questioned anything that he did, until that September day, when he came and told me that he was HIV positive.
Finally they convinced me to get tested. I took an anonymous test and it came back positive. I told them, "Nope, I'm not positive. I want another test." A month later, I finally got the second test. The counselor that was doing the test wasn't very comforting. He was matter-of-fact: "Why did you come for a second test if your first test told you you were positive?" I said, "Because I don't think I'm positive." He said, "Well, you are positive. Here are some pamphlets that explain what HIV is. If you have children you need to make arrangements, because you might have a year or two to live. Thank you. Have a nice day."
At that point, everything faded to black. I know I walked out of the room, and I saw him, and I hit him. I said, "They just told me I'm going to die. What's going on here?" I went home and I grabbed my babies and I said, "How did this happen? How did I get here?"
Then the shame kicked in: "What did I do wrong? What are people going to think of me?" It was ugly. It was terrible. For the first year after I found out, I was in denial.