You and Your Meds: The Dance of a Lifetime
If you miss too many steps in the dance called adherence, your treatment could stumble and so could your health.
"What Happens if I Miss a Dose?"
Joseph McGowan, M.D., F.A.C.P. responds
"Is It Okay to Take All my Pills at Once?"
Ben Young, M.D., Ph.D., responds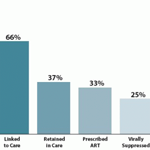 What is the Treatment Cascade?
If you haven't heard the phrase "treatment cascade" yet, you will. The HIV treatment cascade "describes the journey that HIV-positive persons take as they navigate the health care system," as Kevin Fenton, M.D., Ph.D., explains.
"What allows me to sit here and continue writing about life with HIV when I face so many struggles every day? ... Who am I to tell someone to be med compliant when I have built a resistance against Atripla because of my own foolishness?"
Jermaine Wright
Copyright © 2014 Remedy Health Media, LLC. All rights reserved.