Occasionally we here at TheBody.com are lucky enough to hear from readers who've volunteered to craft their own articles sharing their stories and thoughts. This is one of those articles.
Read Part One of Jessie's two-part story.
Carlton and I decided to get married on April 3, 1999, for the sake of my daughter, so she would have a father before she died. We didn't get married for love, for God knows what we had wasn't love. We had a lot of problems in our relationship. However, we managed to act like a family.
Then in September I decided I was going to try to get clean. I went through the VITA (Vanderbilt Institute for the Treatment of Addiction) outpatient program at Vanderbilt Psychiatric Hospital. I completed the program; on my graduation day I tested negative for cocaine and received my medallion. I walked across the campus to the children's clinic, where my mother was with my daughter. There was a Department of Children's Services (DCS) worker there to give me a drug screen. She said I tested positive for cocaine. I told her that was impossible since all I did was walk across the campus. However, she wrote in her report that I tested positive. They admitted my daughter into the hospital that day, and she spent seven days there. When she was released there was another DCS worker there to take my daughter away from me and place her in foster care. I never regained custody of her after that, and she died in a foster care home.
After they took my daughter away from me, I relapsed. On Dec. 31, 1999, I had been up all night smoking crack. It was around 8 in the morning. I had just put a big hit on my pipe when the telephone rang. It was Carlton's aunt; she said that she had some bad news. She told me that they had found my mother dead in her apartment. I dropped the phone and started screaming hysterically. It couldn't be true; the last time I saw my mother alive we had gotten into a big argument. I yelled at her, and I didn't even tell her I loved her.
There were some people staying with us, and they agreed to give us a ride to my mother's house, so we could identify the body. When we arrived, the police and coroner were already there. They told Carlton that my mother's body had already started to decay. She had been dead for approximately three days and the heat was set on 90 degrees. So he went in and identified her body. He tried to keep me from going in there, but I'm the kind of person that, if I didn't see it for myself, I wouldn't believe it.
I went in and saw her. She was lying there with her arms folded across her chest, holding a book that she was reading: Death and the Life After by Billy Graham, a guide to being ready to die when the time comes. She was already turning black, blue and purple. The smell was horrendous. Sometimes I wish I'd never gone in there, but I had to see it for myself.
The last few years had proven to be full of tragedies: I had started using crack cocaine; I lost custody of my daughter; and worst of it all, my mother had passed away. However, my rough times were not over yet. My mother didn't have any life insurance, so I didn't know where I was going to get the money to bury her. So I set up an appointment through Social Services with an organization that helps families who don't have enough money to bury a loved one.
The same day I had an appointment with DCS to get a drug screen. However, because I didn't have transportation of my own, I could not make both appointments, and I had to choose. My mom had already been dead for two weeks and her body was still at the city morgue. She needed to be buried. Her body needed to be put to rest. So I chose to make that appointment instead.
Meanwhile, since I missed my appointment to get the drug screen, DCS went to the court to have my visitation rights revoked. The courts granted the request. Now I couldn't even go see my daughter at the foster home, because I chose to get the paperwork done for my mother's burial. The courts were really against me.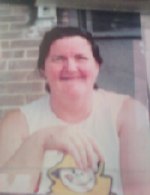 Jessie's mother, Fredia Mae Johnson, in 1988.
We buried my mother at Boudreaux Cemetery, and my daughter's foster parents were kind enough to bring her to my mother's funeral, so she could say goodbye. The next week after we buried my mother, I had to go back to court to have a Do Not Resuscitate (DNR) order signed for my daughter. My daughter and I had discussed it, and she did not want to live on a machine. She was very intelligent, way beyond her years, and fully understood what that meant. She was tired of battling this awful disease.
The Sunday before my daughter died, I was able to spend some time with her at the hospital. Little did I know it would be the last time I saw her alive. My daughter was such a loving and caring child. She was an angel sent to me from Heaven above. She was so kindhearted that even on her dying bed she brightened up the day of another dying child. It was this little boy who was in the hospital a lot when she was. They had become good friends. My daughter took all her strength to sit up in bed and color a picture for her friend. Then she had me and a nurse carry her to the friend's room across the hall. She wanted to hand-deliver the picture to him, so she could see him smile.
It was amazing how much courage and love she showed in her last days. She gave the picture to that little boy, and his face lit up like a light. For that moment, they both forgot that they were fighting for their lives. It was heartwarming to see that even in her worst times she could still bring a smile to someone else's face. She had a personality that would brighten any room, always smiling no matter how bad she felt. You wouldn't expect that from a 12-year-old.
My daughter's quality of life had become so poor that she wasn't really living, just existing. She was being feed through a feeding tube in her stomach, and fluids were running through a Port-a-Cath in her chest -- a kind of IV used for people whose veins are hard to find. She had lost control of all her bodily functions, and was wearing Pampers again like when she was a newborn baby. She was receiving platelet infusions every other day. Her body was so weak and frail that she could barely sit up on her own. However, here was this child showing more courage and strength than most of us had seen in a lifetime. The next morning the doctors sent her home with the foster parents to die.
Three days later, on Jan. 26, 2000, at around 8 a.m., I was lying in bed when suddenly the telephone rang. It was one of my daughter's foster parents. She spoke in a trembling voice and said, "It's time. Your daughter is dying." I knew this day was coming. I fought ... oh my God, how I had fought so hard to keep this day from happening. However, in the end it had just become too much. Her little body had had enough. And now the time was here.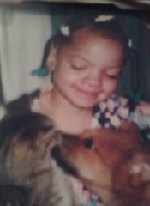 Jessie's daughter, Deondra Mae (Dee Dee), holding her favorite dog and cat.
Her breathing was slow and shallow. I went to my neighbor's to ask for a ride to the foster parents' home, because I didn't have a car and the bus would take too long. He drove me there as fast as he could; but when we arrived, it was already too late. My daughter had already died in her sleep. I cried out to God, "Why did she have to die so young?"
When we arrived the police and coroner were already there. I gathered my strength and I went into the house to tell my daughter goodbye. However, I was still so upset it took me three times to go in the room where she was at. Each time I tried, I collapsed in the hallway in tears. I finally got the strength to go into the room, and I saw she was lying there looking up toward Heaven with a smile on her face. Her skin was pale. Her lips were grey and she had her arms folded across her chest just like my mother's. I knew that she had gone home to be with the angels. However, I felt as though a deep hollow gorge had opened up in me, never to be filled again. From within it flowed a pain like I had never known, and the tears came without any sign of an end.
I called my godsister Mai and told her that Dee Dee was dead. Mai left her work and was there in what seemed like a matter of minutes. She stayed with me the whole day, and she told me I had made the right decision. That God was just ready for her to come home to be with the rest of his angels. She reminded me that our children are only loaned to us for a little while, and when their job here is done they go home to be with Jesus.
Two days later we had my daughter's funeral at Phillips-Robinson Funeral Home. I gave my daughter the biggest, fanciest, most beautiful funeral that her money could buy. She had a pink casket trimmed in 14-karat gold and laced with white satin. She had eight pallbearers and I played her favorite song, "Thanks for My Child" by Cheryl "Pepsii" Riley. The song was so beautiful and the words sounded like it had been written about us. At the end of the song a little child says, "I love you Mommy"; then Cheryl says, "I love you too sweetheart." When that child said those words, it sounded like my daughter's voice, and everyone in the room, even all the men, broke down in tears.
It was such a cold and rainy day, yet all these people had come to say goodbye to my little girl. You would have thought somebody famous had died. The chapel overflowed with standing-room only, and her funeral recession was over three city blocks long. Even in the mist of all the pain and grief, I was happy and even proud that my daughter touched so many lives. As they lowered her body into the ground, I broke down and cried, for I knew that would be the last time I could say goodbye. The reality had set in, and I felt like my life was over. The pain was unbearable, like someone had ripped my heart right out of my chest.
After my daughter's death, I went into a deep depression. I didn't know how I was going to survive. I stayed high all the time, hoping it would ease the pain, but it didn't. The last few months had been very hard for me. I was still trying to grasp the fact that my mother and daughter were no longer with me. Carlton and I were having more problems than ever, because he still blamed me for my daughter's death. In a way I thought he was right; after all, I did sign the DNR order.
Then on the day before Easter I had gone to a friend's house to help her make Easter baskets for her children. It was my first Easter without my daughter, and I didn't want to be alone. After returning home I cooked a good dinner for my husband. I cooked all his favorite foods; hell, I even made chess pie totally from scratch.
He didn't come home until really late. I warmed up his food and made him a plate. He sat down to eat, but said everything was cold, then threw the plate across the room and started yelling at me, saying I could never do anything right. I ran into our bedroom and locked the door. I then proceeded to take a bottle of muscle relaxers and laid down to die.
Advertisement
He broke down the door and saw what I had done. Instead of calling 911, he ran and told our neighbor, and then he left. My neighbor came rushing over and rushed me to the hospital. By the time they got me there it was too late to pump my stomach, so they fed me some liquid charcoal. However, it was even too late for that. The muscle relaxers had started relaxing my entire body, including my heart.
My heart stopped beating for 2-3 minutes. Fortunately, the doctors were able to revive me. When I woke up, I was in the intensive care unit. I spent 72 hours in ICU; then they admitted me to a psychiatric/recovery center where I stayed for two weeks. I wanted to be dead, but the good Lord decided it wasn't my time to die, so I recovered.
When I was released from the hospital, I continued to get high. I was on a road of destruction. In May of 2000, about four months after my daughter's funeral, I received a settlement check for the remainder of her trust fund in the amount of $46,000. I put $10,000 in a bank account for my husband; $10,000 in a bank account for myself; took $6,500 to buy a new/used car; and about $6,500 to pay my rent up for one year. The remaining $13,000 I used to buy some new electronics and clothes for myself and my husband; then I spent the rest on crack.
I called a "friend" and we got a hotel room, and then we bought some more crack, and we partied. We partied for a whole week. I went through from $1,000 to $2,500 a day in crack. I didn't eat. I didn't sleep. I just smoked crack. I was really trying to kill myself.
After I put the money in the bank account for my husband, he left me for another woman. So here I was left all alone with nobody to care for me. I knew that we were having problems, but I never thought he would leave me for another woman. I soon came to realize that he was just staying around for my money. I didn't feel I had anything else left to live for. My mother was gone and so was my daughter and now so was my husband. I didn't have any other family in Nashville, so I was all alone. The only people that I thought I had were the people that smoked crack with me. However, I soon realized that they didn't care either. They only cared about what I was supplying them with: free crack and a place to get high.
It wasn't until my roommate Jess came and rescued me from certain death that I stopped smoking crack for a little while. He took my crack pipe away from me and put me in the shower. Then he made everyone leave. He took me home and fixed me something to eat.
About 30 minutes passed and my stomach starting cramping really bad. He rushed me to the hospital, checked me in then left me there all alone. After I arrived at the hospital, I passed out. When I came to, I was in the intensive care unit again, where I spent 24 hours. The doctors came in and told me that I had lethal levels of crack cocaine in my system, that I should be dead. However, I guess that God still wasn't ready for me yet. I still had an assignment to fulfill here on earth.
Needless to say I was admitted into a psychiatric/recovery center again. I spent another two weeks in there, and then I was released. Again I had failed to kill myself. I didn't understand why God wouldn't let me die. I had nothing.
After that I started boosting again until one day, one of my clients took me to the Wal-Mart in Gallatin and just left me there. I was caught with $540 worth of merchandise and spent 14 days in the Sumner County Jail. I was so afraid that I played suicide and had to sleep on the floor in the hallway in shackles and handcuffs.
They reduced my charge to theft under $500, and I was put on probation. It was there that I started writing my life story. When I was released, I had to walk from Gallatin to my home in South Nashville. I was cold, tired and hungry when this Fed Ex driver gave me a ride the rest of the way home. From then on I stopped boosting and had to find other means to support my habit.
So I started letting the dope man sell drugs out of our apartment in exchange for crack. I would rent my bedrooms out for private parties, and I stayed high all the time. This ran my apartment hot. The vice was watching us. Then one day in December of 2003 my apartment was busted by the vice and even though all they found was a very small pebble of crack and a lot of paraphernalia, everyone in the house went to jail.
I spent seven days in there. We were told by the apartment manager that we had to move, so I put my stuff in storage. When we were moving the last of our things to the storage, I got really sick and had to be rushed to the hospital. I thought I was dying. I had started having trouble with my kidneys; I was diagnosed with adrenal insufficiency, which means that my adrenal glands, right above the kidneys, were not producing enough adrenaline, causing me to experience chronic fatigue, slight fevers and significant weight loss. I only weighed about 88 pounds and could barely hold my head up on my own.
I was admitted to the hospital and spent two weeks recovering from that illness. I later found out the reason I had gotten so sick was that the crack I was smoking was being cut with methamphetamine. After I was released from the hospital I went to stay at the Fallen Angels recovery house where I eventually became the dorm mother. I stayed there until May of 2004. I had managed to stay clean for six months.
I'd been seeing a guy named Thomas for a while; when I moved out of Fallen Angels, I went to stay with his niece and I started smoking crack again. The demon was back in my life. I stayed with his niece for about a month; then I moved in with another smoker and got high every day. I stayed with her for about two months; then I decided to get clean again.
I went to stay at the Samaritan Recovery Community. On my second or third day there I had a bad reaction to one of my medications and started hemorrhaging severely. I had to be rushed to the hospital and spend a week there. Upon leaving the hospital, I went back to the recovery center and worked the program. I stayed inpatient for 28 days; then I was released and went to stay at a step-down housing complex. I had a room with its own separate bathroom, and I shared the kitchen with another recovering addict.
I stayed there for about six months before another family tragedy occurred: Thomas' nephew Quintez was shot and killed. He was only 15 years old. He was in the wrong place at the wrong time. This caused me to relapse. Since the apartment was a recovery apartment I had to move. I moved in with Thomas for a couple of weeks until I got another apartment of my own. For the next three years, I lived on my own. I continued to get high when I had the money to do so. Then in July of 2007, I was admitted to the hospital with MRSA (Methicillin-resistant Staphylococcus aureus). I had a large knot that formed in my neck right below my right ear. The doctor had to cut a hole in my neck to drain the fluids; they also removed part of my earlobe. I was admitted to the hospital, where I spent about a week. When I was released, I had a health nurse come out every day to change the dressing on my neck. A month later, in August of 2007 I was rushed back to the hospital and spent 11 days in the ICU. I was in a coma and on a ventilator. I had a very bad case of pneumonia. I almost died. After I was released Thomas had me move in with him, and that's where I have been ever since.
In December of 2008, I went to my regular checkup with my gynecologists and was told I had some pre-cancer cells in my private area. I needed to have surgery to remove the cells. However, I was also told if I had any cocaine in my system, they would be unable to perform the surgery. So on Jan. 14, 2009, I smoked my last bit of crack and threw away my pipes and have never looked back. I am now going on three years clean and living the life that I always knew I was meant to live. Through the years, I have faced many roadblocks, but I continue to keep a positive attitude and trust in God that I will succeed in life.
Advertisement
Finally, in the summer of 2009, my appeal to the school was granted, and in August of 2009 I started back to school at Nashville State Community College (NSCC), where my major is office administration with a medical professional concentration. I have maintained a 2.6 to 3.2 GPA. I am currently pursuing a career as a medical secretary. I just finished my fifth semester straight, although this was my first semester that I attended full-time.
In February the gynecologist found some more pre-cancer cells that needed to be removed. I had to drop one of my classes because it was too much for me to handle after the surgery. In doing so I lost my financial aid because I did not complete the required number of credit hours. I was required to pass 15 credits. However, I only passed 12 credits because I had dropped that one class. This truly upset me because I really wanted to finish school and receive my degree. I would be the first person in my family to get a college education.
The school informed me that the only way that I could re-establish my financial aid would be to pay for one semester myself. Being that I am on disability and my check is only $674 a month and the cost of the two classes, which is the minimum that I can take to re-establish my financial aid, is $828 plus the cost of the books which is approximately $200, there was no way I could come up with that kind of money on my own. I was due to graduate in December of 2015, and I really wanted to finish school.
I appealed the financial aid committee at my school to have my financial aid reinstated; and on June 29, 2011, my appeal was granted. This means that I will be able to start back to school in the fall of 2011!
Thomas and I will be celebrating 12 years together in August 2011. We are both still clean from drugs and are very happy together. We love each other very much. I thank God above that I have finally found my soul mate. My CD4 counts are now 649, and my viral load is undetectable.
I just want to spread the message that AIDS doesn't have to be a death sentence, that there is life after an AIDS diagnosis. I am currently working on two books -- one is the story of my life, and the other is a collection of poetry that I have written throughout my life. Before my daughter's death, she had asked me to write a story about the struggles that we have overcome and title it Sleeping With the Angels, which I hope to have published within the next five years. The other book is titled True Inspirations.
If there is one piece of advice I could give anyone who has been diagnosed with HIV or AIDS, it would be to face this disease head on, keep a positive attitude and believe in your higher power.
I would like to thank anyone who has taken the time to read my story; may God bless you and keep you in all of your days. Please keep on fighting, because I know that we are going to beat this disease and find a cure.
Read Part One of Jessie's extraordinary story.
Visit Jessie's blog at JessieSnyder.blogspot.com.