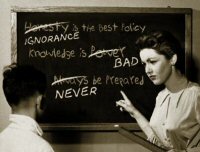 HIV is still invisible in many U.S. schools.
New York City announced today that for the first time in almost 20 years, it will require public school students to take sex education classes.
In doing so, NYC goes one step further than New York State, which has required HIV education since 1987 -- but does not mandate a full sex ed course.
Advertisement
The announcement got us thinking: How many states don't require HIV education?
Turns out there are 17 states that still do not require students to learn about HIV. "We have an epidemic," said Elizabeth Nash, a public policy associate at the Guttmacher Institute, which released a policy brief last week detailing which states require HIV education. "You'd think that there would be some sort of public health education around HIV."
The lack of state support for HIV instruction is particularly worrisome in light of data released by the CDC last week, which showed an alarming increase in new infections among young black men who are gay or bisexual.
Not surprisingly, many of the states with the highest number of new HIV infections -- like Texas, Florida and Virginia -- are among those that do not mandate HIV classes in public schools.
Which states still don't require HIV education? This data comes from Guttmacher Institute:
Alaska
Arizona
Arkansas
Colorado
Florida
Hawaii
Idaho
Kansas
Louisiana
Massachusetts
Mississippi
Nebraska
North Dakota
South Dakota
Texas
Virginia
Wyoming
Follow the Update blog on Twitter @housingworks.