Big Tigger's Ride for Life Connects D.C. to Prince George's County
By Candace Y.A. Montague

August 16, 2011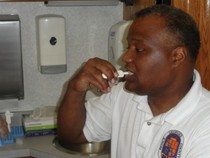 Rushern Baker, PG County Executive, leading by example by taking the HIV test. Credit: D.C. HIV/AIDS Examiner.
Big Tigger, popular morning radio disc jockey at WPGC 95.5, hosted his fourth annual Motorcycle Ride for Life on Saturday between two locations. The ride began in Prince George's County at the Bowie Baysox Stadium and extended 25 miles to United Medical Center (formerly known as Greater Southeast Hospital) in Southeast D.C. Bikers from D.C., Maryland and Virginia registered to support the motorcycle ride that was sponsored this year by Suzuki Motor Corporation. The focus on two locations for this year's ride was an idea that Big Tigger wanted to do to highlight the impact of this disease on both areas. "I live in PG County. If I'm gonna live here I have to do right by the people who live here. I proposed the idea [to County Executive Baker]. He thought it was a great idea and it was that simple." The funds raised from the event go to the Street Corner Foundation, Big Tigger's non-profit organization dedicated to educating communities around D.C. about HIV/AIDS. There is no word on whether or not some of the funds from the ride will benefit Prince George's County's communities.
This year's ride included participation from two local leaders; Prince George's County Executive Rushern Baker and D.C. Mayor Vincent Gray. According to the Prince George's County Health Department, there are more than 5,000 HIV cases in the county with 87% of them representing African-Americans. Prince George's County borders the District at the southern end of the city. Many D.C. residents migrate over to Prince George's to find affordable housing, better schools and jobs which could lead to an increase in HIV rates in the county. Rushern Baker felt this is one of the reasons why the ride was so important. "We definitely are concerned with the growth of HIV in the Washington region. One of the most important things that this ride highlights is that there's no Berlin Wall here so what happens in the District affects Prince George's County and vice versa. It's a regional issue. We have to work together." Mayor Vincent Gray said Baker shares the same concerns as he does about his citizens so they meet often to discuss solutions. "We talk about once or twice a week and we meet on a regular basis because we realize that what happens on this side of the line is the same thing that happens on that side of the line. We are working heartily together to reduce the incidence of AIDS."
Participants in the race seemed very aware of the virus but were split on their approach to educating others about it. Bufff,* a Baltimore resident, said he is concerned about HIV but when it comes to his sons he doesn't want to provide tools for protection. When asked if he buys condoms for his sons, ages 16 and 18, he said no. "
If they asked me to, I would but that's almost like me telling them it's OK to have sex before marriage.
They haven't asked me to [buy condoms]." KC,* a 48 year old resident of Clinton, Maryland, said he talks to his kids about safe sex practices and provides condoms. "I talk with my kids because the world has changed in many aspects. If you don't change with the times you'll be left behind and your kids will be thinking old ways." Do female biker clubs talk about safe sex practices? Not according to one female biker who said it's not a regular topic of discussion. "
If it comes up we may talk about it like if someone has a question or a problem but most of the time, no we don't really talk about it
," said Top Shelf,* a Northwest resident who rides with a local female biker club.
It has been proven that women feel more comfortable talking about sexual health issues with peers than with medical providers
. Perhaps this will be the focus for Big Tigger's next ride for life.
The Ride For Life was also sponsored by Freestate/Atlantic Cycle, television channel WDCW 50, TGI Friday's of Greenbelt, 1 Source Consulting, Inc. and Platinum Rollers Motorcycle Club. For more information about the Street Corner Foundation, click here.
Get e-mail notifications every time Candace's blog is updated.
---
| | |
| --- | --- |
| No comments have been made. | |
Add Your Comment:
(Please note: Your name and comment will be public, and may even show up in
Internet search results. Be careful when providing personal information! Before
adding your comment, please
read TheBody.com's Comment Policy
.)