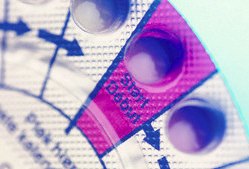 (Most) insured women won't have to pay extra for the pill.
The Obama administration announced new guidelines yesterday that will require all insurance companies to cover yearly HIV testing and counseling for women at no additional cost.
The new rules -- part of a larger national push to save on health dollars by investing in female preventive care -- will knock down barriers that have stopped testing.
By 2013, women can also say goodbye to birth control co-pays at the drug store. The new guidelines mandate that nearly all private health insurance plans cover government-approved contraceptives for women at no extra charge.
There's an exception, of course: Health plans offered by some religious employers will be exempt from the requirement to cover contraceptive services.
"These guidelines will save countless dollars and lives," said Sen. Richard Blumenthal (D-CT), "and send a hugely powerful message about the importance of women's preventive health care."
Read more from the Department of Health and Human Services.

This article was provided by
Housing Works
. It is a part of the publication
Housing Works AIDS Issues Update
. Visit
Housing Works' website
to find out more about their activities, publications and services.
(Please note: Your name and comment will be public, and may even show up in
Internet search results. Be careful when providing personal information! Before
adding your comment, please
read TheBody.com's Comment Policy
.)