HIV Infection Rates Stabilize Overall but Rise Among Young, Black MSM
By Candace Y.A. Montague

August 3, 2011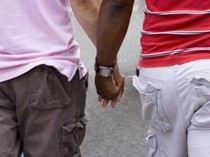 Young black MSM are endangered according to a recent CDC report. Credit: newsone.com.
The Center for Disease Control published data yesterday that revealed a stabilization in the HIV infection rates in the US overall. Over the past four years (2006-2009) the average number of HIV infection rates in the country has hovered around 50,000 per year. However, the infection rates remain disproportionately high for African-Americans coming in at 44 percent in 2009. What is even more disparaging is that young, African-American men who have sex with men (MSM) ages 13-29 are the leading subgroup of infections. Their rates have rose 61 percent in 2009. Now some local organizations are reacting to the news.
Carl Schmid, Deputy Executive Director of The AIDS Institute in Northwest, says that the numbers clearly show that something more must be done. "Today's announcement from the Centers for Disease Control and Prevention (CDC) that new HIV infections in the U.S. remain stable but has increased among gay men and other men who have sex with men, particularly among black gay men, is further evidence that our Nation's commitment to HIV prevention must be heightened." The AIDS Institute suggests investing in HIV prevention now to ward off higher infection rates and health care costs in the future; that includes better sexual education programs. "The 34 percent increase in the number of new infections among young gay men is yet another reminder for the need to have age appropriate sexuality education that includes a positive discussion of both heterosexual and homosexual relationships," stated Michael Ruppaul, Executive Director of The AIDS Institute. The Al Sura Foundation, a non-profit community group who works with LGBT youth and young adults in D.C., is calling for action as well. "These numbers are overwhelming, frightening, and completely unacceptable from a black community perspective. The time is now for action. We must collectively push through the barriers of homophobia, fear, poverty, and complacency when it comes to saving LGBT brothers and sisters," stated Rahim Briggs, head of the foundation.
On one hand, the numbers can be seen as a positive sign. Stabilized numbers can indicate that more people are getting the message and taking their sexual health seriously. However, the numbers have not decreased after all the triumphs and strides made over the past decade. It makes this Examiner wonder whether the recent medical breakthroughs (Truvada, PReP, Tenoforvir vaginal gel) will be the only saving grace for this epidemic. Or will it have to be a more aggressive push to address the underlying issues surrounding HIV such as homophobia, stigma, and the lack of honest discussions about sexual habits. When it is all said and done, the AIDS community still has a lot of work ahead of them because the goal is to eradicate the disease, not just stabilize.
Where are we going wrong? Feel free to comment here.
Get e-mail notifications every time Candace's blog is updated.
---
| | |
| --- | --- |
| No comments have been made. | |
Add Your Comment:
(Please note: Your name and comment will be public, and may even show up in
Internet search results. Be careful when providing personal information! Before
adding your comment, please
read TheBody.com's Comment Policy
.)