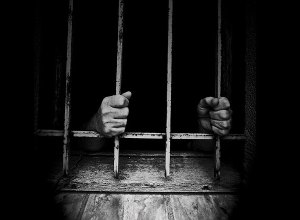 Thirty-four states and two U.S. territories have statutes that penalize HIV exposure.
A new bill could put an end to HIV criminalization laws that impose cruel and unfair penalties on people with HIV.
U.S. Congresswoman Barbara Lee (D-CA) plans to introduce the legislation in September. A draft shows it would require a review of all federal and state laws, policies, regulations and judicial precedents regarding criminal cases involving people living with HIV/AIDS.
The bill, called the Repeal HIV Discrimination Act, would then charge the Attorney General and the Secretary of Health and Human Services with developing guidelines for state and federal governments. The guidelines would assist governments in altering discriminatory policies.
Laws would change that 1) place an additional burden on HIV-positive individuals because of their HIV status or 2) are not consistent with evidence-based, medically accurate public health initiatives.
"The criminalization of exposure to and/or transmission of HIV without the requirement of malicious intent violates the civil and human rights of individuals who are HIV-positive," reads the draft.
Thirty-four states and two U.S. territories have statutes that penalize HIV exposure. While their supporters claim these policies protect the public health, evidence shows they do more harm than good.
A few examples:
A man with HIV in Texas is serving 35 years for spitting at a police officer.
A man with HIV in Iowa had an undetectable viral load and had a sexual encounter during which he used a condom and HIV was not transmitted. He received a 25-year sentence. The sentence was eventually suspended, but he was required to register as a sex offender. This barred him from unsupervised contact with his nieces, nephews, and other young children.
A woman with HIV in Georgia received an 8-year sentence for nondisclosure of her HIV status to a sexual partner, despite the testimony of two witnesses that the partner knew of her HIV status.
A man with HIV in Michigan was charged under the state's anti-terrorism statute with possession of a "biological weapon" after he allegedly bit his neighbor.
The legislation's expected introduction is part of a growing effort to limit or end laws that punish individuals for HIV exposure or transmission. In February, the National Alliance of State and Territorial AIDS Directors became the most recent group to speak out, calling for an end to laws that impose disproportionately harsh penalties for HIV nondisclosure, exposure or transmission.
"The passage of this bill will make it safer for people with HIV to disclose their status and it will remove an important barrier to those at risk from getting tested," said Sean Strub, co-founder of the Positive Justice Project, which works to combat HIV-related discrimination in the justice system. "The result will be less transmission of HIV."