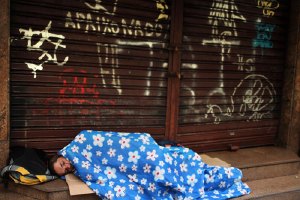 New policies are keeping people with AIDS from finding homes.
Poor, unstably housed New Yorkers living with HIV/AIDS are having a significantly harder time finding apartments as a result of two policies adopted by the city's Human Resources Administration.
That is the key conclusion drawn from a survey of case managers released this week by Shubert Botein Policy Associates, an analysis and advocacy group based in New York City.
In March, the Human Resources Administration changed two long-standing policies regarding the payment of fees on behalf of low-income people who receive rental assistance through HRA. First, HRA halved the amount it will pay to a broker who is working on behalf of an HRA client. Second, HRA will no longer provide cash security deposits to landlords who work with clients. Instead, landlords are given vouchers, which they can use to request compensation for damages caused by a tenant.
Concerned about the effects of the HRA rules, Housing Works commissioned Shubert Botein Policy Associates to carry out a survey that would measure their impact. In May, Shubert Botein surveyed 238 case managers who work with clients who receive housing subsidies through HRA's HIV/AIDS Services Administration.
According to the report, 95 percent of HASA clients involved in a housing search identified the policy changes as a barrier to securing a home.
Other important findings:
94 percent of respondents said that the brokers' fee change is a significant barrier to finding housing, with 50 percent of respondents reporting that the policy has prevented placement for one or more clients.
61 percent of case managers who responded report that, compared to this time last year, it takes significantly longer to find and secure an apartment using the HASA rental assistance program.
Advertisement
The survey results indicate that many brokers and landlords have stopped working with HASA clients, lengthening their stays in expensive and often dangerous emergency housing. According to survey respondents, some brokers are asking clients on fixed incomes to pay half of the brokers' fees themselves, and some landlords are asking clients to pay the security deposit themselves. Case managers report that clients are taking risks to find fast money to secure an apartment, resorting to loan sharks or engaging in risky and illegal behavior.
"My clients, because brokers are refusing to show them apartments or help them with housing, they're going back to sex work," said Howard Haughton, program supervisor for case management at Village Care.
HASA clients are the lowest income New Yorkers living with HIV/AIDS. Approximately 26,000 of them receive cash assistance and are therefore subject to these policy changes. Stable housing is critical not only to their positive health outcomes but also saves the city money by removing them from emergency housing and allowing them to be productive members of a community.
Housing Works plans to work with a coalition of housing providers and City Council members to reverse the damaging HRA policies.
"The evidence is astounding," said Kristin Goodwin, Housing Works' director of New York City policy and organizing. "These policies are completely at odds with HASA's goal of getting people to move toward more independent living. So let's start moving forward."
Interested in joining the campaign? Contact Kristin Goodwin at k.goodwin@housingworks.org.
Are you a HASA client affected by these policies? Contact Derrick Chandler at d.chandler@housingworks.org.