Occasionally we here at TheBody.com are lucky enough to hear from readers who've volunteered to craft their own articles sharing their stories and thoughts. This is one of those articles.
Read Part Two of Jessie's two-part story.
Becoming a young mother at 14 was hard enough in itself without the added tragedies and adversities that I had to endure. All my troubles began on the gorgeous Friday afternoon of April 3, 1987, the day after my 14th birthday. My foster brother Bobby and I were walking through our old neighborhood on our way to our mother's job, when this girl who was much older than I was tried to pick a fight with me. She was envious because our family was doing so well after being evicted from our home in the projects. I ignored her and kept on walking. I felt a hard thump on the back of my head; it was so hard it jerked my head forward and I fell to the ground. She had thrown a piece of wood (a leg off a baby bed to be exact) and then run away.
As I sat on the ground in a complete daze trying to make sense of what had just happened, I heard my brother scream out my name. I snapped out of the daze, got up, dusted myself off and we continued to our mother's job. When we arrived there, I told my mother what had happened. My mother immediately called the police; we filed a complaint against the girl and they put out a warrant for her arrest.
At that point they called an ambulance and I was taken to the hospital. On arriving to the hospital the doctor sent me for an X-ray. Since I had gotten my neck broken the year before, they were afraid that the hit might have re-broken my neck. As I waited for the doctor to look at the X-ray, it seemed like time stood still. Finally a doctor came into the room, and said he had some bad news: When she had hit me, she had re-broken my neck. The doctor immediately fitted me with a neck brace and told me I would have to be admitted to the hospital.
But that wasn't the only concern I had. I had been sexually active, so there was a chance that I could be pregnant. As a result the doctor ordered a pregnancy test. I waited for the test results and anticipated what would happen if I was pregnant. Then when the doctor came back into the room with a worried look on his face, I knew something was wrong. The test results had come back positive; I was indeed pregnant.
I was in about my third month of pregnancy and since that meant I was only in my first trimester, they were unable to perform the surgery right away. They told me that I would have to be fitted with a different kind of neck brace. This one would screw into my head to keep my neck from moving. It was called a halo brace, which is used by someone who has a fracture to the cervical vertebrae. This type of brace would let me have mobility while applying cervical traction to my neck injury.
This brace consisted of four parts; the metal halo ring, with four pins to attach the metal ring to my skull, two pins above my eyes and two pins behind my ears, and it had a plastic vest lined in wool that came down around my waist and attached to four metal rods that also attached to the halo ring. It was very hot and extremely uncomfortable to wear, not to mention almost impossible to sleep in. It was so uncomfortable that I could not lay flat on my back, so the doctor ordered a hospital bed for me to use at home. That way I could sleep in an almost sitting position keeping the pressure off the back of my head.
I had to wear that brace for two months before they could perform the surgery. By this time I was five months pregnant; my baby was growing inside me and had even started kicking. During the surgery I lost too much blood, putting my baby at risk of dying, so I had to have a blood transfusion; I was given two pints of blood. Other than that the surgery was a success. Then after the surgery, I had to wear the brace for two more months, time enough for my neck to heal. Then the next month when I returned to the maternity clinic for my six-month prenatal check-up, I was asked to get an HIV test. I was told it was a mandatory procedure for a pregnant woman to be tested. I immediately said, "If it was mandatory, why had they not asked me to be tested when I first started coming to the clinic?" The response I was given was that it was only mandatory if I had received a blood transfusion. I agreed to be tested.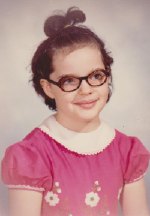 Jessie, age 8.
Two weeks later I remember I was at church during the altar call when an incredible urge came over me to go up to the altar. Since I had already been saved and baptized, I didn't feel I needed to go up to the altar. However, the force was so strong that it pulled me up to the altar anyway. I told the pastor about my situation, and the pastor said a special prayer for me and my unborn baby.
Around the same time at home my mother received the call from the hospital for us to come in and discuss my test results. When my mother told me about the call, I immediately knew that I had tested positive for HIV. I don't know how I knew. I just did. Why else would they call about some test results on a Sunday?
The next morning we went to the maternity clinic and met with the doctors, and sure enough I had tested positive for the HIV virus. I was then told I probably wouldn't live to see my 18th birthday. Then the doctors tried to talk me into getting an abortion, but I didn't believe in abortions, so I told them I would rather kill myself. They said, "Why would you want to kill yourself when tomorrow they may find a cure?" I kindly replied, "Then why should I kill my baby when tomorrow they may find a cure?"
I wouldn't have gotten an abortion under any circumstances, especially now that I was six months pregnant and I had already started feeling my baby kicking inside of me. So they left me alone in my decision to keep my baby; however, they told me my baby could be born infected with HIV as well. However, I was putting my faith in God that he would have mercy and spare my child from this deadly disease.
My mother was devastated and she started crying. She was afraid of losing me and her first grandbaby. I, on the other hand, accepted it immediately. The year before, when I had my neck broken the first time, I had had a vision; it was an image of Jesus and Satan arguing over who was going to win my soul. Jesus had told Satan that he could not have my soul because he had special plans for me. Then, however, Satan told Jesus that he was going to make my life a living hell; that he was going to put me through many trials and tribulations to test my faith. Jesus agreed and the image disappeared. It was then that I knew I was going to face many struggles and adversities; however, as long as I kept my faith in God, I could overcome any obstacle that I endured. I knew this was just a test of my faith.
After my HIV diagnosis, I experienced several episodes of discrimination from numerous acquaintances, neighbors, and even some hospital and clinical staff. People knew I was HIV positive because my mother had told them, not thinking they would shun me away. However, I didn't let that break my spirits. I just kept my head up and believed in God that everything would be all right. I was determined I wasn't going to be a victim; I was going to live with AIDS, not die from it.
After I broke my neck, my mother had to stop working to take care of me full-time. Eventually, we were evicted from our house. When I was in my seventh month of pregnancy, we became homeless, and around this same time my boyfriend Robert (the baby's daddy) had left to go on a job in Kentucky. He was supposed to be gone for two weeks, but I never saw him again. He was killed in a car accident on his way back to Nashville. Now that meant I was going to be a single mother. However, I still kept my faith in God and knew as long as I believed in him everything was going to be OK.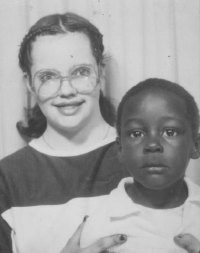 Jessie, age 13, with brother and future foster son Bobby, age 4.
We lived on the streets right up until the morning I went into labor. One of our neighbors had actually let us stay in their garage. That's where the ambulance came to pick me up. At around 6 a.m. on Nov. 21 I was taken to the hospital and went through 58 hours of labor, but finally my daughter was born at 4:20 p.m., on Nov. 23, 1987. She weighed 6 pounds 12 ounces, and I named her Deondra Mae Snyder. She had black curly hair and the most beautiful hazel eyes. She seemed to be a healthy baby. She was so tiny, but she was my miracle, so beautiful and magnificent.
As I held her for the first time I started crying. We had both survived the surgery and my baby was born without any problems. At that time, I didn't want to think about what the doctors had told me when I was first diagnosed with having HIV. I didn't want to die and leave my baby all alone. I was scared that I wouldn't be around to watch her grow up. So I just held her in my arms, staring into her beautiful hazel eyes and holding her tiny hand. Then a feeling of peace came upon me, and I knew then that we were going to be all right.
The time came for us to be released from the hospital; but the doctors wouldn't let us leave the hospital until we had a home to go to. That's when we got emergency housing back into the projects; a church had paid the old bill and our first month's rent. God was watching over us and protecting us.
Then when my daughter turned 18 months old she too tested positive for HIV. I was furious and angry at God. Why had God let me down? Why had he let my baby girl test positive for HIV? Then I thought about the old saying, "God won't put no more on you than you can bear." That's when I knew we would overcome this obstacle too. That's also when the doctor started my daughter on a medication called AZT (Retrovir, zidovudine). She responded very well to the AZT, and I thought she was going to be all right.
In 1988, I started school on the Metro Board of Education's Homebound program. Once I was diagnosed with HIV, I wasn't allowed to attend a regular school because of the lack of education for the teaching staff in the early years of the disease. Therefore, all through high school I was taught on the Homebound program. As a result, I wasn't taught all the subjects a normal high school student would be taught. For example, I wasn't taught algebra, yet English was drilled into my head like a nail. This was because my Homebound teacher, Joan Perry, was an English professor before she started teaching on the Homebound program.
Advertisement
After my diagnosis I became a spokesperson for Nashville CARES, a nonprofit organization that provides education, advocacy and supportive services for anyone with HIV/AIDS. I told my story through the First Person program. We would go to different high schools and colleges throughout Nashville and surrounding areas. I was helping to educate students about HIV while putting a face on the disease. During this time I had several newspaper articles written about me, one of which still hangs on the wall at Nashville CARES today.
Then in 1989, a few months before my 16th birthday, I met this guy named Charlie who became my new boyfriend. He was a sweet and loving guy and accepted me and my daughter despite our disease. As the years passed, I watched my daughter grow up. Age 2 ... age 3 ... and then in 1991 when she was 4 years old she had her first opportunistic infection and was diagnosed with having AIDS. She had Pneumocystis carinii pneumonia also known as PCP. This was a deadly pneumonia even for an adult. The survival rate for this type of pneumonia was slim to none.
She had become resistant to the AZT. At that time, the doctors told me about some new experimental drugs that were available. However, we would have to travel to the National Institutes of Health (NIH) in Bethesda, Md., to receive the treatment.
So in 1991 I started taking my daughter to the NIH in Bethesda. That same year I had made it to my 18th birthday, and yet here I was still very much alive and healthier than ever. On my first trip to the NIH, Joan Perry, my Homebound teacher, went with me because I was scared to go alone and my mother refused to fly on an airplane. We had to stay there for two weeks. While we were there we stayed at the Children's Inn, during which time they started my daughter on some experiential treatments for HIV. We had to go to the NIH every morning for blood work and the new medication. They started my daughter on an experimental three-drug combination which they called a cocktail; it consisted of ddI (didanosine, Videx), ddC (zalcitabine, Hivid) and saquinavir (Invirase). Unfortunately, as quickly as the new drugs became available, she would become resistant to them.
Then in August of 1992 I was asked to appear on The Geraldo Rivera Show. The topic of the show was "Teens, Sex and AIDS." I flew to New York and taped the show; Charlie went with me for moral support. At that time, I wasn't completely open about my diagnosis, so I went on under a disguise and the fake name of "Crystal." We taped the show and then we flew back home. It was an exciting trip. Geraldo was very kind.
When I turned 18 years old, my mother had become very ill and could no longer take care of Bobby. My mother had been diagnosed with hepatitis C and was bleeding internally. So we went to court, and I was given custody of him. After Bobby moved in with us, we had to find a bigger house so both the children could have their own room.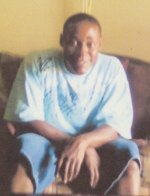 Bobby, age 28.
Then on June 3, 1993, I graduated high school. Even though I had been on Homebound all through high school, I was allowed to walk down the aisle with the Pearl-Cohn Comprehensive High graduating class to receive my diploma. A couple of months later Charlie and I were married. We had a small wedding at my Homebound teacher's church. Her husband Harold gave me away at the altar; he was the closest thing I had to a father.
After we were married, my husband and I began having lots of problems. He thought that because we were married that he owned me, like I was a piece of furniture or something, and I was supposed to go for whatever bullshit he tried to pull. One day he brought this 14-year-old girl into our home; he told me she was his cousin. Since my husband came from a very large family, I believed him. The girl had gotten pregnant and her mother had put her out, and she didn't have anywhere else to go. I felt sorry for her and decided to let her stay with us. I took her under my wing and cared for her like she was my daughter. However, I later found out that she was his mistress and the baby she was carrying belonged to my husband.
I was under so much stress due to my husband's affair that on Dec. 28, 1994, I was rushed to the hospital because I was having difficulty breathing. The doctors ran a lot of tests and discovered that I had PCP in both lungs; I was experiencing my first opportunistic infection and was now diagnosed with AIDS. I was only 23 years old, and I thought I was going to die. I was admitted into the hospital and taken to the intensive care unit (ICU), where I stayed for about two weeks. I was then moved to a regular room where I stayed for a couple of days.
Then another misfortune happened. On Martin Luther King Day 1995 my right lung collapsed due to the stress of the pneumonia. It felt like a large balloon had busted in my chest. The pain was unbearable and I was having difficulty breathing. I was once again rushed to the ICU where the doctors inserted not one, but three chest tubes to try to re-inflate my lung. I stayed in the ICU for another two weeks and was again returned to a regular room. I started to recover, which was a miracle in itself; about a week later I was sent home.
This time I was sent home with a PIC-line (a kind of IV that can be used for several weeks to several months). The next morning, when the health nurse came to administer the antibiotic, we discovered that my arm was swollen to three times its normal size. I was taken to the emergency room where they took a CT scan of my arm. The doctors discovered that I had developed a pea-sized clot in the main artery leading to my heart. I was again admitted to the hospital and given antibiotics and blood thinners until the clots were gone. I stayed in the hospital for another month before I was well enough to be released.
Despite all the trauma that I had been through, I was again released to go home. This time I was on oxygen and really weak. When I arrived at home, I got yet another shock: My house was a total wreck. There were dirty dishes lying around everywhere, even some with mold growing out of them. There was laundry that seemed to be piled up to the ceiling. I didn't understand, with three adults -- Charlie and his "cousin," as well as one of Charlie's buddies -- living in the house, how it could get this way. It seemed like no one had lifted even a finger to clean up. It was too much for me to handle, and I had a nervous breakdown. All I remember is I was standing in my living room, and then I collapsed. I was then rushed back to the hospital where I was taken to the psychiatric ward; I stayed for two weeks.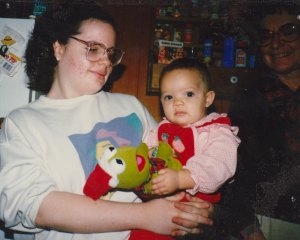 Jessie with daughter Deondra Mae, age 1.
During this whole ordeal, my husband only came to the hospital twice and that was to have me sign my check over to him, so he could pay the bills. However, I soon found out that he hadn't paid any bills, and he started selling everything of value out of our home. He said he didn't think I was going to survive so he had to look out for himself. As I lay in my hospital bed fighting for my life, my world at home was falling apart. My daughter went to stay with her godparents, who eventually filed for custody. I had sent my foster brother to stay at the Tennessee Preparatory School (TPS) so that he could be taken care of, because my husband was too busy with his mistress and their new baby.
So here I was, in poor health mentally and physically, and now I didn't have a home to go to. On March 27, 1995, I went to stay with my best friend Carrie, so she could take care of me until I could get well and got back on my feet. I stayed with Carrie about three and a half months before I moved into my own apartment in the projects. I regained custody of my daughter. However, I was unable to regain custody of Bobby. I missed him very much, although I was sure he was being well taken care of. During my stay with Carrie my divorce had become final, and I continued to get better.
Then on July 24, 1995, a couple of weeks after moving into my new apartment, I wrote the poem "The AIDS Prayer." I wrote this poem at about 3 a.m. I woke up and all these words were just going through my head, so I wrote them down on paper. When I woke up the next morning and looked over my notes I discovered I had written a very powerful poem. You may view this poem by visiting my blog.
In 1996 I appeared in the documentary "Reasons to Live: Women, Their Families and HIV," produced by my friend Catherine Wyatt-Morley. I had met Catherine through Nashville CARES at the women's group. She had branched off and started her own organization, W.O.M.E.N. (Women on Maintaining Education and Nutrition), and this documentary was meant to educate infected and affected individuals with personal stories and combat ignorance and misinformation about HIV/AIDS with an honest portrayal of the disease and the effects upon our lives.
Advertisement
In May of 1997 my daughter and I were asked to appear on The Montel Williams Show. The topic of the show, which aired June 20, 1997, was "Teens with AIDS." We flew to New York and filmed the show. Then we stayed overnight in a hotel, and we could order anything we wanted to eat. We were treated like stars. It was fun, and Montel is a very good person.
Then in July of 1997 my daughter became extremely ill. She was admitted to the hospital with a bad case of PCP. She was rushed to the pediatric intensive care unit (PICU) and placed on a ventilator to help her breathe. She was being fed intravenously and hooked up to all kinds of machines with tubes and wires running from everywhere. I really thought I was going to lose her. I prayed for God to have mercy and let her live. The doctors told me to start making funeral arrangements because they didn't expect her to survive. However, I never gave up hope. After two and a half weeks in the PICU, she started to get better, and then she was released from the hospital. God had answered my prayers again.
At that point, I was trying to make a better life for myself and in August of 1997, I started college at Nashville State Technical College. I majored in Small Business Administration and completed my first semester with a 3.2 GPA although I had missed a lot of school due to my disease.
Then in October of 1997 I met this guy named Carlton, who moved in as a roommate to help me with my bills but soon became my new boyfriend. I was finally happy again and working toward my goals for my future, though I was working two jobs and going to college while taking care of my mother and daughter who were both slowly dying, and there was nothing I could do to stop it from happening. How I managed to juggle it all still amazes me today.
In Dec. of 1997 another tragic situation occurred. My daughter was molested by a trauma surgeon at the hospital while she was there being treated for pneumonia. Carlton and I had gone home to change clothes and grab a bite to eat. When we returned, my daughter told me that a doctor that she had never seen before came into her room and examined her. She said he put his finger in her vagina and asked her if it hurt. I immediately called the nurse and demanded what the hell was going on. Why had this doctor come in and touched my daughter in an inappropriate way when all she was in the hospital for was pneumonia?
Security came and my daughter told them what happened; come to find out, she wasn't the first child who had made this kind of accusation. There had been at least four other terminally ill girls with similar stories. The doctor was arrested and charged with one count of child rape and eight counts of aggravated sexual battery. He pled guilty to four counts of aggravated sexual battery in exchange for concurrent sentences of 12 years at 100 percent for each conviction. We sued the doctor and the hospital and settled out of court for the sum of $150,000, which was put in a trust fund until my daughter turned 18, though her doctors argued she wouldn't live that long.
By January, I had quit both my jobs and a few months later I ended up dropping out of school because my daughter needed me at home full-time. I started receiving my SSI check again and was really struggling to survive. Nevertheless, on my 25th birthday, April 2, 1998, I made the biggest and worst mistake in my life. Carlton had introduced me to crack cocaine. I was deeply depressed because my mother and daughter were dying and I was powerless to stop it. Carlton told me that if I tried the crack that it would relieve the heartache and pain that I was experiencing.
He was right; it made me numb to the world around me. What he didn't tell me was how powerfully addictive this drug could be. I immediately became addicted and I hated myself for it, yet I couldn't seem to stop. My everyday existence depended on me getting my next fix, no matter who I hurt in the process. This crack made me do things, horrible things, unspeakable things, that I normally wouldn't do. Like selling my body, boosting and what I thought was the worst of all: letting the dope man sell out of my house in exchange for crack. I wasn't thinking about the risks involved in doing any of these things; I just saw a way to get the free crack. I lost my self-respect when I turned tricks; I lost my self-worth and trustworthiness when I would boost; and worst of all, I was putting my family in danger by letting the dope man sell out of our house. I had met the devil himself that day, as real as he gets.
Read Part Two of this story, in which Jessie recounts how she coped with a series of tragic losses.