Beneath an Angel's Wings: My Story of Struggle and Longtime Survival, Part One
August 4, 2011
Despite all the trauma that I had been through, I was again released to go home. This time I was on oxygen and really weak. When I arrived at home, I got yet another shock: My house was a total wreck. There were dirty dishes lying around everywhere, even some with mold growing out of them. There was laundry that seemed to be piled up to the ceiling. I didn't understand, with three adults -- Charlie and his "cousin," as well as one of Charlie's buddies -- living in the house, how it could get this way. It seemed like no one had lifted even a finger to clean up. It was too much for me to handle, and I had a nervous breakdown. All I remember is I was standing in my living room, and then I collapsed. I was then rushed back to the hospital where I was taken to the psychiatric ward; I stayed for two weeks.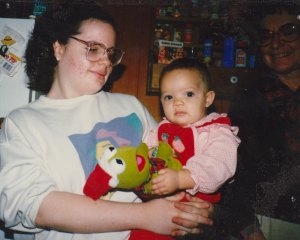 Jessie with daughter Deondra Mae, age 1.
During this whole ordeal, my husband only came to the hospital twice and that was to have me sign my check over to him, so he could pay the bills. However, I soon found out that he hadn't paid any bills, and he started selling everything of value out of our home. He said he didn't think I was going to survive so he had to look out for himself. As I lay in my hospital bed fighting for my life, my world at home was falling apart. My daughter went to stay with her godparents, who eventually filed for custody. I had sent my foster brother to stay at the Tennessee Preparatory School (TPS) so that he could be taken care of, because my husband was too busy with his mistress and their new baby.
So here I was, in poor health mentally and physically, and now I didn't have a home to go to. On March 27, 1995, I went to stay with my best friend Carrie, so she could take care of me until I could get well and got back on my feet. I stayed with Carrie about three and a half months before I moved into my own apartment in the projects. I regained custody of my daughter. However, I was unable to regain custody of Bobby. I missed him very much, although I was sure he was being well taken care of. During my stay with Carrie my divorce had become final, and I continued to get better.
Then on July 24, 1995, a couple of weeks after moving into my new apartment, I wrote the poem "The AIDS Prayer." I wrote this poem at about 3 a.m. I woke up and all these words were just going through my head, so I wrote them down on paper. When I woke up the next morning and looked over my notes I discovered I had written a very powerful poem. You may view this poem by visiting my blog.
In 1996 I appeared in the documentary "Reasons to Live: Women, Their Families and HIV," produced by my friend Catherine Wyatt-Morley. I had met Catherine through Nashville CARES at the women's group. She had branched off and started her own organization, W.O.M.E.N. (Women on Maintaining Education and Nutrition), and this documentary was meant to educate infected and affected individuals with personal stories and combat ignorance and misinformation about HIV/AIDS with an honest portrayal of the disease and the effects upon our lives.
Advertisement
In May of 1997 my daughter and I were asked to appear on The Montel Williams Show. The topic of the show, which aired June 20, 1997, was "Teens with AIDS." We flew to New York and filmed the show. Then we stayed overnight in a hotel, and we could order anything we wanted to eat. We were treated like stars. It was fun, and Montel is a very good person.
Then in July of 1997 my daughter became extremely ill. She was admitted to the hospital with a bad case of PCP. She was rushed to the pediatric intensive care unit (PICU) and placed on a ventilator to help her breathe. She was being fed intravenously and hooked up to all kinds of machines with tubes and wires running from everywhere. I really thought I was going to lose her. I prayed for God to have mercy and let her live. The doctors told me to start making funeral arrangements because they didn't expect her to survive. However, I never gave up hope. After two and a half weeks in the PICU, she started to get better, and then she was released from the hospital. God had answered my prayers again.
At that point, I was trying to make a better life for myself and in August of 1997, I started college at Nashville State Technical College. I majored in Small Business Administration and completed my first semester with a 3.2 GPA although I had missed a lot of school due to my disease.
Then in October of 1997 I met this guy named Carlton, who moved in as a roommate to help me with my bills but soon became my new boyfriend. I was finally happy again and working toward my goals for my future, though I was working two jobs and going to college while taking care of my mother and daughter who were both slowly dying, and there was nothing I could do to stop it from happening. How I managed to juggle it all still amazes me today.
In Dec. of 1997 another tragic situation occurred. My daughter was molested by a trauma surgeon at the hospital while she was there being treated for pneumonia. Carlton and I had gone home to change clothes and grab a bite to eat. When we returned, my daughter told me that a doctor that she had never seen before came into her room and examined her. She said he put his finger in her vagina and asked her if it hurt. I immediately called the nurse and demanded what the hell was going on. Why had this doctor come in and touched my daughter in an inappropriate way when all she was in the hospital for was pneumonia?
Security came and my daughter told them what happened; come to find out, she wasn't the first child who had made this kind of accusation. There had been at least four other terminally ill girls with similar stories. The doctor was arrested and charged with one count of child rape and eight counts of aggravated sexual battery. He pled guilty to four counts of aggravated sexual battery in exchange for concurrent sentences of 12 years at 100 percent for each conviction. We sued the doctor and the hospital and settled out of court for the sum of $150,000, which was put in a trust fund until my daughter turned 18, though her doctors argued she wouldn't live that long.
By January, I had quit both my jobs and a few months later I ended up dropping out of school because my daughter needed me at home full-time. I started receiving my SSI check again and was really struggling to survive. Nevertheless, on my 25th birthday, April 2, 1998, I made the biggest and worst mistake in my life. Carlton had introduced me to crack cocaine. I was deeply depressed because my mother and daughter were dying and I was powerless to stop it. Carlton told me that if I tried the crack that it would relieve the heartache and pain that I was experiencing.
He was right; it made me numb to the world around me. What he didn't tell me was how powerfully addictive this drug could be. I immediately became addicted and I hated myself for it, yet I couldn't seem to stop. My everyday existence depended on me getting my next fix, no matter who I hurt in the process. This crack made me do things, horrible things, unspeakable things, that I normally wouldn't do. Like selling my body, boosting and what I thought was the worst of all: letting the dope man sell out of my house in exchange for crack. I wasn't thinking about the risks involved in doing any of these things; I just saw a way to get the free crack. I lost my self-respect when I turned tricks; I lost my self-worth and trustworthiness when I would boost; and worst of all, I was putting my family in danger by letting the dope man sell out of our house. I had met the devil himself that day, as real as he gets.
Read Part Two of this story, in which Jessie recounts how she coped with a series of tragic losses.
More From This Resource Center
---

This article was provided by TheBody.
---
Add Your Comment:
(Please note: Your name and comment will be public, and may even show up in
Internet search results. Be careful when providing personal information! Before
adding your comment, please
read TheBody.com's Comment Policy
.)