Beneath an Angel's Wings: My Story of Struggle and Longtime Survival, Part One
August 4, 2011
After I broke my neck, my mother had to stop working to take care of me full-time. Eventually, we were evicted from our house. When I was in my seventh month of pregnancy, we became homeless, and around this same time my boyfriend Robert (the baby's daddy) had left to go on a job in Kentucky. He was supposed to be gone for two weeks, but I never saw him again. He was killed in a car accident on his way back to Nashville. Now that meant I was going to be a single mother. However, I still kept my faith in God and knew as long as I believed in him everything was going to be OK.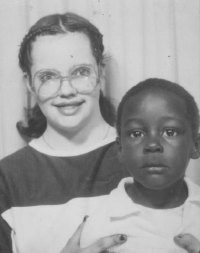 Jessie, age 13, with brother and future foster son Bobby, age 4.
We lived on the streets right up until the morning I went into labor. One of our neighbors had actually let us stay in their garage. That's where the ambulance came to pick me up. At around 6 a.m. on Nov. 21 I was taken to the hospital and went through 58 hours of labor, but finally my daughter was born at 4:20 p.m., on Nov. 23, 1987. She weighed 6 pounds 12 ounces, and I named her Deondra Mae Snyder. She had black curly hair and the most beautiful hazel eyes. She seemed to be a healthy baby. She was so tiny, but she was my miracle, so beautiful and magnificent.
As I held her for the first time I started crying. We had both survived the surgery and my baby was born without any problems. At that time, I didn't want to think about what the doctors had told me when I was first diagnosed with having HIV. I didn't want to die and leave my baby all alone. I was scared that I wouldn't be around to watch her grow up. So I just held her in my arms, staring into her beautiful hazel eyes and holding her tiny hand. Then a feeling of peace came upon me, and I knew then that we were going to be all right.
The time came for us to be released from the hospital; but the doctors wouldn't let us leave the hospital until we had a home to go to. That's when we got emergency housing back into the projects; a church had paid the old bill and our first month's rent. God was watching over us and protecting us.
Then when my daughter turned 18 months old she too tested positive for HIV. I was furious and angry at God. Why had God let me down? Why had he let my baby girl test positive for HIV? Then I thought about the old saying, "God won't put no more on you than you can bear." That's when I knew we would overcome this obstacle too. That's also when the doctor started my daughter on a medication called AZT (Retrovir, zidovudine). She responded very well to the AZT, and I thought she was going to be all right.
In 1988, I started school on the Metro Board of Education's Homebound program. Once I was diagnosed with HIV, I wasn't allowed to attend a regular school because of the lack of education for the teaching staff in the early years of the disease. Therefore, all through high school I was taught on the Homebound program. As a result, I wasn't taught all the subjects a normal high school student would be taught. For example, I wasn't taught algebra, yet English was drilled into my head like a nail. This was because my Homebound teacher, Joan Perry, was an English professor before she started teaching on the Homebound program.
Advertisement
After my diagnosis I became a spokesperson for Nashville CARES, a nonprofit organization that provides education, advocacy and supportive services for anyone with HIV/AIDS. I told my story through the First Person program. We would go to different high schools and colleges throughout Nashville and surrounding areas. I was helping to educate students about HIV while putting a face on the disease. During this time I had several newspaper articles written about me, one of which still hangs on the wall at Nashville CARES today.
Then in 1989, a few months before my 16th birthday, I met this guy named Charlie who became my new boyfriend. He was a sweet and loving guy and accepted me and my daughter despite our disease. As the years passed, I watched my daughter grow up. Age 2 ... age 3 ... and then in 1991 when she was 4 years old she had her first opportunistic infection and was diagnosed with having AIDS. She had Pneumocystis carinii pneumonia also known as PCP. This was a deadly pneumonia even for an adult. The survival rate for this type of pneumonia was slim to none.
She had become resistant to the AZT. At that time, the doctors told me about some new experimental drugs that were available. However, we would have to travel to the National Institutes of Health (NIH) in Bethesda, Md., to receive the treatment.
So in 1991 I started taking my daughter to the NIH in Bethesda. That same year I had made it to my 18th birthday, and yet here I was still very much alive and healthier than ever. On my first trip to the NIH, Joan Perry, my Homebound teacher, went with me because I was scared to go alone and my mother refused to fly on an airplane. We had to stay there for two weeks. While we were there we stayed at the Children's Inn, during which time they started my daughter on some experiential treatments for HIV. We had to go to the NIH every morning for blood work and the new medication. They started my daughter on an experimental three-drug combination which they called a cocktail; it consisted of ddI (didanosine, Videx), ddC (zalcitabine, Hivid) and saquinavir (Invirase). Unfortunately, as quickly as the new drugs became available, she would become resistant to them.
Then in August of 1992 I was asked to appear on The Geraldo Rivera Show. The topic of the show was "Teens, Sex and AIDS." I flew to New York and taped the show; Charlie went with me for moral support. At that time, I wasn't completely open about my diagnosis, so I went on under a disguise and the fake name of "Crystal." We taped the show and then we flew back home. It was an exciting trip. Geraldo was very kind.
When I turned 18 years old, my mother had become very ill and could no longer take care of Bobby. My mother had been diagnosed with hepatitis C and was bleeding internally. So we went to court, and I was given custody of him. After Bobby moved in with us, we had to find a bigger house so both the children could have their own room.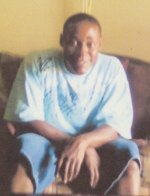 Bobby, age 28.
Then on June 3, 1993, I graduated high school. Even though I had been on Homebound all through high school, I was allowed to walk down the aisle with the Pearl-Cohn Comprehensive High graduating class to receive my diploma. A couple of months later Charlie and I were married. We had a small wedding at my Homebound teacher's church. Her husband Harold gave me away at the altar; he was the closest thing I had to a father.
After we were married, my husband and I began having lots of problems. He thought that because we were married that he owned me, like I was a piece of furniture or something, and I was supposed to go for whatever bullshit he tried to pull. One day he brought this 14-year-old girl into our home; he told me she was his cousin. Since my husband came from a very large family, I believed him. The girl had gotten pregnant and her mother had put her out, and she didn't have anywhere else to go. I felt sorry for her and decided to let her stay with us. I took her under my wing and cared for her like she was my daughter. However, I later found out that she was his mistress and the baby she was carrying belonged to my husband.
I was under so much stress due to my husband's affair that on Dec. 28, 1994, I was rushed to the hospital because I was having difficulty breathing. The doctors ran a lot of tests and discovered that I had PCP in both lungs; I was experiencing my first opportunistic infection and was now diagnosed with AIDS. I was only 23 years old, and I thought I was going to die. I was admitted into the hospital and taken to the intensive care unit (ICU), where I stayed for about two weeks. I was then moved to a regular room where I stayed for a couple of days.
Then another misfortune happened. On Martin Luther King Day 1995 my right lung collapsed due to the stress of the pneumonia. It felt like a large balloon had busted in my chest. The pain was unbearable and I was having difficulty breathing. I was once again rushed to the ICU where the doctors inserted not one, but three chest tubes to try to re-inflate my lung. I stayed in the ICU for another two weeks and was again returned to a regular room. I started to recover, which was a miracle in itself; about a week later I was sent home.
This time I was sent home with a PIC-line (a kind of IV that can be used for several weeks to several months). The next morning, when the health nurse came to administer the antibiotic, we discovered that my arm was swollen to three times its normal size. I was taken to the emergency room where they took a CT scan of my arm. The doctors discovered that I had developed a pea-sized clot in the main artery leading to my heart. I was again admitted to the hospital and given antibiotics and blood thinners until the clots were gone. I stayed in the hospital for another month before I was well enough to be released.
More From This Resource Center
---

This article was provided by TheBody.
---
Add Your Comment:
(Please note: Your name and comment will be public, and may even show up in
Internet search results. Be careful when providing personal information! Before
adding your comment, please
read TheBody.com's Comment Policy
.)