Beneath an Angel's Wings: My Story of Struggle and Longtime Survival, Part One
August 4, 2011
Occasionally we here at TheBody.com are lucky enough to hear from readers who've volunteered to craft their own articles sharing their stories and thoughts. This is one of those articles.
Read Part Two of Jessie's two-part story.
Becoming a young mother at 14 was hard enough in itself without the added tragedies and adversities that I had to endure. All my troubles began on the gorgeous Friday afternoon of April 3, 1987, the day after my 14th birthday. My foster brother Bobby and I were walking through our old neighborhood on our way to our mother's job, when this girl who was much older than I was tried to pick a fight with me. She was envious because our family was doing so well after being evicted from our home in the projects. I ignored her and kept on walking. I felt a hard thump on the back of my head; it was so hard it jerked my head forward and I fell to the ground. She had thrown a piece of wood (a leg off a baby bed to be exact) and then run away.
As I sat on the ground in a complete daze trying to make sense of what had just happened, I heard my brother scream out my name. I snapped out of the daze, got up, dusted myself off and we continued to our mother's job. When we arrived there, I told my mother what had happened. My mother immediately called the police; we filed a complaint against the girl and they put out a warrant for her arrest.
At that point they called an ambulance and I was taken to the hospital. On arriving to the hospital the doctor sent me for an X-ray. Since I had gotten my neck broken the year before, they were afraid that the hit might have re-broken my neck. As I waited for the doctor to look at the X-ray, it seemed like time stood still. Finally a doctor came into the room, and said he had some bad news: When she had hit me, she had re-broken my neck. The doctor immediately fitted me with a neck brace and told me I would have to be admitted to the hospital.
But that wasn't the only concern I had. I had been sexually active, so there was a chance that I could be pregnant. As a result the doctor ordered a pregnancy test. I waited for the test results and anticipated what would happen if I was pregnant. Then when the doctor came back into the room with a worried look on his face, I knew something was wrong. The test results had come back positive; I was indeed pregnant.
I was in about my third month of pregnancy and since that meant I was only in my first trimester, they were unable to perform the surgery right away. They told me that I would have to be fitted with a different kind of neck brace. This one would screw into my head to keep my neck from moving. It was called a halo brace, which is used by someone who has a fracture to the cervical vertebrae. This type of brace would let me have mobility while applying cervical traction to my neck injury.
This brace consisted of four parts; the metal halo ring, with four pins to attach the metal ring to my skull, two pins above my eyes and two pins behind my ears, and it had a plastic vest lined in wool that came down around my waist and attached to four metal rods that also attached to the halo ring. It was very hot and extremely uncomfortable to wear, not to mention almost impossible to sleep in. It was so uncomfortable that I could not lay flat on my back, so the doctor ordered a hospital bed for me to use at home. That way I could sleep in an almost sitting position keeping the pressure off the back of my head.
I had to wear that brace for two months before they could perform the surgery. By this time I was five months pregnant; my baby was growing inside me and had even started kicking. During the surgery I lost too much blood, putting my baby at risk of dying, so I had to have a blood transfusion; I was given two pints of blood. Other than that the surgery was a success. Then after the surgery, I had to wear the brace for two more months, time enough for my neck to heal. Then the next month when I returned to the maternity clinic for my six-month prenatal check-up, I was asked to get an HIV test. I was told it was a mandatory procedure for a pregnant woman to be tested. I immediately said, "If it was mandatory, why had they not asked me to be tested when I first started coming to the clinic?" The response I was given was that it was only mandatory if I had received a blood transfusion. I agreed to be tested.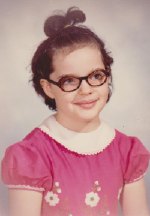 Jessie, age 8.
Two weeks later I remember I was at church during the altar call when an incredible urge came over me to go up to the altar. Since I had already been saved and baptized, I didn't feel I needed to go up to the altar. However, the force was so strong that it pulled me up to the altar anyway. I told the pastor about my situation, and the pastor said a special prayer for me and my unborn baby.
Around the same time at home my mother received the call from the hospital for us to come in and discuss my test results. When my mother told me about the call, I immediately knew that I had tested positive for HIV. I don't know how I knew. I just did. Why else would they call about some test results on a Sunday?
The next morning we went to the maternity clinic and met with the doctors, and sure enough I had tested positive for the HIV virus. I was then told I probably wouldn't live to see my 18th birthday. Then the doctors tried to talk me into getting an abortion, but I didn't believe in abortions, so I told them I would rather kill myself. They said, "Why would you want to kill yourself when tomorrow they may find a cure?" I kindly replied, "Then why should I kill my baby when tomorrow they may find a cure?"
I wouldn't have gotten an abortion under any circumstances, especially now that I was six months pregnant and I had already started feeling my baby kicking inside of me. So they left me alone in my decision to keep my baby; however, they told me my baby could be born infected with HIV as well. However, I was putting my faith in God that he would have mercy and spare my child from this deadly disease.
My mother was devastated and she started crying. She was afraid of losing me and her first grandbaby. I, on the other hand, accepted it immediately. The year before, when I had my neck broken the first time, I had had a vision; it was an image of Jesus and Satan arguing over who was going to win my soul. Jesus had told Satan that he could not have my soul because he had special plans for me. Then, however, Satan told Jesus that he was going to make my life a living hell; that he was going to put me through many trials and tribulations to test my faith. Jesus agreed and the image disappeared. It was then that I knew I was going to face many struggles and adversities; however, as long as I kept my faith in God, I could overcome any obstacle that I endured. I knew this was just a test of my faith.
After my HIV diagnosis, I experienced several episodes of discrimination from numerous acquaintances, neighbors, and even some hospital and clinical staff. People knew I was HIV positive because my mother had told them, not thinking they would shun me away. However, I didn't let that break my spirits. I just kept my head up and believed in God that everything would be all right. I was determined I wasn't going to be a victim; I was going to live with AIDS, not die from it.
More From This Resource Center
---

This article was provided by TheBody.
---
Add Your Comment:
(Please note: Your name and comment will be public, and may even show up in
Internet search results. Be careful when providing personal information! Before
adding your comment, please
read TheBody.com's Comment Policy
.)