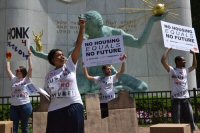 Siouxche Sharpe makes a powerful plea to lawmakers.
Detroit -- Activists from the Campaign to End AIDS gathered outside the city's famous Spirit of Detroit statue on Friday, calling on lawmakers to resolve a growing youth homelessness problem in this city.
"We demand that lawmakers increase funding focused on programs that address homelessness," said Autumn Mays, a 22-year-old who first became homeless at 17. Since, she's been in and out of stable housing.
"It's tiring, it's stressful, I go through depressing moments. It's stopped me from being able to get employment, or to continue with school because I'm always worried: 'Am I going to be put out today, am I going to be homeless?'"
Advertisement
At the rally, protesters chanted "No home! No Care! Help the homeless get their share!" Car honks filled the downtown area as activists waved signs reading "Honk 4 Detroit! Honk 4 Housing!" City employees, families, policemen and truck drivers stopped and expressed their support.
On any given night in Detroit, 18,000 people are in need of shelter, according to Detroit Rescue Mission Ministries. Twenty-five percent of those who need homes are children.
"There's no way we can go back to Detroit's glory days without housing opportunities for our youth," said Carrie Rheingans, a Michigan native.
Activists are calling on federal, state and local lawmakers to increase funding that keeps youth in their homes. At the rally, several said they are aware that budgets are tight -- but that programs that keep youth off the street are a necessary investment in the future. Years down the road, homeless youth have a significantly higher chance of being incarcerated, unemployed, or needing expensive emergency health services. Homelessness also puts them at risk of contracting HIV.
"Programs that keep youth in their homes are ones we can't afford to lose," said Nick Walker-Craig, a University of Michigan student participating in the rally, "not now, and not in the future."
The activists are members of the Campaign to End AIDS, a coalition of young people from across the country who are fighting to end AIDS and homelessness. C2EA members were in Detroit last week for the Youth Action Institute, where they were learning critical advocacy skills.
Read coverage in the Detroit News: AIDS Activist Turns Fight To Homelessness.
Follow the Update blog on twitter @housingworks.