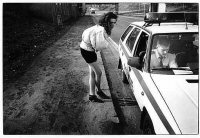 Outlaw poverty, not prostitution.
Despite an outcry from civil rights advocates, Gov. Cuomo signed a bill yesterday that will enhance penalties for sex workers and those who promote sex work in school zones.
The bill does not, however, increase punishments for people who patronize sex workers -- angering both social justice groups and the governor himself.
"[I] urge the Legislature to enact similar enhanced penalties for patronizing a prostitute within a school zone," he said in a memo released when he signed the bill.
Advertisement
The bill elevates prostitution in a school zone from a Class B Misdemeanor to a Class A Misdemeanor. That change boosts the maximum jail time from 90 days to a year.
To make matters worse, the Daily News got the story wrong, reporting incorrectly that the bill ups punishments for "Johns."
More convictions -- and more time in jail -- prevent sex workers from obtaining mainstream jobs and safe housing, increasing the likelihood that they will stay in sex work. The longer a person stays in sex work, the higher his or her chance of contracting HIV.
Some Positive News ...
Yesterday, Cuomo also signed a bill that will encourage people to seek medical assistance for individuals experiencing a drug overdose.
The 911 Good Samaritan law provides limited protection from charge and prosecution for possession of small quantities of drugs. It does not protect people who sell drugs.
The law has the potential to save thousands of lives. In New York State, drug overdoses are the number one cause of accidental death. Most of those deaths are preventable -- but many people are afraid to call 911 in an overdose situation for fear of arrest for drug possession.
"No one should go to jail for trying to save a life," said Hiawatha Collins, a leader and board member of VOCAL-New York, one of the groups that supported the reform.
Follow the Update blog on twitter @housingworks.