Op-Ed: ADAP and the Political Game -- Insight From Policy Newbies
By Sanah Ladhani and Natasha Lerner

July 18, 2011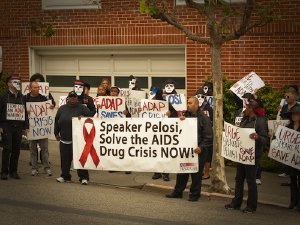 In a country with such vast resources, why are nearly 9,000 people waiting for lifesaving medication?
This article was provided by Housing Works. It is a part of the publication Housing Works AIDS Issues Update.
Last week we attended the fourth annual AIDS Drug Assistance Program Conference hosted by the ADAP Advocacy Association in Washington, D.C. The conference brought together some of the brightest minds in the AIDS community. Their main objective: Figure out how to eliminate the nation's growing ADAP wait list. As interns and students coming into the world of AIDS for the first time, we were both inspired and frustrated by what we saw.
We were inspired by the people in the room. The conference attendees represented a variety of ages, races, socioeconomic and employment backgrounds, but they united for one clear goal. Their vast knowledge and obvious commitment to fighting injustice gave us hope for the future of HIV/AIDS policy.
On the other hand, we were disappointed by the realities of policy advocacy. Coming in, we hadn't understood how long it takes for activists to force politicians to act. In a country with incredible resources, in a nation that holds its head high in the name of justice, we didn't understand -- how are there almost 9,000 people waiting to receive AIDS medications? How can our government preach to other countries about AIDS policy and treatment when we can't provide for our own residents?
Advertisement
We were most reassured by the advice of Jirair Ratevosian. A Senior Legislative Assistant to Congresswoman Barbara Lee, he showed keen insight into the political process. This is a political game. Politicians must consider the priorities of the people in their district. They must consider how taking a stance on an issue will affect prospects for reelection. And they must weigh what is most likely to pass in Congress. Every issue has its own advocates, he told us, and we all must compete for limited resources.
Mr. Ratevosian taught us that to optimize time, approaches such as hand-written letters, calls to representatives, and fighting for that ten-minute meeting are pretty good. But what makes these actions better is preparation. We need to know who to contact in an office. We need to know when to contact them. We need to be able to make clear, fact-driven arguments.
Perhaps the biggest lesson we learned was that policy doesn't change with one action, one demonstration, or one letter. It's a lengthy process that takes commitment and requires us to make specific, well-researched demands.
Former Surgeon General David Satcher conference speech turned our frustration into hope. Satcher was once a congregant of Dr. Martin Luther King.
"Dr. King was the greatest motivator of our time, of any time. He was a mobilizer. There is often a gap between what we know and what we do. We need to close that gap. We need to mix science with policy. If there is no science, we know nothing. If there is no policy, we do nothing. We need both. Like Dr. King, we need to educate, but we also need to motivate and mobilize."
We feel we also need to do something loud. We've been quiet for too long. We need to motivate and mobilize. We need a movement. We need to realize that the time to change HIV/AIDS policy is now. The time to provide AIDS treatment is now. The time to save lives is now.
Sanah Ladhani is Housing Works' New York HIV/AIDS Advocacy and Policy Intern. Natasha Lerner is Housing Works' National HIV/AIDS Advocacy and Organizing Intern.
Get e-mail notifications every time Positive Policy is updated.
---
| | |
| --- | --- |
| No comments have been made. | |
Add Your Comment:
(Please note: Your name and comment will be public, and may even show up in
Internet search results. Be careful when providing personal information! Before
adding your comment, please
read TheBody.com's Comment Policy
.)