Reflections on the RAAM Adventure
By Don Smith

July 17, 2011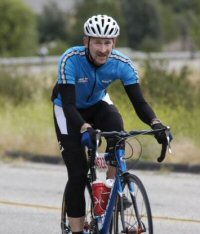 Don Smith
In my bio on the RAAM website I predicted that my RAAM experience would be as follows:
It will be hard as hell.
It will be an adventure of a lifetime.
I will make many new friends.
I am part of team that will make history.
I expect to see parts of America that I would otherwise never encounter.
Certainly I would have to say that all of those things would accurately describe my Race Across America experience. However there were many other things that I did experience that perhaps I did not foresee.
For example, one of the most difficult aspects of racing in RAAM was the style of racing. I am used to the Ironman type race where you go out hard for an extended period of time, within that time you might have periods where you work extra hard like during a big climb or to pass other athletes. However in Ironman it really is all about pacing and efficiency. This is not so much the case when racing on a team at RAAM. Instead, RAAM is like a never ending series of Time Trial efforts that continues 24/7 over the course of almost a week. I found this style of racing extremely difficult to get used to. You go out as hard as you can, maintain maximum heart rate during your pull and then suddenly stop and get into a car. There was no transition period that enabled you to gradually bring your heart rate down in a controlled manner. You were either motionless or going flat out.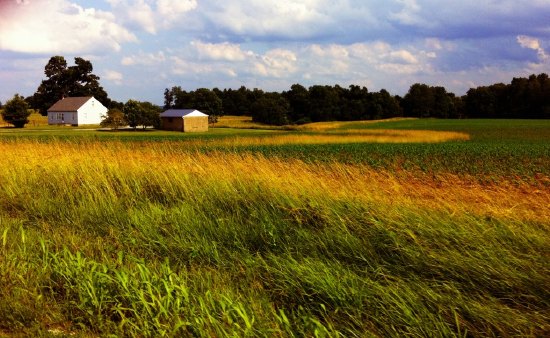 Somewhere in middle America.

The other key challenge during RAAM is fatigue. You might have anywhere between 1 to 3 hours off between pulls however not all of that time was relaxation. There were many times when the RV or support vehicles were not at the Timing Stations when we arrived. This sometimes meant that we would have no food or rest until the rest of the team showed up. Certainly not the best situation. When you do finally get to sleep it is often quite difficult since you are in the back of a moving RV that is bouncing down the highway (and would have 8 other people in it). Fatigue accumulates as the week goes on so that it becomes your constant companion.

Although not without it's own challenges, riding at night became my favorite past time during RAAM. At night there would be less car traffic, less heat, usually less wind and sometimes the most spectacular celestial shows that you can imagine. This was particulary true in Utah's Monument Valley (where the above photo was taken). I remember zipping along in the moonlit darkness, huge black rock formations would suddenly loom nearby and in the distance I could hear my support van playing Deep Purple's "Smoke on the Water". It was quite magical.
Riding in the dark was quite challenging for our crew because they had to follow us racers quite closely so that us cyclists were always in the van's headlights. That is a tough thing to do when we were on windy country roads, rolling through the "hollars" of West Virginia or speeding down that backside of the Colorado Rockies. There were many times when I would suddenly find myself flying through complete darkness with only the center line as the only discernible navigation aid. Meanwhile the poor van driver was frantically trying to catch up to me before I crashed.
One of the most enjoyable experiences during RAAM was working with our crew. Our team was made up of people from 3 countries and most of us had never met each other before. We all had very different lifestyles and certainly possessed varying skill-sets. It is amazing to me how we could all come together and with very little training, perform as a fully functional team within a very stressful environment (even when pushed beyond our own personal limits). How did we do it? We improvised. We worked together to resolve problems. We helped each other. We looked after one another. We respected our team-mates. Most importantly, we had fun! We joked and teased each other non-stop throughout the entire week.
To give you an idea of the diversity of the team members, in the following photo (in no particular order) we have a senior bureaucrat from the Obama government, a travel agent, a lawyer, a retired medical professional, an unemployed man from Australia's outback, an LA celebrity, a taxi driver, a PR professional and a designer. We could not be more different and yet we all brought very valuable and useful skills to the team (that were sometimes used in ways quite unanticipated).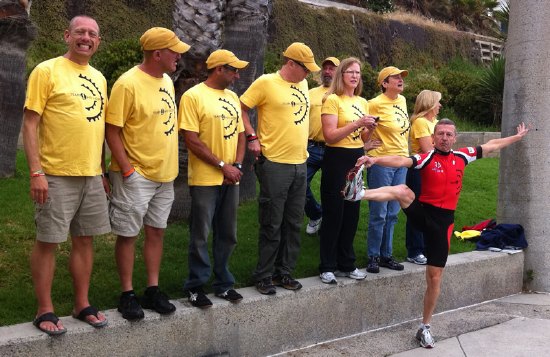 Part of the Team 4 HIV Hope.

One of the more interesting apsects of racing RAAM on a team was that no one person on our team had a holistic view of the event. Each one of us performed our duties, either on the bike or in one of the team vehicles but we did those things in isolation from the rest of the team. Therefore situations would arise where decisions would be made totally without context. For example, Steven and I were asked to ride an extra 20 miles in order to set-up the other racers for their long 3,000 foot climb up the Colorado Rockies. I had no problem with that since we were a team and I understood the difficulties that our team-mates faced with their climb. However what was unknown to the requestors was that the RV had missed the last timing station and therefore Steven and I had not been adequately fueled or rested before our current pull. Nor did they look ahead to see that Steven and I also had our own 3,000 foot climb in the Rockies later that same day. So what seemed like a very reasonable request was actually asking people to do a very arduous task. So while the cameras recorded our team-mates triumphant effort as they crested the Wolf Creek summit, there was no one around to witness as Steven and I, fatigued and lungs screaming for oxygen, finished the second climb in the cover of darkness. Not that it matters though, we were a team with a common goal and that was the most important thing of all.
---
| | |
| --- | --- |
| No comments have been made. | |
Add Your Comment:
(Please note: Your name and comment will be public, and may even show up in
Internet search results. Be careful when providing personal information! Before
adding your comment, please
read TheBody.com's Comment Policy
.)