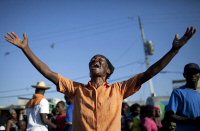 We like this news!
Amid all the distressing news about the slow pace of recovery in Haiti -- and the negative impact it has had on people living with HIV/AIDS -- here's a bit of hope:
Last month marked the groundbreaking of a construction project in the tiny agricultural town of Bwaleta, near the western port town of Saint-Marc. The project will include housing for people living with HIV/AIDS; an orphanage for children whose parents died of AIDS or tuberculosis; and a health clinic and job training school available to all.
Advertisement
The project is the brainchild of Esther Boucicault Stanislas, founder and president of FEBS, a 15-year-old AIDS service and advocacy organization in Haiti. In 2008, Boucicault was the recipient of Housing Works'
Keith D. Cylar International AIDS Activist Award
. At the time, she toured Housing Works' facilities, saw homes designed for people living with HIV; health centers; and a job training program. She realized the model could be replicated in her country.
Her aim is to make the Bwaleta project a model in Haiti.
"My fondest dream is on its way to becoming true," she said at the groundbreaking. "Housing is a must if you want live your HIV status with dignity and be adherent to treatment, especially after so many have been rejected by their families or society."
The project will be placed in a village that desperately needs it. Most of the approximately 2,000 residents of Bwaleta do not have the means to travel to Saint-Marc for health services, according to Edner Boucicaut, Housing Works' country director in Haiti. There is just one public school, and no access to clean water, well-maintained roads or electricity.
The housing component is slated to be complete by the end of the year. The clinic, school and orphanage should be running by mid-2012. Of course, that depends on funds. The project is sponsored by the ARCHIVE Institute, based in New York and London. But FEBS is still seeking other donors.
Haitians living with HIV have always had difficulty accessing housing, jobs and treatment. The quake created more challenges for them, knocking down health clinics and destroying established social networks that allowed stigmatized people to function comfortably. Ninety percent of HIV-positive people lost their homes in the quake, according to UNAIDS.
As the country rebuilds, Boucicault and other Haitian AIDS activists have repeatedly called on international leaders and the Haitian government not to forget the estimated 120,000 people living with HIV.
"This contruction project will be the flagship site for the entire country," said Boucicaut, the Housing Works country director. "It has the potential to reach many more than those 2,000 people in Bwaleta."
Follow the Update blog on twitter @housingworks.