Happy 1st Birthday Myles! A Crazy Year in Review
By Brooke Davidoff

July 15, 2011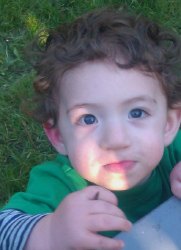 Myles at 1 year old.
Toilet paper is scattered across the wood floor like newly fallen snow. In the corner Myles and Nash, our new 4-month-old puppy, play tug o war with the last remaining connected squares. Marley the cat watches curiously; apparently he never knew the joy of toilet paper. Keanen my stay-home-daddy husband is on the couch looking like a zombie.
Sometimes letting the mess occupy the little boys who now run our house is easier than stopping them. Myles and Nash share toys, from teething rings and stuffed animals to bacon-flavored doggie bones. They will munch on something and Myles will trade Nash and they will munch on something else.
Myles is a year old now, crazy that much time has gone by. It feels like 5 years have gone by since I was pregnant and it hurt to sit, sleep and walk. When the doctor was mad at me for NOT gaining enough weight, when I HAD to eat s'mores nightly to pack on some pounds.
He is almost walking -- cruising, they call it. Crawls to furniture and pulls himself up it to investigate whatever he can touch, grab or put in his mouth. He loves to chase, or bite the cat. Many times Marley has needed to be freed from the grasp of Myles, and in the end you have a giggling baby with a mouth full of cat fur.
"Kitty Cat" one of the most common words to come out of his mouth so far. You can get a crying baby to stop with the entrance of the cat in the room, or on the couch. It's that easy.
Sleep has gone away with his newly discovered mobility. He will not play in his crib so you can sleep. He wants to be held or he wants to come out and play. Doesn't matter if it's midnight or 4 am. He doesn't go to sleep until 10ish usually and he's up around 5am recently for some reason. He takes maybe an hour and a half nap during the day and is just on GO GO GO. He is underweight for his age, weighing in at 18 pounds.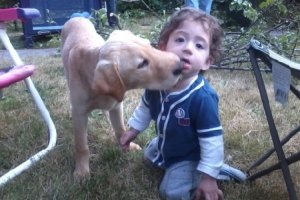 Myles and Nash.
Food is an interesting time of the day for everyone involved. Myles will chew on anything; 80% of the time whatever goes in comes right back out. Fruit, vegetables, steak, chicken, pasta. He LOVES yogurt and he will eat rice, bread and ketchup. He does not want to be fed by you, he wants to do it himself. He has decided plates are not needed and will empty his food on the high chair lid and toss the plate for the doggie to clean. "Daddy and Mommy don't need to do any more dishes" must be his logic.
This last year has been crazy, exciting, scary and amazing. Anyone who is thinking about having kids, and lets having HIV be a deterrent, needs to think again. Myles is now the strength inside me. He is my reason for living. In such a short time our lives have changed so very much, and I would never go back to my non-baby life. Well maybe for a night or two to get caught up on sleep.
But in all reality life is hard, it's full of sacrifice and being broke, and being stressed out about bills and jobs and family drama. When it comes down to it, kids are your salvation. Your escape from the real world. You can come home and watch KPBS or a Disney movie, you can play on the floor with blocks, read pop-up books and watch in awe as your child discovers everything for the 1st time. And then life is a lot less stressful, even if for only an hour at a time.
Get e-mail notifications every time Brooke's blog is updated.
---
Add Your Comment:
(Please note: Your name and comment will be public, and may even show up in
Internet search results. Be careful when providing personal information! Before
adding your comment, please
read TheBody.com's Comment Policy
.)