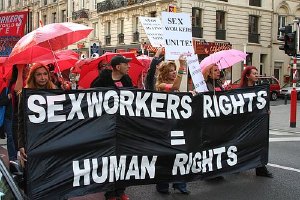 The red umbrella -- a sex workers' rights symbol -- may be in short supply at IAC 2012.
One year from the International AIDS Conference in Washington, D.C., prospects are looking dim for sex workers and drug users who want to attend.
The International AIDS Society has announced that it will release a document in August that details the U.S. visa process for IAC 2012. That document will describe entry restrictions for sex workers and drug users, and it will provide instructions on how to apply for a waiver if a delegate's visa is denied. IAS will post that information here.
Still No Obvious Solutions
Strict U.S. regulations that block entry for people who admit to sex work or drug use could keep hundreds from participating in the world's largest gathering on HIV/AIDS. Recognizing the key role these individuals play in charting the future of the fight against the disease, the IAS formed a working group to troubleshoot avenues for getting marginalized groups into the country.
Advertisement
The working group, however, has already explored -- and discarded -- a number of options. In June, it released a document stating that it will not lobby to change U.S. immigration policy before the conference.
The group did meet with U.S. officials to ask the federal government to issue a blanket waiver for all conference delegates who are denied a visa. The U.S. government rejected that proposal, and immigration authorities will have to review each waiver individually -- a process that will cost delegates both time and money.
Options Going Forward
For those who are denied a visa because they admit to sex work or drug use, the only option will be to apply for a waiver. Waiver applications are expensive, and approval can take long periods of time. Further, the process can cause major problems in a delegate's home country: After a delegate reveals his or her HIV status and involvement with sex work or drug use on a visa application, that individual will have to return home and accept the consequences of these labels. Some will risk government persecution, even death.
Scott Sanders, a spokesman for the IAS, said the working group is negotiating with the U.S. government and "pursuing reduced timelines and visa application fees for conference delegates and requesting that measures are put in place to protect information about granted waivers from reaching an individual's home government."
He doesn't know, however, if these efforts will be successful.