IAC 2012: No Progress on Visas for Drug Users or Sex Workers 
July 14, 2011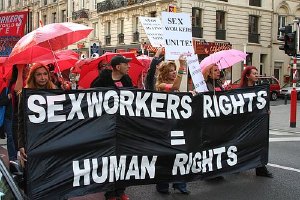 The red umbrella -- a sex workers' rights symbol -- may be in short supply at IAC 2012.
One year from the International AIDS Conference in Washington, D.C., prospects are looking dim for sex workers and drug users who want to attend.
The International AIDS Society has announced that it will release a document in August that details the U.S. visa process for IAC 2012. That document will describe entry restrictions for sex workers and drug users, and it will provide instructions on how to apply for a waiver if a delegate's visa is denied. IAS will post that information here.
Still No Obvious Solutions
Strict U.S. regulations that block entry for people who admit to sex work or drug use could keep hundreds from participating in the world's largest gathering on HIV/AIDS. Recognizing the key role these individuals play in charting the future of the fight against the disease, the IAS formed a working group to troubleshoot avenues for getting marginalized groups into the country.
Advertisement
The working group, however, has already explored -- and discarded -- a number of options. In June, it released a document stating that it will not lobby to change U.S. immigration policy before the conference.
The group did meet with U.S. officials to ask the federal government to issue a blanket waiver for all conference delegates who are denied a visa. The U.S. government rejected that proposal, and immigration authorities will have to review each waiver individually -- a process that will cost delegates both time and money.
Options Going Forward
For those who are denied a visa because they admit to sex work or drug use, the only option will be to apply for a waiver. Waiver applications are expensive, and approval can take long periods of time. Further, the process can cause major problems in a delegate's home country: After a delegate reveals his or her HIV status and involvement with sex work or drug use on a visa application, that individual will have to return home and accept the consequences of these labels. Some will risk government persecution, even death.
Scott Sanders, a spokesman for the IAS, said the working group is negotiating with the U.S. government and "pursuing reduced timelines and visa application fees for conference delegates and requesting that measures are put in place to protect information about granted waivers from reaching an individual's home government."
He doesn't know, however, if these efforts will be successful.
---

This article was provided by
Housing Works
. It is a part of the publication
Housing Works AIDS Issues Update
. Visit
Housing Works' website
to find out more about their activities, publications and services.
---
Comment by: john m.
(kenya) Mon., Apr. 9, 2012 at 12:57 pm UTC
the US gorvenment is not ready to fight hiv when they deny sexworker visa to US and thats violation of humaright they must realize that sexworkers are part of fighting hiv
Comment by: Nicole
(Philadelphia, PA) Thu., Aug. 4, 2011 at 1:53 pm UTC
In all seriousness, why don't people lie/refuse to disclose sex work or drug use? Without criminal convictions, how is anyone to know?
Comment by: Thierry Schaffauser
(London) Fri., Jul. 15, 2011 at 11:13 am UTC
I can't believe IAS organisers have chosen the US for the next conference and thus excluding sex workers and drug users' participation. They should lobby and fight the US government instead of telling participants to ask for a waiver. This conference proves that it is more interested in making money than in people living with HIV.
Comment by: Cheryl O.
(London UK ) Fri., Jul. 15, 2011 at 8:01 am UTC
This article is incorrect. You do not have to 'admit' to anything. I was refused boarding in London to go to New York to attend a meeting of the Global Commission on HIV and the Law as a person of moral turpitude. I have never been convicted of any offence in any country ever. I am surprised that in view of this event having sparked the issue no-one has contacted me about it.
It is also disappointing that the article doesnt mention that sex workers are planning a hub out the US to enable participation in the conference without crossing a border fraudulently into a country that will subsequently offer none of the protections it offers to those who have entered it legally.
My advice is to give it up. Admit it is a disgrace and a fiasco and give sex workers money that makes our hub a wonderful event.
Add Your Comment:
(Please note: Your name and comment will be public, and may even show up in
Internet search results. Be careful when providing personal information! Before
adding your comment, please
read TheBody.com's Comment Policy
.)