The National AIDS Strategy at One Year
By Jeffrey S. Crowley, M.P.H.

July 13, 2011
This article was cross-posted from the AIDS.gov blog.
It's been one year since we launched the first comprehensive National HIV/AIDS Strategy and today we are releasing an implementation update to keep you up to speed on the latest work. We plan to release a more comprehensive progress report after the conclusion of the calendar year, but as we mark this critical first year, we wanted to provide some reflections on key first-year achievements.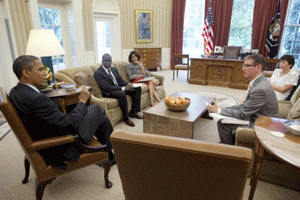 President Barack Obama holds meeting on AIDS policy with members of the Domestic Policy Council in the Oval Office, July 12, 2011. Participating in the briefing with the President are, from left: Greg Millett, Senior Scientist and HHS/CDC Liaison to the Office of National AIDS Policy; Domestic Policy Council Director Melody Barnes; Jeffrey Crowley; Director of the Office of National AIDS Policy; and Senior Advisor Valerie Jarrett. (Official White House Photo by Pete Souza)
The Strategy details President Obama's three goals: 1) reduce the number of new HIV infections, 2) increase access to care and improve health outcomes for people living with HIV, and 3) reduce HIV-related health disparities. Our mission is for the United States to become a place where new HIV infections are rare and when they do occur, every person, regardless of age, gender, race/ethnicity, sexual orientation, gender identity or socio-economic circumstance, will have unfettered access to high quality, life-extending care, free from stigma and discrimination. As you will see from the report, agencies throughout government are stepping up to the plate and stakeholders from all sectors are taking action.
Ultimately, for the Strategy to be truly successful, we need you. The Strategy isn't about what government can do alone. We know that businesses, the faith community, and all sectors have a role to play. The video above features everyday leaders implementing the strategy in their own communities. We hope that you can use this to engage more people in our collective efforts to implement the Strategy and energize key partners to continue their efforts. Go to AIDS.gov to receive more information and take action.
We thank everyone that has worked with us so far, and we look forward to new and productive collaborations over the coming year.
Download the National HIV/AIDS Strategy Implementation Update.
Jeffrey S. Crowley, M.P.H. is the director of the Office of National AIDS Policy (Cross-posted from White House Office of National AIDS Policy Blog).
Get e-mail notifications every time Positive Policy is updated.
---
| | |
| --- | --- |
| No comments have been made. | |
Add Your Comment:
(Please note: Your name and comment will be public, and may even show up in
Internet search results. Be careful when providing personal information! Before
adding your comment, please
read TheBody.com's Comment Policy
.)