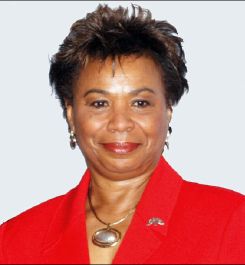 Rep. Barbara Lee
Since her election in 1998 from Oakland, Calif.'s 9th Congressional District--the first woman ever elected to represent that community--Barbara Lee has been one of the most courageous and principled members of Congress.
A former chairwoman of the Congressional Black Caucus and co-chair of the Congressional Progressive Caucus, Lee has never wavered in her consistent advocacy on behalf of HIV/AIDS issues, starting when she worked as a staff member for Rep. Ronald Dellums, the first African American congressperson from Northern California.
Lee was a single mother of two on public assistance when she decided to attend college, eventually earning an M.S.W. from the University of California, Berkeley before embarking on her political career. Lee, who is currently chairwoman of the Congressional Black Caucus Task Force on Global HIV/AIDS, spoke with the Black AIDS Institute about her work.
What deciding moment occurred in your life that made you become committed to this issue?
I first got involved in HIV/AIDS issues back in the mid-1980s. I remember talking with some members of ACT-UP about the issue of needle exchange. And then I began participating in protests with people like John Iverson and Maudelle Shirek. When I got to the California State Legislature in the '90s, I started working on legislation, and I continued the activism I picked up on the streets when I got to Washington, D.C.
I really got involved in the global struggle against HIV/AIDS through my friend and predecessor, former Congressman Ron Dellums. Together we came up with the idea to set up a trust fund at the World Bank to help finance what we called the AIDS Marshall Plan for Africa. This idea eventually became the framework for what we now know as the Global Fund to Fight AIDS, Tuberculosis and Malaria. From there our work grew and expanded, leading to the creation of the President's Emergency Plan for AIDS Relief (PEPFAR) in 2003, the enactment of legislation to help orphans and vulnerable children affected by HIV/AIDS in 2005, and the reauthorization of PEPFAR in 2008. And we're not done yet.
Advertisement
What HIV-related activities are taking place in your district back home that you feel particularly strongly about?
Just recently we held a planning meeting in Oakland to help develop the plan for the 2012 International AIDS Conference. The conference will be held here in the United States for the first time in more than two decades. I am proud to have played a big role in getting the HIV travel ban lifted in the United States so that we could actually host the 2012 conference here. Getting the ban lifted was a huge accomplishment--not just because we got rid of an archaic, unjust policy but also because we finally got rid of a major source of fear, stigma and discrimination for people living with HIV/AIDS.
I'm pleased that when President Obama came into office, he moved quickly to formalize regulations overturning the ban, and that the International AIDS Society chose to bring the conference back to the United States in 2012. Also, in my district, I have led efforts to establish a state of emergency for the HIV/AIDS epidemic and helped secure funding for HIV/AIDS awareness and prevention groups in Alameda County. And we've got much more work to do.
What needs to happen to end the epidemic in Black America?
In our communities of color, it's all about removing the stigma and getting our young people tested for HIV. It's both a responsibility that we have to ourselves--to know our status and get tested--and a responsibility we have to our friends, our peers and our partner. Knowledge is our best weapon to fight off this epidemic. I encourage people to get tested all the time. I've gotten tested myself on many occasions, and I've also encouraged and gotten many of my colleagues in Congress to get tested, too.
Beyond getting tested, we've got to get real about sex education in this country. We've spent nearly $1.5 billion on so-called abstinence-only-until-marriage programs over the last 15 years with little to show for it. Not only are these programs ineffective, but they fail to speak to the needs and realities facing our lesbian, gay, bisexual or transgender youth.
What concerns do you have about how the challenges to health reform might affect people with HIV/AIDS?
The Affordable Care Act is helping to further the goals of the National AIDS Strategy by prohibiting all insurance plans from putting lifetime caps on the dollar amount that they will spend on benefits. In the past, patients with HIV/AIDS, cancer or other chronic diseases ran the risk of hitting a lifetime cap and losing access to care. The law also restricts most insurance companies' use of low annual dollar limits on benefits. The Affordable Care Act gives women the freedom from worrying about having their health insurance coverage dropped, denied or limited if they, or someone in their family, is in an accident or becomes sick.
In addition, the law recognizes that women have unique health care needs, and are often the health care decision makers in their households, by offering important benefits to women. The law also prevents discrimination against women in health care pricing, so they will pay the same rate as men for coverage, and we are working to ensure that the free preventive services provided to women include contraceptives. So we cannot allow opponents of health reform to tear down the progress that we have made in addressing the challenges of HIV/AIDS in our communities.
Nick Chiles is a Pulitzer Prize-winning journalist and the co-author, with Kirk Franklin, of the New York Times best-seller The Blueprint.